A Look Back at the Career of Jim Cramer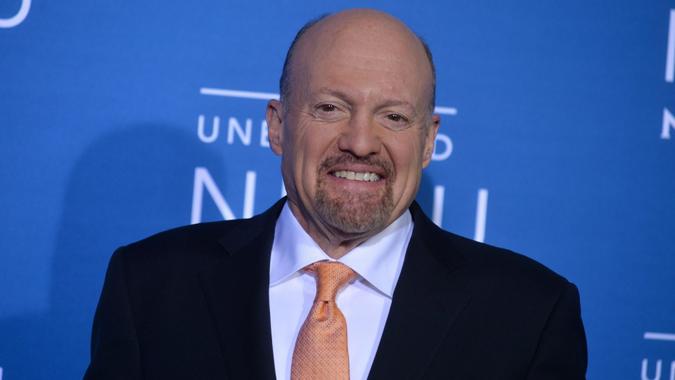 Erik Pendzich/Shutterstock / Erik Pendzich/Shutterstock
Jim Cramer has become one of Money's Most Influential, with many Americans turning to him to get their investment advice. As the host of "Mad Money With Jim Cramer" and co-anchor of CNBC's "Squawk on the Street," Cramer now serves as a guide through the often confusing world of Wall Street investing. But how did he get to be so knowledgeable on the subject? Here's a look back at Cramer's career that led him to this point.
Discover: See the Full List of Money's Most Influential and More
He Started His Career as a Journalist
While attending Harvard, Cramer was president and editor-in-chief of its daily newspaper, The Harvard Crimson. After graduating, he worked as a reporter for the Tallahassee Democrat and later for the Los Angeles Herald Examiner, where he covered a variety of beats ranging from crime to sports. During this time, Cramer struggled to make ends meet.
"I was living hand to mouth, and people would take me in now and then so I could get a shower, change, get a good night's sleep," he told CNBC.
Cramer also helped Steve Brill launch American Lawyer magazine before returning to Harvard to attend law school there.
See: Where Do Americans Get Their Money Advice? Top News Columns
He Started Trading Stocks While in Law School
Cramer became enamored with the stock market while attending Harvard Law School, and made enough from trading to cover his law school tuition, the Harvard Law Bulletin reported. According to the Bulletin, "he even recorded his weekly stock picks on his telephone answering machine and got his first investment client when [Harvard Law School lecturer Martin] Peretz — who made money from those picks — enlisted Cramer to manage his money for him."
By the time Cramer graduated with his law degree, he had realized he did not want to practice law and instead joined Goldman Sachs in sales and trading.
Be Careful: The Dangers of Day Trading
He Founded His Own Hedge Fund
After working at Goldman, Cramer founded his own hedge fund, Cramer Berkowitz. According to his CNBC profile, "his compounded rate of return was 24% after all fees for 14 years at Cramer Berkowitz. He retired from his hedge fund in 2001, where he finished with one of the best records in the business, including having 36%-plus year in 2000."
During his time at the hedge fund, Cramer would routinely get to the office at 5 a.m. and read through five newspapers before trading opened, the Harvard Law Bulletin reported.
"I was really good at it," he said. "Like a professional baseball player who had a really good batting average."
Check Out: Self-Taught Investor Andrew Sather Shares the 2 Key Things He Did To Boost His Portfolio
Although he had success as a hedge fund manager, Cramer knew it was time to retire when the job began taking a big toll on himself and his family.
"I lived and breathed it. But I still came to work every day nervous about how I'd do," he told the Harvard Law Bulletin. "It's one reason I wanted to give it up. It was just a very nerve-wracking job. I wanted more time with my family and for my writing. I didn't want that pressure anymore. I had made enough money."
He's Written Extensively About Investing
While at Goldman Sachs, Cramer wrote for The New Republic about stock market issues. He also contributed to New York Magazine, and in 1996, he founded TheStreet, a financial website for investors. Cramer continues to write for TheStreet and makes appearances on TheStreet TV.
Cramer is also the author of a number of books: "Jim Cramer's Getting Back to Even," "Stay Mad for Life: Get Rich, Stay Rich," "Mad Money: Watch TV, Get Rich," "Jim Cramer's RealMoney," "Confessions of a Street Addict" and "Jim Cramer's Get Rich Carefully."
He's Been a TV Host for Nearly Two Decades
Cramer has been the host of "Mad Money" since 2005 and co-anchor of "Squawk on the Street" since 2007. Although he is certainly skilled in investing and hosting, Cramer attributes much of his success to luck.
"I was able to use my skills to be able to get to a really good place that I'm thrilled about, but I think that people never gave enough credit to luck, and I was very lucky to be at the right place at the right time at many points in my career," he told People. "I've had lots of ups and downs, and you just gotta [get] up every morning and put your pants on."
More From GOBankingRates
Last updated: April 22, 2021