A Look Back at the Career of Suze Orman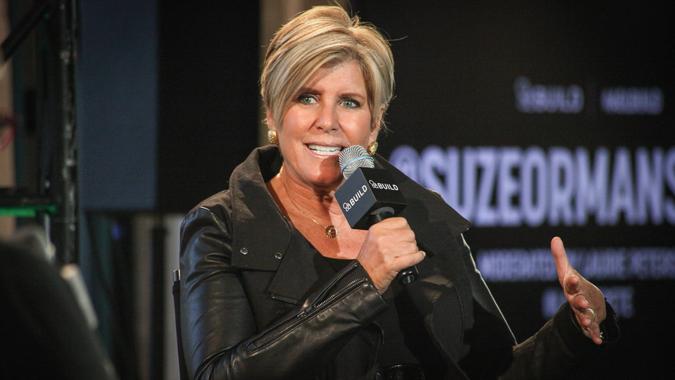 Mediapunch / Shutterstock.com
As an author, speaker, media personality and podcast host, Suze Orman is without a doubt one of Money's Most Influential. Many Americans turn to her for personal finance advice on topics ranging from debt management to retirement planning — but how did Orman become one of the most trusted names in finance? Here's a look back at her fascinating career journey.
Discover: See the Full List of Money's Most Influential and More
Orman Had Humble Beginnings
After failing to fulfill a foreign language requirement, Orman left the University of Illinois without a degree and decided to embark on a cross-country road trip with $300 and a sleeper van. While in Berkeley, California, she got her first post-college job as a tree clearer for $3.50 an hour. She next got a job as a waitress at a bakery, where she continued to work while she completed her college degree; Orman worked there until she was 29.
Read: Where Do Americans Get Their Money Advice? Top Podcasts and Radio Shows
She Learned About Finances the Hard Way
After working as a waitress for seven years, Orman decided that she wanted to open up her own restaurant. Unfortunately, she lacked the capital to do it. Orman vented about this to one of her long-time customers, Fred, who together with some of her other regulars gathered up a $50,000 loan for her to make her dreams come true. Fred told her to deposit the funds in a money market account at Merrill Lynch. But when she got to Merrill Lynch, the broker that she was assigned to, Randy, had a different plan for that $50,000. Trusting this broker, who promised her she would make money fast, she signed on the dotted line of the paperwork he had given her without being exactly sure of what she was agreeing to.
"It turned out that after I left that day, Randy had filled out the papers I had signed to make it look as if I could afford to risk the money I had deposited into the Merrill Lynch account," Orman recounted on her blog. "He got me into one of the more speculative investing strategies — buying options. At first, I was making great money. I was amazed. I found the perfect location for my restaurant and was having plans drawn up by an architect. My dream was within reach. Other people believed in me and lent me more money. We were off and running — that is, until the markets turned. Within three months, I'd lost all the money in the account. All of it. I didn't know what to do. I knew I owed a lot of money, and I knew I had no way to pay it back."
Orman Took It Upon Herself To Get Financially Educated
During this time, Orman began learning as much as she could about personal finances and investing.
"I watched 'Wall Street Week' on PBS every Friday night, I read Barron's and The Wall Street Journal," she wrote on her blog. "I taped the pages with the stock and option prices to my bedroom walls."
Orman became so confident in her understanding of the market that she decided she wanted to become a broker herself.
"I said to myself, 'Hey, if Randy can be a broker, I can be a broker, too — after all, it seems like they just make people broker!'"
She decided to try her luck at Merrill Lynch — the very same organization that had lost her all her money. Although she was met with sexism during the interview process (during one of the interviews, the branch manager told her outright he believed that women belonged being barefoot and pregnant), Orman got the job.
Orman Sued Merrill Lynch While Working for Them
While studying for her Series 7 exam, Orman realized that Randy's actions had been illegal as they had been against her, the client's, best interests. She decided to sue Merrill Lynch while still working for them.
"Before the lawsuit made it to court, Merrill ended up settling with me," Orman wrote. "They paid me back all the money plus interest, which allowed me to pay back all the people who had loaned me money."
Orman continued to work for Merrill Lynch while her lawsuit was pending, and over that time she became one of the most successful brokers in the office.
From Broker to Financial Educator
Orman has used what she learned as a stockbroker and the lessons she picked up along the way to help teach others about their finances. She was a contributing editor to "O" The Oprah Magazine, a long-time contributor to the Costco Connection Magazine and the host of the "Suze Orman Show," which aired every Saturday night on CNBC for 13 years.
Orman is a New York Times bestselling author and has written six books: "The Road to Wealth," "The Money Class," "The 9 Steps to Financial Freedom," "The Money Book for the Young, Fabulous & Broke," "Women & Money" and "The Ultimate Retirement Guide for 50+." She is also the host of the "Women & Money" podcast.
More From GOBankingRates
Last updated: April 22, 2021