Marcus Lemonis Says 'Cash Is the Most Important Asset' and Warns Against the Worst Thing You Can Do With It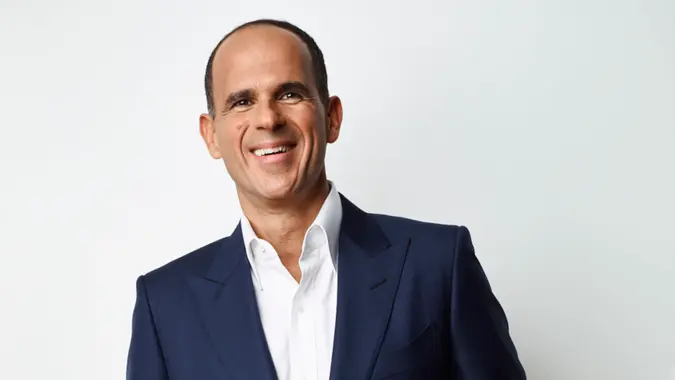 ©Marcus Lemonis
Marcus Lemonis is known for his work on CNBC's "The Profit," a documentary-style series where he finds struggling businesses and revitalizes them with his expertise and a stake in the profit. He is also known for CNBC's "Streets of Dreams," where he takes to the streets to unveil the secrets of America's most profitable industries, shedding light on untold stories of American business culture.
Selected as a Top Money Expert by GOBankingRates, here Lemonis weighs in on why cash is the most important asset, the best ways to build wealth and how to find a balance once the money starts rolling in.
What's the one piece of money advice you wish everyone would follow and why?
I think often people spend too much time thinking about how to invest and not enough time thinking about how to preserve cash and build cash. And what I want people to do is have a reasonable amount of cash set aside that isn't locked in a stock. It isn't locked in property, it isn't locked in anything other than the ability to access it. Because in good times and bad times, cash is the most important asset you'll have because it really doesn't fluctuate in terms of value. And your ability to access it and use it as a tool will set you aside as a sophisticated investor.
What's the most important thing you can do to build wealth?
Real estate historically has been one of those things that over time always increases in value. And I wanna point out that over [time] if you are a real estate investor and you're in for the short haul, it is true that you can make money. But it also is true, you can lose money, but when you buy a piece of property and you're willing to hold onto it for five, 10 [or] 15 years, if you look at the consumer price index and how it always goes up, property usually goes with it just the same. That's a great way to build wealth.
What's your best tip for fighting the impacts of inflation?
The flippant and funny answer is to always be on the hunt for a good coupon and good savings and not feel like you're too good to take advantage of those. The other side of managing inflation is really buying what you need and not buying more than you need. And I think too often as a society, we tend to be gluttonous in our consumption. Inflation is something that obviously affects commodities that we have to have, like food and fuel and lodging and things like that. And you gotta be willing to be conservative and be intelligent about it. You're never gonna be able to drive down the price of something, but you are gonna be able to determine what things you need and what things you don't need, and if you need them, how much of them you consume.
What's the biggest mistake people make when it comes to money?
The biggest mistake people make when it comes to money is letting it burn a hole in their pocket. And when they acquire cash, they feel this dire need to spend it, and they get a false sense of security. So they go out and buy things that they don't need or do things that they shouldn't do because they have this false sense of wealth because they're sitting with it. To me, the best thing people could do when they have money in their pocket is to try to figure out how to make that money grow. That doesn't mean that you sacrifice enjoying your life or buying things to treat yourself, but there's a balance. I remember as a young person in business, when I started to make good money, I felt this obligation to spend it. It was like burning a hole in my pocket.
More From GOBankingRates
Jaime Catmull contributed to the reporting for this article.