How Much Should You Tip Your Delivery Driver?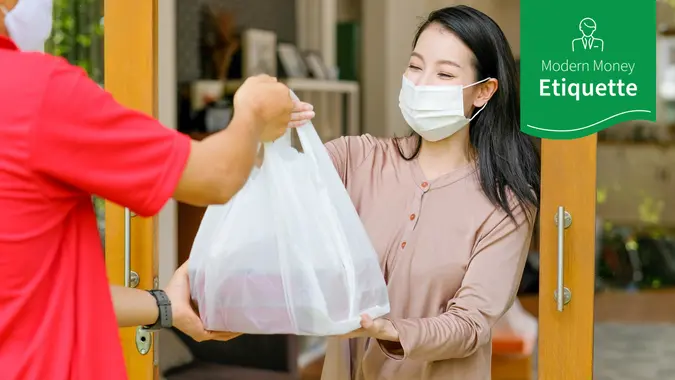 Narongrit Sritana / iStock.com
If you're like many people, you got more delivery than ever since the start of the COVID-19 pandemic. From restaurant fare to groceries, having items arrive at your doorstep has become safer — and often easier — than leaving the house.
See: 10 Items That Are Always Cheaper at Sam's Club
Check Out: 9 Bills You Should Never Put on Autopay
Delivery apps have been cashing in on the pandemic. DoorDash, Uber Eats, Grubhub and Postmates earned $5.5 billion in combined revenue from April through September 2020 — more than double the collective $2.5 billion generated during the same time period in 2019, according to MarketWatch.
The demand for grocery delivery and pickup has also surged, going from $1.2 billion in sales in August 2019 to $5.9 billion in November 2020, according to Statista. This nearly five-time increase shows just how much consumers are trying to avoid going into stores.
Of course, opting for delivery means the driver assigned to your order will be doing the work for you, so you need to tip them. It can be hard to know exactly how much to tip for this convenience — especially amid a global pandemic, when the driver is potentially risking their health, so you can stay safe at home.
Generally speaking, Maryanne Parker, an etiquette expert, said you should tip delivery drivers — including grocery delivery — 25%-30%.
Take Our Poll: Are You Concerned That Social Security Benefits Will Be Reduced During Your Lifetime?
If you're wondering whether you should be tipping more amid the pandemic, the answer is actually yes and no, said Parker, the founder of Manor of Manners, a company that specializes in international business, social, luxury and youth etiquette.
"Tipping has been always based on personal generosity and enjoyable service," Parker said. "The people who followed the tipping etiquette before will continue to do so — at least as close to the etiquette norms as possible."
Due to the unusual circumstances of living amid a pandemic, Parker said she's definitely tipping delivery drivers accordingly and probably a bit more than usual. However, she said this is her choice, due to her individual circumstances.
She said she respectfully disagrees with the idea that everyone should do their best to tip more than ever right now. Instead, she said tipping should correlate with person's unique situation during the pandemic.
"Some people are on the verge of bankruptcy and trying to handle very difficult financial burdens right now," she said. "In these type of situations we definitely cannot be judgmental and overly opinionated, because we do not know everyone's case."
Parker said several different factors should guide the amount of gratuity you give. "Tipping is based on respect, gratitude and social circumstances — not just rules and norms."
It's also important to note that tips are different than the delivery fees charged by many platforms. For example, until 2019, DoorDash used customer tips to subsidize delivery workers' base pay. The company changed this policy due to backlash from customers, according to Slate.
Standard gratuities also vary by state, according to a study conducted by QuickBooks. For example, the average tip rate in Maine is 19.4%, dropping to 15.9% in Wyoming.
This is important to know because when you receive good service, you want to leave an appropriate tip for your area. To clarify, there's no such thing as giving too much, but if you're trying to leave a nice tip, you want to make sure it's considered reasonable by local standards.
Regardless, tipping is important, because many workers rely on the money to pay the bills. The amount you leave is completely at your discretion but always do your best to be fair.
More From GOBankingRates