5 Money Moves for Millennials in 2023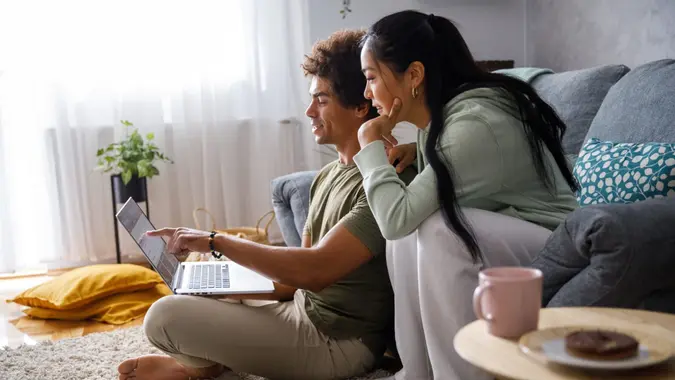 fotostorm / Getty Images
Gen Z is learning to prioritize their financial futures, but what about millennials? With a 98.1% chance of a recession in the very near future, it's more imperative than ever to find financial stability.
See: Make These 7 Moves Before a Recession Hits in 2023
Find: 44% of Adults Not Ready For Recession — How to Prepare
With inflation and the cost of living on the rise, it's already tough to make ends meet, but if you're not prepared for a recession, you could be in a world of hurt. Don't worry, though, as we've put together five money moves that will help protect your finances no matter what the economy throws at you.
1. Boost Your Savings
Whether you're saving for retirement or toward a down payment for a home, it's important to do so more efficiently. Look into high-yield savings accounts to earn more interest on your savings. Consider automatically contributing to your savings account each month directly from your paycheck in order to grow funds effortlessly.
2. Pay Off Debt
If you're struggling with high-interest debts or other financial obligations, consider tackling that debt head-on. Set up a budget and use whatever surplus cash you can to start paying off those debts. You may need to cut back on some expenses for a little while, but it will be well worth it when you're debt-free.
3. Don't Stop Investing
A recession is the worst time to pull your money out of the market. In fact, if you keep investing in a down market, you can get stocks while they're essentially on sale. But you lock in your losses if you pull your money out. Make sure your portfolio is diversified to help you manage your risk no matter what the market throws at you.
4. Build an Emergency Fund
Start building your emergency fund as soon as possible. Life is full of unexpected expenses, and you must be prepared for them. Whether it's a medical emergency, layoffs, or a car repair, having an emergency fund will help you deal with these unexpected financial burdens without going into debt.
5. Stay Informed
One of the most important things you can do to protect your finances is to stay informed. Whether you like reading the news or listening to financial podcasts, keep up with economic changes and adjust your money moves accordingly. Staying informed helps you stay ahead of big changes.
Explore: Series I Bond Yield Drops from Record High — Why It's Still Wise Investment
Plan Ahead: 5 Ways To Start Financially Fresh for the New Year
As a millennial, navigating the uncertainty of your financial future can be challenging. But with these simple money moves, you'll be able to protect yourself no matter what's around the corner. Your wallet will thank you.
More From GOBankingRates