It's Not Too Late To Get Started on Those 2021 Financial Goals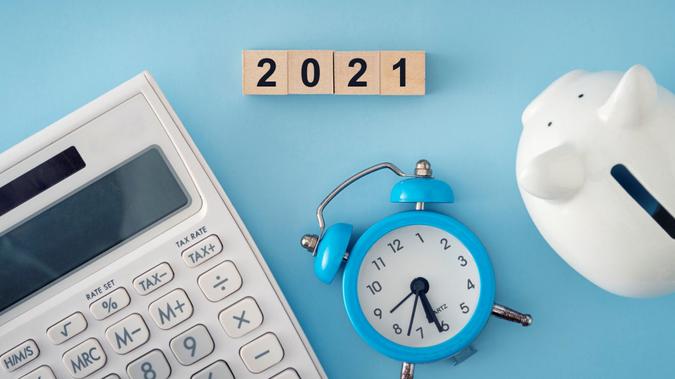 erdikocak / Getty Images/iStockphoto
An ancient Chinese proverb says that the best time to plant a tree was 20 years ago. The second-best time is right now.
Related: How To Set Realistic Financial Goals for 2021
If you missed your chance to get to work on a financial new year's resolution on the first of the year, don't worry — you didn't miss anything. Right now just might be the sweet spot for starting fresh and turning over a new leaf.
There Is No Magic With Jan. 1
If you're primed for positive change but failed to launch when the resolution starting gun went off on Jan. 1, so what? It's a completely arbitrary date that — while important psychologically — has absolutely no bearing on your success or failure. Yes, Jan. 1 starts the new calendar year. But a random day in the middle of winter has zero influence on your ability to affect positive change in your own life. That's because the new year doesn't actually provide a reset or do-over — you'll notice those holiday credit card bills found their way into 2021 just fine.
Read: Planning To Retire in 2021? Here's What You Need To Know
In fact, the entire concept of a "new year" is a construct, which is why different cultures celebrate it at different times and the world keeps spinning.
Jan. 1 Doesn't Exactly Have a Great Track Record
According to Inc., 80% of resolutions fail. That's almost certainly a generous analysis — many other estimations come in at closer to 90%. Presumably, all or most of those people put their plans into motion right on schedule, which means you avoided starting on a day that has a miserable 10%-20% success rate.
Looking Ahead: What Experts Say 2021 Will Look Like for Your Wallet
Now Is a Great Time To Reset Goals That Proved Too Lofty
On Jan. 1, the resolution-making world is inspired, motivated and committed to striking while the iron is hot. In a few weeks, however, those treadmills start collecting dust, kale gets shelved for pizza and all that budgeting goes out the window. Part of the reason that resolutions have such an abysmal failure rate is that high aspirations drive people to make unrealistic commitments while they're motivated and set goals that are too hard to keep once the fire begins to fade.
Find Out: How Often To Check Every Aspect of Your Finances in 2021 and Beyond
That's what makes a time later in the year perfect to regroup if you're one of the millions who started off strong, only to hit a wall and return to the status quo. If you resolved on Jan. 1 to save 40% of your paycheck, to never eat out and to live a spartan existence in the pursuit of financial freedom, it's likely you found out quickly that you aimed too high. Now, you can adjust those goals down to something like 10% of your check, no eating out more than once every two weeks and allow yourself the occasional splurge. Now is not just a great time to start a resolution, it's a great time to restart one, as well.
More From GOBankingRates