How To Find the Best Financial Advisor for You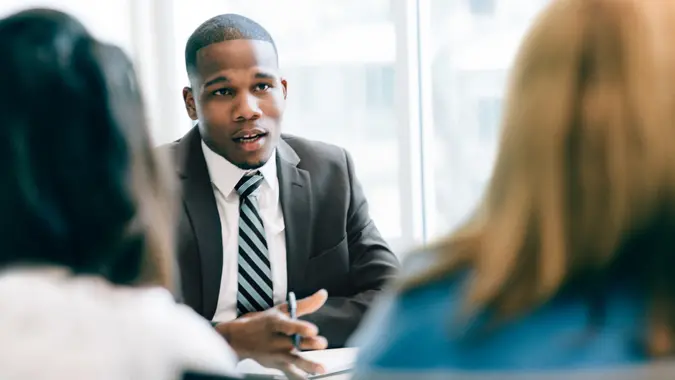 Ferran Traité Soler / Getty Images
A financial advisor is a professional who helps people manage their money so they can reach their financial goals. A financial advisor's services include creating budgets and monitoring spending; establishing savings plans; estimating future income needs; and recommending insurance products and securities.  Finding the right financial advisor is important because you don't want to trust just anyone with your money.
Find Out: Best Financial Advice From Oprah and Other Big-Name Celebs
What Are the Types of Financial Advisors?
Financial advisors offer a range of services to meet the needs of their customers. Here are some of the most common types of financial advisors.
Robo-Advisors
Robo-advisors are digital services available through websites and mobile apps that provide automated portfolios based on the investor's preferences and needs. They're best for people who need assistance with investments but don't require human interaction. On the plus side, robo-advisors are much cheaper than traditional financial advisors because they typically don't include financial planning — only investing help.
Traditional Financial Advisors
Unlike robo-advisors, traditional financial advisors use a personalized approach to provide a full range of financial planning options. As your life circumstances and needs change, a traditional financial advisor can guide you in making the best decisions regarding your finances — a service that a robo-advisor cannot provide. If you desire face-to-face interaction, a traditional financial advisor is likely your best choice.
Hybrid Financial Advisors
Hybrid financial advisors offer traditional financial advising services coupled with technology. They are more hands-off than traditional financial advisors, often use technology to come up with your investment plan and conduct business over the phone or online. These professionals are best for people who need some help but don't want to hire a full-service financial advisor.
Learn More: Is a Financial Advisor Worth It?
What Should I Look For in a Financial Advisor?
If you're not sure how to choose a financial advisor, consider the following factors as you search.
Fiduciary Duty
"In short, you want to make sure the financial advisor is putting your interests first. In today's world, that person is considered a fiduciary," said Michael Menninger CFP and president of Menninger & Associates Financial Planning.
A fiduciary must refuse to take actions that would allow them to profit from their positions and disclose potential or current conflicts of interest. Although any financial advisor can choose to abide by fiduciary duty, not all of them are required to do so.
Credentials
Financial advisors come from many different backgrounds and offer a variety of different services. Their credentials provide insight into their education, experience and areas of practice. Here are some of the most common titles held by financial advisors.
Certified Financial Planner
A CFP is a professional designation issued by the Certified Financial Planner Board of Standards. Someone who holds this designation is best at offering general planning advice on a wide variety of personal finance issues, including investing, saving, paying for college, purchasing long-term care insurance, choosing a mortgage and planning for an estate.
To qualify for this designation, the professional must:
Have at least a bachelor's degree
Have at least 6,000 hours of professional experience or 4,000 hours of apprenticeship experience
Complete a CFP Board registered program
Pass a certifying exam
Take 30 hours of continuing education courses every two years
Follow designated conduct standards and an ethics code
Personal Financial Specialist
The personal financial specialist credential is a professional designation issued by the American Institute of CPAs. Those who hold this designation are experts in the following areas of personal financial planning: estate, investment, personal income tax, retirement and risk management.
To qualify for this designation, prospective candidates must:
Belong to the AICPA
Possess a valid CPA certificate issued by a state authority
Have a minimum of two years of full-time teaching or business experience — or 3,000 total hours — in personal financial planning within the previous five years
Have at least 75 hours of personal financial planning education within the previous five years of application
Successfully complete the final certification exam
Chartered Financial Analyst Certificate
The chartered financial analyst designation is issued by the CFA Institute. Although investment advisors holding CFAs often work for corporate clients, they are still regarded as investment management specialists.People looking for help with selecting stocks might find an advisor with a CFA designation to be a good option.
To attain this professional designation, candidates must meet one of these requirements:
Have completed a bachelor's degree or equivalent program and have received a degree
Be in the final year of a bachelor's degree program
Possess a combination of work and university/college experience totaling at least 4,000 hours
Other requirements for this designation include:
Completion of a self-study program
Passing three separate six-hour course exams
Submission of two to three professional reference letters that comment on your work experience and professional character
Fee Structure
Another important consideration when you're searching for a financial advisor is how the specific advisor is compensated. Compensation is one of the factors that influence how much it costs to go to a financial advisor. "When looking for a financial advisor people should also look at the fee structure and understand how the financial advisor is compensated," said Danielle Barak CLTC. There are fee-based financial advisors, and then there are advisors that make a commission. It's important that the client understands how the advisor is compensated and feels comfortable with this."
Here are the ways financial advisors are usually paid.
Commissions: Financial advisors who only receive commissions typically sell investment products and earn money when they sell these products to customers.
Fees only: Financial advisors who only receive fees might charge a flat, hourly or retainer fee to help customers manage their finances.
Fees and commissions: Financial advisors who receive both fees and commissions charge a flat, hourly or retainer fee for financial planning services and earn a commission on eligible investments they sell.
Someone You Can Relate To
"Really effective advisors are often confidantes, financial quarterbacks, and sometimes even mediators for clients," said Deborah Adeyanju, CFA and Associate Financial Planner and Impact Strategist with GRID 202 Partners. "Your advisor must be someone you can relate to. Whether it's understanding the additional financial strains even successful people of color often face due to racial disparities in wealth or being prepared to address women's specific retirement planning needs, given the gender wage gap, it's important that your advisor can meet you where you are."
Someone You Can Trust
Sarah Carlson, CFP and founder of Fulcrum Financial Group, believes integrity is a quality you should look for in a financial advisor. "What is your advisor's reputation?" Carlson said. "Has [he or she] made many changes in the industry? That can be a red flag. It is a good idea to check out your advisor's compliance record on Broker Check. You will be able to see if [the advisor] had any regulatory issues in the past."
Check Out: Suze Orman's Top 26 Tips That Will Save You From Financial Disaster
Questions To Ask a Financial Advisor
According to the National Association of Personal Financial Advisors, here are some important questions to ask a financial advisor you're considering hiring. The answers to the following questions can help you evaluate the financial advisor so you choose the person best suited to help you meet your financial goals:
How are you compensated?
Do you itemize commissions, if applicable?
Do you accept referral fees?
Are you held to a fiduciary standard at all times?
Are you willing to sign a fiduciary oath that states you'll always put my interests first?
Have you ever been disciplined by the Securities and Exchange Commission or the Financial Industry Regulatory Authority?
Do you provide full-service financial planning or just investment management?
Do many of the clients you work with fit my profile?
Will you or an associate work with me?
Read Next: 25 Secrets Every Rich Person Knows
How To Find a Financial Advisor
When you're ready to start searching for a financial advisor, ask friends and family members you trust for names of advisors they trust. Or, check professional networking organizations such as the Financial Planning Association, NAPFA or the Garrett Planning Network for advisors in your area . Some banks also have financial advisors on staff.
Whoa: 17 Surprising Ways Penny-Pinching Costs You More
How To Avoid Financial Advisor Fraud
Unfortunately, fraud is not uncommon in the financial planning and advice industry. "One question I am consistently asked by investors who sue their financial advisor is what could we have done differently? said Marc Fitapelli, a New York City-based attorney who exclusively represents investors in cases against financial advisors. "My answer is always the same — do your homework, look the person up on FINRA BrokerCheck and don't be intimidated about asking questions."
Additionally, keep an eye out for signs of fraudulent activities from your financial advisor.
What To Watch Out For
Be on the lookout for any financial advisor — or anyone claiming to be one — who is involved in any of these potentially fraudulent activities:
Claims to have special credentials or experience
Promotes limited-time offers with a sense of urgency
Offers guaranteed or overly consistent returns that don't match market conditions
Refuses to explain the investment, including how it makes money and the potential risks
Promises large profits from a small investment
Requires an advance payment
Budgeting 101: How To Create a Budget You Can Live With
Financial Advisor Takeaways
Ultimately, what you're looking for in a financial advisor depends on your personal goals. The two most common reasons people seek the services of a financial advisor are to help them with investing or planning for retirement. It's important that you not only make sure that the financial advisor you choose offers the products or services you need but also that he or she is someone you can trust and relate to.
More From GOBankingRates
Last updated: Apr. 16, 2021