Planning for 2021: How To Prepare Financially for Two Different Halves of the Year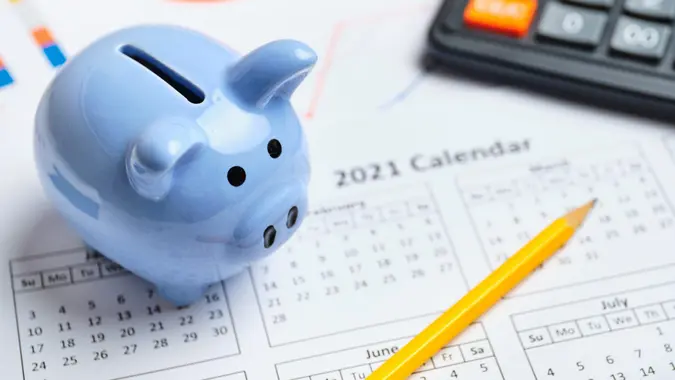 gesrey / Getty Images/iStockphoto
Right now, it feels like we are in financial limbo. Coronavirus vaccines have begun to be administered, giving hope that by some point in 2021, we'll be able to return to some kind of normalcy — along with all the expenses that go with that, like commuting and travel. We also have a new president who has announced some big plans that could affect our wallets — but should we start planning our finances around policy changes that may or may not be enacted?
With so much uncertainty, it might be hard to plan for all of 2021 — but here's what experts say will have you prepared for whatever the year throws our way.
Helpful: How To Rebound From a Bad Financial Year: 2020 Edition
Build Up Your Emergency Fund
"The best antidote to financial uncertainty is an emergency fund," said Howard Dvorkin, CPA and the chairman of Debt.com.
Your emergency fund should be able to cover three to six months of living expenses, said Scott Schleicher, financial planning specialist group manager and senior financial advisor at Personal Capital.
"Having an appropriate emergency fund is one of the first things a good financial planner will tell any client: an account that's 100% liquid cash," he said. "This is cash that should be accessible in a moment's notice — not invested in securities that require time to sell or will incur capital gains tax when sold."
Tips: 17 Biggest Budgeting Mistakes You're Making
An emergency fund can prepare you for unexpected job loss or increased living expenses if you're situation changes throughout the year.
Be Prepared To Reintroduce Some Expenses Into Your Budget
There are a number of expenses you may have forgotten about that you should be prepared to cover in the latter half of 2021. These include commuting costs, travel costs and costs associated with large gatherings, like weddings and concerts. In anticipation of increased expenses in the second half of the year, consider cutting costs where you can right now.
Read: 37 Life Hacks That Will Save You Money
"Now is a great time to compare auto or homeowner's insurance and switch to a cheaper plan, or negotiate with your internet or cable providers to see if you qualify for a new promotion," said Andrea Woroch, a consumer and money-saving expert. "You may even be able to lower your monthly mortgage payment by refinancing given the historically low rates. There are many options to lower your recurring bills, so just spend time doing the research."
In addition to lowering your recurring expenses, Woroch said to keep your discretionary spending in check.
"Figure out how much you can comfortably afford to spend on clothing or dining out and add that to your budget," she said. "Then track it so you don't go overboard. This will allow you to enjoy these splurges without letting them derail your financial progress and security."
See: 101 Easy Ways To Save Money Daily
Don't Plan Your Budget Around Proposed Policy Changes
President Joe Biden has outlined a number of policy proposals that could affect your finances. These include:
Expansive COVID-19 relief, including boosted unemployment benefits, additional stimulus checks, paid sick leave for those infected with the coronavirus and aid for small businesses
Higher taxes for those making $400,000 or more
Increased Social Security benefits for the elderly, long-term low-wage workers, veterans and spouses of deceased workers
Tax relief for caregivers and parents of young children
A federal minimum wage of $15
Some student loan forgiveness for those making less than $125,000 a year
More affordable healthcare through enforcement and expansion of the Affordable Care Act, increased tax credits and lower premiums
Although these policies could affect your financial situation, there's no need to plan around them, financial expert Dave Ramsey wrote in a blog post.
"One, these are just proposals — nothing has happened yet to bring them about. Biden himself could change his mind about any of them. And once Congress gets involved, the final outcome is bound to look very different from his original plan."
Find Out: 50 Ways To Live the Big Life on a Small Budget
"And two, you are always in control of your finances — no matter who's president or what's going on in Washington, D.C.," he continued. "Don't wait for the government to give you a stimulus check or tax cut or forgive your student loans. If you want more money in the bank and for your debt to go away, take control and make it happen."
More From GOBankingRates