Poll: 45% of Respondents Needed To Pay Bills With Stimulus Check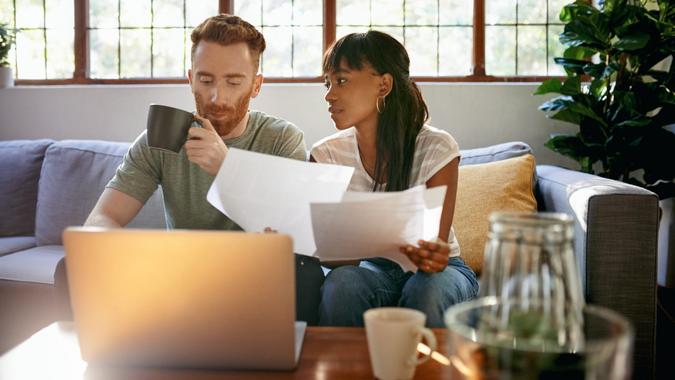 mapodile / Getty Images
As part of President Joe Biden's American Rescue Plan, single people making less than $75,000, heads of household making less than $112,500, and married couples filing jointly making less than $150,000 qualified for a third round of stimulus checks — direct payments of $1,400 per person. In addition, people making up to $80,000 received partial payments.
Read: Homeowner Stimulus Checks Are Coming – How to Get Your Money From This $10B Fund
More: Two New Stimulus Checks May Be on the Way – Here's Everything You Need to Know
The third round of stimulus checks came on the heels of previous stimulus payments distributed under former President Donald Trump — the first stimulus sent $1,200 to adults and $500 to dependents 16 and younger, and the second stimulus sent $600 to adults and dependents 16 and under.
Detractors of the third round of checks felt that the cost of these stimulus payments was too high, and that not everyone who would be eligible actually needed the money. A group of Republican senators made a counterproposal for $1,000 checks and a phase-out beginning at $40,000 for individual filers — a stipulation that would have covered 29 million fewer Americans than the Biden proposal that ended up passing.
However, a recent GOBankingRates poll found that many of the Americans needed the stimulus money to make ends meet. The survey of just under 4,000 Americans that asked, "If you get a stimulus check, how will you use it?" found that 45% planned to use their third stimulus check to pay bills. Additionally, 12% planned to spend it on food or other necessities and 9% planned to use it to pay rent or mortgage.
Find Out Why: You May Want to Opt Out of Monthly Child Tax Credit Payments – Here's Why
Among the Americans who didn't need the check to cover essential costs, 19% planned to put their stimulus check into savings, 9% planned to invest it and 6% planned to spend it on a nonessential purchase.
Women Were More Reliant on Stimulus Checks To Pay Bills
The poll found that 53% of women planned to use the third stimulus check to pay bills vs. 38% of men. This could be due to the fact that women left the workforce at a higher rate than men amid the pandemic, with 2.6 million women leaving the workforce from the start of the pandemic through January of this year.
More Polls: Do You Support a Biden Tax Increase? Take Our Poll
And: Do You Think the Minimum Wage Should Be $15? Take Our Poll
Americans of All Ages Planned To Use the Third Stimulus Check To Pay Bills
Paying bills was the most popular poll response across all age groups, ages 18 to 65+. The age group that most needed the stimulus check to pay bills was ages 55 to 64, with over half of respondents in this age group — 53% — saying they would put their check to this use.
More From GOBankingRates
Last updated: June 17, 2021
Methodology: An original poll posted to GOBankingRates collected responses from 3,972 people from March 3, 2021 to March 12, 2021 (when the first batch of third stimulus payments was sent out). The poll asked respondents: "If you get a stimulus check, how will you use it?" GOBankingRates used CivicScience to conduct the poll. Results are unweighted. Demographic insights were discovered by comparing respondent profiles across a wide range of attributes. Data was analyzed on June 11, 2021.