5 Potential Perils That Could Break Your Budget This Winter, According to Experts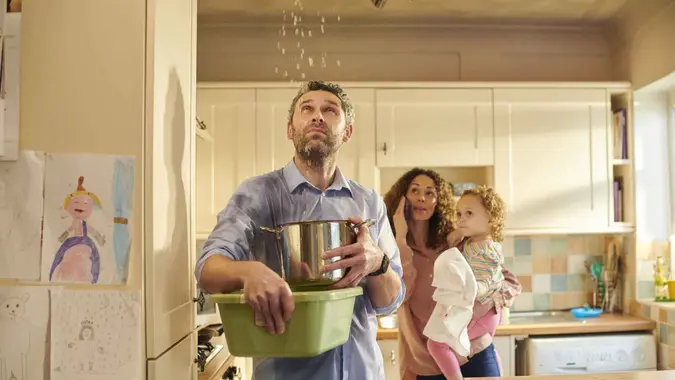 sturti / Getty Images
Many homeowners worry about high home heating costs when winter rolls around. And while it should still factor into your budget, especially with the price of crude oil still hovering close to $100 a barrel, it's not the only factor you'll need to consider. But the problems you'll want to prepare for vary based on where you live.
Weather experts at USA Today explained that El Nino, one of two climate patterns in the Pacific Ocean that affects weather trends, has been strengthening. The Climate Prediction Center of the National Oceanic and Atmospheric Administration said there is a 95% chance of El Nino activity through March 2024.
The combination of El Nino and above-average heat could lead to less snow this winter in parts of the U.S. On the other hand, some parts of the U.S. will have other inclement weather to contend with. If you're not prepared, it could be costly.
Tornados in Central and South Florida
El Nino typically brings tornados, hurricanes, high winds and other extreme weather conditions. But, depending on its strength, it can also break apart hurricanes over the Atlantic so they are little more than a bad storm by the time they reach the mainland.
This year, however, warmer ocean temperatures are offsetting El Nino's influence on tropical storms. This could mean greater threats of tornados in central and south Florida.
Take some time, as you redecorate your home for fall, to ensure the security of your home. Make sure tall furniture is anchored to the walls, heavy items are not stowed on high shelves, and any large artwork, mirrors, or wall hangings are firmly secured or removed for the season.
If you've been considering a new roof or shingles, it might be time to make the investment.
Flooding in the Northeast, California, Florida, and Along the Gulf Coast
Warmer weather could bring heavy rains along the coastlines, which could lead to flooding. Again, patch up any potential leaks in your roof or around doors and windows. Pay close attention to your basement, sealing walls with waterproof compounds or building interior barriers to prevent water from entering.
Elevate your furnace, water heater, and any costly furniture to prevent an expensive loss if your basement floods. Move any valuables, including those with sentimental significance, to higher ground.
It may be a good idea to invest in flood insurance, since your regular homeowners policy will not honor flood-related claims.
Drought in the Pacific Northwest, Parts of the Midwest, and Hawaii
While many parts of the country will face increased winds and rain, the Pacific Northwest, parts of the Midwest that encompass the Ohio Valley, and Hawaii could experience drought. Be prepared for higher water bills if supply dwindles.
Shifting Demand for Seasonal Work
While greater than normal precipitation due to the influence of El Nino could normally result in more snowfall, the warmer temperatures could shift the snow to rain, at least early in the season. Experts at OnTheSnow predict normal to below normal snow in the Pacific Northwest, with above average snowfall moving inland.
The Northeast may see normal-to-above normal snowfall, but it might not start until later in the season. If you work in a seasonal industry, such as snow removal, expect to be slow through winter's early months.
Increased Insurance Premiums
A greater risk of tornados and floods could lead to more insurance claims, which threatens to drive up premiums.  
Bottom Line
El Nino's activity often adds a wildcard to winter weather. Prepare now for storms and you will be better poised to handle whatever Mother Nature sends.
More From GOBankingRates