5 Purchases You Should Never Make With Buy Now, Pay Later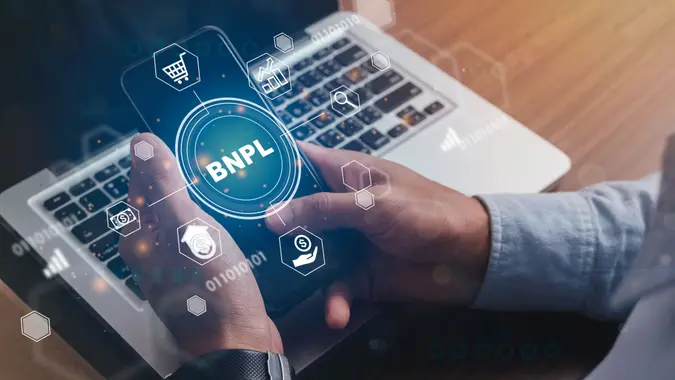 Khaosai Wongnatthakan / Getty Images/iStockphoto
Buy now, pay later (BNPL) spending is more popular than ever. In the last quarter of 2023, it's expected to reach new heights of $17 billion, up from $14.5 billion last year, according to analysis from Adobe Analytics.
"Despite an unpredictable economic environment, where consumers face several challenges including rising interest rates, we expect strong e-commerce growth this season on account of record discounts and flexible payment methods," said Patrick Brown, vice president of growth marketing at Adobe. Brown said that BNPL has become "increasingly mainstream," making it easier for shoppers to "hit the buy button," particularly if they are using a mobile device."
However, using this form of payment might not be the best idea in some instances. Here are five things you shouldn't purchase with buy now, pay later.
Expensive Items Costing Thousands of Dollars
When it comes to shopping with BNPL, you can buy thousands of items — from Gucci bags and 3-carat diamond rings to a set of new tires or a mattress.
"I would avoid making any large purchases over a few thousand dollars with any BNPL apps," said Bethany Hickey, a banking and personal finance expert with Finder. "With smaller, unsecured loans, you're typically required to pay them back very quickly, and taking on a large, short-term loan with a $1,000 or more monthly payment can be a recipe for disaster."
Large Amounts of Non-Essential Items
A large purchase of items that you don't need but still want is a bad idea to buy with BNPL apps.
"Avoid financing non-essential items like clothing with buy now, pay later apps because these items often depreciate in value, and the accumulated interest can make them more expensive in the long run," said Mark Stewart, an in-house CPA for Step By Step Business. "Similarly, using BNPL for discretionary purchases, such as electronics, may lead to unnecessary debt as the allure of deferred payments may overshadow the financial implications of accumulating interest over time."
Everyday Expenses
"Buy now, pay later apps may seem like a convenient way to manage everyday expenses such as groceries, gas or bills," said Scott Allen, co-founder and licensed agent at Seniors Life Insurance Finder. However, Allen said that small, everyday purchases can add up quickly and become unmanageable if you use a BNPL payment method.
"Additionally, relying on these apps for necessary expenses can lead to a false sense of financial security and may hinder one's ability to save money." If you can't pay for your everyday expenses from your monthly budget, you need to reevaluate how you are spending your money. 
Any Items You Can't Comfortably Pay Off in 4 Installments
You shouldn't purchase items with BNPL if you can't comfortably pay them off within the four interest-free payments most BNPL apps offer. Otherwise, you could end up paying a high amount of interest.
For example, Affirm offers four interest-free payments, which equals one payment upfront and one payment every two weeks until the balance is paid off. However, if you choose to finance the items for longer, you could pay up to 36% interest on your purchase. For comparison, the average credit card interest rate right now is close to 28%.
Afterpay offers a similar payment plan with four interest-free payments paid over a six-week period and also a monthly plan, which could include interest charges up to 35.99%.
Any Items You Buy on Impulse
Impulse purchases are anything you buy on the spur of the moment without considering whether it's actually the best use of your money. And when you're shopping online and paying for something is as easy as hitting the "buy button," you could easily dig yourself into debt with these types of purchases.
More From GOBankingRates