Robert Kiyosaki, Mindy Jensen & More Top Experts' Best Advice for Your Money in 2021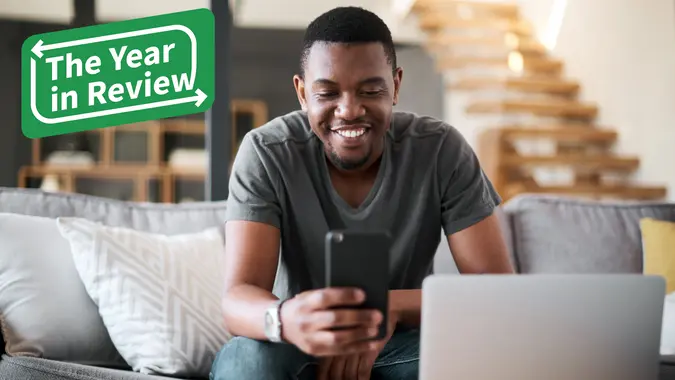 PeopleImages / iStock.com
You no longer need a Wall Street Journal subscription or a professional financial advisor to access excellent money advice (though those things can't hurt). Many of the best personal finance experts are now accessible to the general population through blogs, podcasts, books and social media pages, where they share their tips on investing, saving money, budgeting and more.
Read: 12 Crucial Money Tips for Every Phase of Your Financial Life
Learn More: Is a Financial Advisor Worth It?
This year, I spoke to some of the most trusted names in the personal finance space to get exclusive tips and advice for GOBankingRates' "Money's Most Influential" franchise — here are some of the top pieces of advice they shared.
Make Investing a Habit
"The single best thing you can do with your money is to build an investing habit, and start that habit immediately. It doesn't matter if you don't feel like you have much to invest — even $20 or $30 a month can compound to great sums over time." —Andrew Sather, co-host of "The Investing for Beginners Podcast"
Don't Follow the Herd When It Comes to Investing
"The crowd is often wrong and certainly too emotional, but it has power to move markets. Sidestep damage from the herd and move in after they've trampled the market. Hold certain stocks longer term — I have Apple and Amazon, but had stocks I loved and knew would be great over the years but closed out. [The biggest mistake people make when it comes to investing is] they lose faith far too fast. They want stocks to go up every day, and I'm noticing more are measuring [their] portfolio against the market on a daily or weekly basis. NUTS." —Charles Payne, host of Fox Business Network's "Making Money with Charles Payne"
Don't Do This: 50 Terrible Ways To Try and Save Money
There Are No Shortcuts to Wealth
"Don't take shortcuts. While it may be tempting to try to cash in when a company like, say, GameStop is rocketing upward on financial markets, the reality is that you'll almost always be late to the party. Study the 'greater fool theory.' Understanding how it works will open your eyes to the fact that there are very few get-rich-quick schemes that actually work." —David Lazarus, award-winning business columnist for the Los Angeles Times
Align Your Money Behaviors With Your Personal Values and Goals
"Figure out for yourself what you value. It's really easy to get messaging from others and to allow other people to spend our money. It's critical that you are self-reflective and figure out what it is you actually value so you can spend, save and invest in alignment with your financial goals." —Erin Lowry, author of the bestselling three-part "Broke Millennial" series of books
Try Asset Class Investing
"Focus on asset classes rather than trying to pick individual stocks. Asset class investing can be just as interesting as researching companies — and certainly more rewarding, as it isn't dependent on outsmarting other investors." —David Stein, founder of the personal finance site Money for the Rest of Us
Take a Look: 25 Secrets Every Rich Person Knows
Set Manageable Financial Goals
"[The biggest mistake people make when it comes to budgeting and debt management is] starting too big. Most of us don't get into debt overnight, so you are going to have to create a process whereby you can take small steps to achieve big goals." —Jill Schlesinger, certified financial planner and host of the "Jill on Money" podcast
Your First Investment Should Be in an Index Fund
"There's too much risk in individual stocks to just put together a portfolio of them of your own choosing. So, at a minimum, I am demanding that you put your first $10,000 beyond what you have from your first 20 years into an index fund, the S&P 500 being my favorite." —Jim Cramer, "Squawk on the Street" co-host, to CNBC
Don't Wait To Start Investing
"[The biggest mistake people make when it comes to investing is] not getting started sooner. People hold off because they are intimidated or don't understand it. You can always make adjustments to your assets in your portfolio, but building it up takes time and it takes a plan of action. You have to be consistent." —Jully-Alma Taveras, founder of Investing Latina
Make the Most of It: 100 Ways To Make Your Money Last Until You're 100
Having a Balanced Portfolio Isn't the Best Strategy Anymore
"All the experts talk about a 'balanced portfolio' — some stocks, some bonds, gold… I think that's a dated view. Over time, the stock market paid investors better than most investments. Since 1930, the S&P has returned an average of 9.7% annually. Now, keep in mind that some years were way better, and others, like the financial/housing crash of 2008 when the S&P lost 37% of its value, have been way worse. But lately, personal investment experts say that over time​, buying quality companies with good management should be the greater part of a portfolio. Yes, bonds can give you downside protection, but unless you're in your later years and need to preserve your savings, quality stocks are a good bet. Keep in mind, though, the stock market is a casino. Everything is a bet. And sometimes in betting, you lose. Never bet more than you can afford to lose." —Liz Claman, anchor of "The Claman Countdown" on Fox Business Network
Automation Is the Key To Boosting Your Savings
"Automate. Automate. Automate. Just like contributing to a 401(k), automating contributions to your savings is one of the smartest things you can do: make a smart decision once and it consistently pays off. I recommend coming up with a minimum savings goal for the month and using [banking] tools to move money from your checking into your savings on a schedule that makes sense for you. If you end up having a little extra after meeting your needs, consider manually moving more into the piggy bank. For me, automating that base level of savings is what helped me achieve my goals. Also, consider automatically transferring money just after your paycheck is deposited — that way you don't give yourself a chance to spend it first." —Mandi Woodruff, co-host of the "Brown Ambition" podcast
Learn To Hate Debt
"Americans are living the American dream on borrowed dollars. Stop living beyond your means by using debt. Learn to hate debt. If debt were a person, I'd slap it. If you learn to have a healthy hatred of debt, you can manage your budget better because less of your income would be used to service debt. The biggest mistake people make is thinking debt is an OK tool. It's not. It may be necessary to buy a car or home, but make no mistake — it's like having a 50-pound weight on your financial shoulders." —Michelle Singletary, personal finance columnist for The Washington Post
Be Aware: 18 Reasons Why You Should Be Using Your Credit Cards More
Never Invest In 'Weird' Real Estate Properties
"NEVER buy weird. 'Weird,' 'unique,' 'unusual' are all four-letter words in real estate. You want normal, traditional, interesting-but-ordinary when you are buying a house." —Mindy Jensen, co-host of the "BiggerPockets Money" podcast
Start With a Financial Goal and Work Backwards
"Start with the end in mind. Name your goal and timeline, such as 'I want these investments to grow for retirement,' or 'I want these investments to grow for 15 years, when my kids start college,' or 'I want these investments to grow for five years, at which point I'll use them to make a down payment on a home.' Once you have a specific goal and timeframe, you'll know how much risk is appropriate to take on. And once you've defined your risk parameters, you'll know what types of assets (equities, bonds, real estate, etc.) to allocate into." —Paula Pant, founder of the "Afford Anything" blog and podcast
Try a Zero-Based Budget
"I recommend a zero-based budget. This is where your income minus expenses equals zero. You're telling every single dollar where to go. If 2020 has taught us anything, it's that we need to be intentional with every dollar we have coming in. A budget will also help you and your spouse get on the same page with your finances. It forces you to talk about how you're spending your money, your financial goals and your dreams. Money is the tool that will help you achieve those dreams, and the budget is how you steer the ship." ––Rachel Cruze, personal finance expert and author of "Know Yourself, Know Your Money"
The Ultimate Financial Planning Guide: Do It Like the Pros in 6 Steps
You Should Never Say 'I Can't Afford It'
"I forbid myself from saying, 'I can't afford it.' I have disciplined myself to ask instead, 'How can I afford it?' Asking myself how I can afford something opens and challenges my mind — to think. The words we say to ourselves and the words we believe are the most powerful forces in the world. In my experience saying, 'I can't afford it' is what poor people say. That is why they are poor. There is a difference, I've found, between 'broke' and 'poor.' Poor is a state of mind that we all have the power to change." —Robert Kiyosaki, author of "Rich Dad Poor Dad"
Invest In Your Financial Knowledge
"Investing isn't just a question of putting aside money as early as possible and the compounding interest of your portfolio, but rather about the compounding interests of your investment knowledge. Start reading books as soon as possible, and learn from the people with the best track records, like Warren Buffett." —Stig Brodersen, host and co-founder of "We Study Billionaires" by The Investor's Podcast Network
Have 8 Months of Living Expenses Saved in an Emergency Fund
"I know that's a lot, but I want you and your loved ones to be OK if you were ever laid off, or sick for an extended period of time. Sure, it could take years to reach your eight-month goal. That's totally OK. The important issue is that you are starting to save today and so every month you will be moving closer to your goal." —Suze Orman, author, speaker, media personality and podcast host, in a blog post
More From GOBankingRates
Gabrielle Olya contributed to the reporting for this article.