'Rich Dad, Poor Dad' Author Reveals the Only Real Way to Grow — and Keep — Your Wealth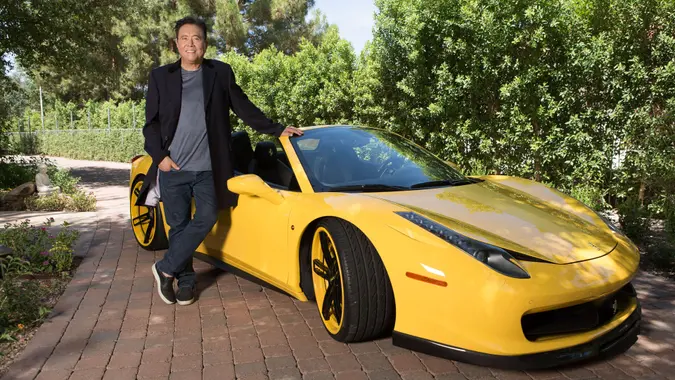 ©Kelli Leslie Photography
Entrepreneur, educator and investor Robert Kiyosaki turned the way the world thinks about money upside-down when he published "Rich Dad, Poor Dad" in 1997. The book challenged conventional wisdom about everything from work culture to how we value things like cars and homes, going on to become the No. 1 personal finance book ever. Kiyosaki has since written more than 20 books, invented a game called CASHFLOW, co-founded The Rich Dad Company and educated people all over the world about their finances. 
Kiyosaki's irreverent attitude about financial education certainly changed my life, helping me focus more on how money can give me freedom — instead of sacrificing my freedom to get more money. So I was thrilled to get a chance to talk to him about his newest book, "FAKE: Fake Money, Fake Teachers, Fake Assets: How Lies Are Making the Poor and Middle-Class Poorer," which will be released in April of this year. He told me about the backstory of "Rich Dad, Poor Dad," what it was like to co-author books with Donald Trump and the best money advice he's ever received.
What inspired you to write 'Rich Dad, Poor Dad,' and what have you learned since it came out?
As a kid, I was curious about why our school system didn't teach us anything about money. I asked my teachers; I asked my dad (who was the head of education for the state of Hawaii) and the answer was always the same: We don't do that.
Consequently, most of us learned little to nothing about money in school. If I had not found a teacher in my best friend's father, the man I call my rich dad — who opened both my eyes and my mind to other points of view on money — who knows how my life would have unfolded? The lack of financial education, in a world where money is a part of our everyday lives, was appalling to me. And writing "Rich Dad, Poor Dad" gave me a way to share what I had learned about money outside the classroom.
Find Out: A Finance Expert Shares Her Genius Tips for Raising Kids to Be Great With Money
And we wonder why we have a growing gap between the rich and everyone else. Today we have leaders who lead … but know little if anything about money. My rich dad often said: "Without real financial education in our schools, the American dream is dead." I've learned that we need education to differentiate between what's real and what isn't (ie: "fake news") and determine the best course of action, for each of us as individuals and families, in creating the future we want.
You co-authored two books with President Donald Trump. Did you think he would even become president? Did he ever give you money advice?
I can't help but ask myself: Why would anyone want to be president? So, my answer is, "No, I did not think he would run for POTUS — much less become president of the most powerful nation in the world." I've learned that actions speak louder than words. Donald Trump did not give me any verbal advice on money, but working with him for nearly eight years was a remarkable education on money.
And while I do not agree with everything he says and does, I do think he is "draining the swamp."
Learn More: Trump's Former Communications Director Shares 7 Money Lessons for Kids
Your new book 'FAKE' is all about common misconceptions and untruths about personal finance. What are some money myths that keep people poor?
In 1971, President Richard Nixon took the U.S. dollar off the gold standard — so in 1971, our money became "fake money." In 1971, our money became "toxic." Today, our money makes the rich richer but makes the poor and middle class poorer. That is why Lesson No. 1 in "Rich Dad, Poor Dad" is: "The rich do not work for money."
How can we keep up our financial education so we stop being susceptible to these myths?
Choose your teachers wisely. Most people get their financial education from salespeople, not rich people. Salespeople are called "brokers" — stockbrokers, real estate brokers, financial planners. They aren't teachers and are seldom interested in more than a "sale."
More Advice: 16 Expert Tips to Manage Your Money Better
How can people tell they've got a good source for financial information instead of a 'fake' one?
Most people learn from fake teachers. A fake teacher is a teacher who does not practice what they teach. A real teacher is someone who practices, every day, what they teach.
In 1971, I was a young Marine Corps student pilot, preparing to fly in Vietnam. The better I got as a pilot, the more real my flight instructors got. When I was preparing to go fly in combat, my next teachers had just returned from Vietnam. The first thing these combat pilots said to me was: "Forget what your previous flight instructors have been teaching you. Flying in Vietnam is different than flying in California."
You asked readers to submit questions for 'FAKE.' Was there one you got over and over again? How did you answer it?
Yes, there was a common theme running through many questions — the fear of making mistakes. My reply is always the same: The problem with going to school is teachers punish students for making mistakes. The irony is that humans are designed to learn by making mistakes. That is how a baby learns to walk. The baby stands, then falls, and stands up again, until the baby can walk. If babies went to school, to learn to walk, they would crawl all their lives.
The reason most school teachers are not rich is that they teach students that making mistakes makes you stupid. In reality, mistakes make you smart and richer — if you learn from them. The fear of making mistakes is the primary reason my poor dad, an academic genius, died a poor man. My rich dad, a man who did not finish school, taught his son and me that "Failure leads to success… if you learn from your failures."
When you study the lives of great entrepreneurs, all failed many times — and many failed big. For example, Thomas Edison failed over a thousand times before inventing the electric light; Steve Jobs was removed from his company; Bill Gates was sued by the federal government; Mark Zuckerberg was sued by his classmates; even Jeff Bezos failed a number of times before founding Amazon.
Also See: Doing Something That Scares You Could Help You Build Your Wealth
Have you ever been given great money advice? And what's your best money advice for others?
The best advice I've been given: The world hates cheap people. I remember being a waiter in high school. No one liked customers who did not tip. The world loves generous people. So be generous.
My best advice? There are many doors to financial heaven. Just as there are many more doors to financial hell.
Click through to read more about the 12 essential money tips for every phase of your financial life.
More on Making Money and Business
We make money easy. Get weekly email updates, including expert advice to help you Live Richer™.
This interview has been edited and condensed.