Should You Rely on an Expert for Your Money Advice?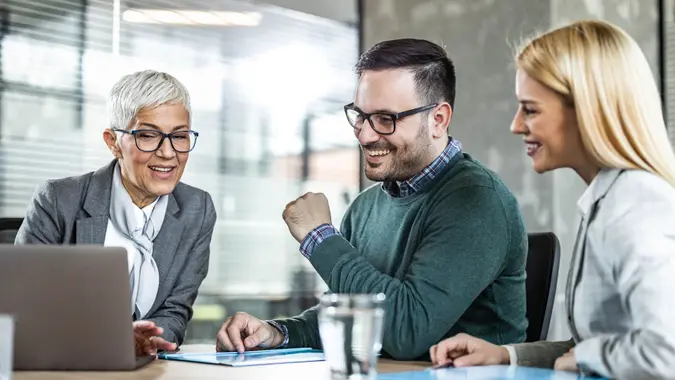 skynesher / Getty Images
There are many resources available that can help you develop the knowledge necessary to make informed financial decisions, including books, financial advisors and online courses.
Another available resource is the advice of well-known moguls and influencers. In GOBankingRates' 2023 Top Money Experts survey polling 1,045 respondents, 35% of overall respondents said they consider these experts their primary source for money advice.
So should you rely on the insight of a recognized name in personal finance, or should you consult another resource? How do you know which is best for you and your finances? Here's how to decide whether you should use an expert for your money advice.
Should You Take an Expert's Financial Advice?
The short answer to this question is not necessarily, especially if you do not personally engage with these experts as your fiduciary financial advisor.
Take Our Poll: Who Has Given You the Best Money Advice You Have Ever Received?
Alissa Krasner Maizes, registered investment advisor and founder of Amplify My Wealth, said while it can be tempting to rely on the expertise of the person sharing financial information, they are not your financial advisor and do not know your specific situation. Therefore, they are not legally bound to put your financial needs first.
When Should You Work With a Financial Advisor?
While Douglas Kuring, CFP, vice president and financial advisor at Wealth Enhancement Group, celebrates the rules of thumb and money tips given by experts and influencers, Kuring said many of the financial life events we all face are too important and nuanced not to seek guidance from an experienced financial professional.
"It's best to turn to an expert for advice when the decisions you face have significant consequences on your future and are too complex for you to solve on your own," said Kuring.
Other circumstances that may require meeting with a financial advisor include the following.
You Live Paycheck to Paycheck, but Have Good Income
Kathleen Owens, financial advisor and fiduciary at Aurora Financial Planning & Investment Management, said meeting with a financial advisor can help you find out what you are doing, or not doing, that may be harming your finances.
You Experience a Big Money Event, Like Receiving an Inheritance 
Before you do anything, Owens recommends getting professional advice to prevent making any money mistakes. "It's important to learn what all your options are and what tax issues you may have with the money decision you have."
You're Not Saving or Investing Your Money
35% of overall respondents surveyed by GOBankingRates said they would like to learn how to save more money to improve their personal finances. If you are not setting aside a percentage of your income into a savings or investment account, or don't feel motivated to act with your finances, Owens said it's in your best interest to seek the help of a financial professional.
You Have Anxiety About Money
Maybe you have a money habit you are ashamed of or made a serious financial mistake from years ago that still haunts you to this day.
The upside, Owens said, is most of us have made money mistakes and they're nothing to be embarrassed about. If you have a lot of money anxiety and wish you could do better, you can seek help from a financial professional and take care of yourself while getting back to feeling good about your finances.
More From GOBankingRates