3 Signs You're Not Financially Prepared for the Future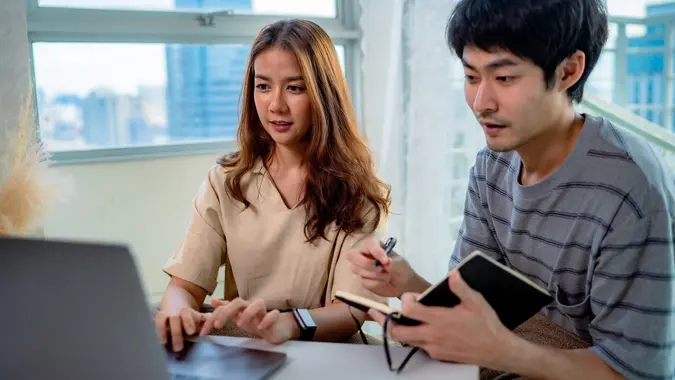 whitebalance.oatt / iStock.com
What you don't know might actually hurt you — at least financially. Not understanding money matters and general lack of financial literacy can prove detrimental to your future.
A new GOBankingRates survey found that many Americans agree. Indeed, 57% said a lack of financial understanding has impacted their ability to be financially prepared for the future. In addition, a meager 12% said they are financially prepared for the future.
"It is not surprising that people do not feel they have a clear understanding of their finances and that so few feel financially prepared," said Bobbi Rebell,  founder of Financial Wellness Strategies and author of "Launching Financial Grownups." 
"While April is Financial Literacy Month, as a country we still fall short when it comes to preparing to be financial grownups."
Andrew Latham, certified financial planner and director of content of SuperMoney.com, echoed the sentiment, saying the survey's results are not surprising and are in line with other findings. A National Bureau of Economic Research study found that only one-third of Americans were able to answer basic financial literacy questions correctly, including those related to interest rates, inflation and investment risk.
"These studies highlight the well-documented challenge of low financial literacy and preparedness among the general population," Latham said, "emphasizing the need for effective interventions from policymakers and financial institutions to improve financial knowledge and behaviors."
But experts say there are ways to identify whether we're financially prepared for the future, as well as the consequences of not understanding finances.
You're in Debt
Cleaning up your debt is the first step in order to be able to build wealth and invest.
"Debt is stealing from your future and you need to treat it as something to be eliminated," said Jay Zigmont, Ph.D., CFP and founder of Childfree Wealth.
Americans are racking up debt at a very fast pace. Indeed, TransUnion's Q4 2022 Quarterly Credit Industry Insights Report found that these debts run the gamut, whether it's Gen Z consumers opening credit cards, homeowners taking out home equity lines of credit (HELOCs) or consumers continuing to turn to unsecured personal loans.
In addition, the survey found that credit card balances continued to grow, reaching record levels at the end of 2022. However, there was an upward trend in credit card delinquencies in both bank card and private label, something TransUnion deemed "somewhat concerning." 
"A lack of financial understanding can lead to poor financial decision making, resulting in debt," Latham said. "For example, individuals may not fully understand the implications of high-interest loans, leading them to take on debt that they cannot afford to repay."
You Don't Save or Plan
Not saving or planning can also be a result of a lack of financial understanding, according to Latham, who added that without knowledge of budgeting, investing or retirement planning, individuals may struggle to set aside money for the future or create a financial safety net.
"It's important for policymakers and financial institutions to recognize the role that financial literacy plays in shaping individuals' financial lives," he said. "By providing accessible and effective financial education resources and making it easier to compare financial products, we can help individuals achieve financial stability and success."
You Do Not Create Enough Income or You Overspend
According to a recent CNBC Your Money Financial Confidence Survey, 58% of Americans are now living paycheck to paycheck, and 70% said they are stressed about their finances.
With a stubborn inflation and soaring rates, many Americans are feeling the daily pinch. As of April 12, the average credit card interest rate was 20.59%, according to Creditcards.com. In turn, experts say now is the time to be extremely vigilant and careful about overspending.
"Life is full of distractions," Rebell said, "and while we often know we should be paying more attention to our finances, and putting in the time and effort to learn more about money, life gets in the way."
Rebell said one way to set ourselves up for success is to schedule time on a regular basis, ideally with an accountability partner, to learn more about personal finance and how to set up systems for success. 
"The next time you are talking to someone you trust — maybe your partner, a relative or a dear friend — and money comes up, it might make sense to decide together to learn more about money," she said. "There are so many resources available these days. Be sure to choose reputable sources — including websites, podcasts and books — and take control of your financial future so you can live your best life now."
More From GOBankingRates