Is It Smart To Plan Big Events Early in the Year?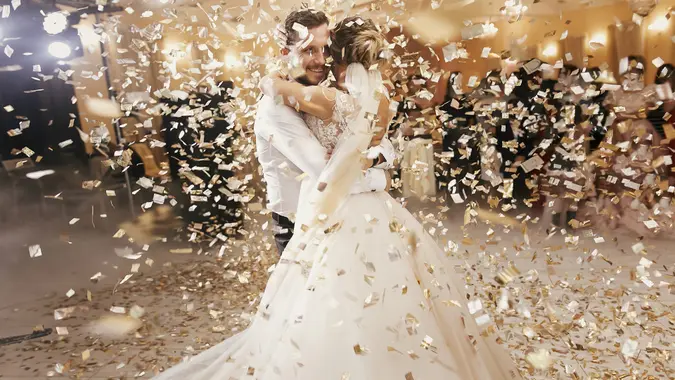 Bogdan Kurylo / Getty Images/iStockphoto
Although much is still uncertain, it seems that weddings and other large-scale events may be able to take place safely later on in 2021. Given this, should you start planning your big events now? To find out, GOBankingRates spoke to wedding and event planners to find out the possible advantages and disadvantages of planning and booking ahead.
Pro: You Have a Better Chance of Getting the Vendors You Want
"The biggest pro to proceeding with planning is knowing you will have the vendors you want to work with for your big day," said Ashley Merisier, CEO and creative director at A. Merisier Event Coordination & Design. "As things continue to get better and couples proceed to push forward with their original wedding day plans, you do not want to find yourself in a situation where your favorite vendors are unavailable. It is better to book and postpone later on than to not book and not have your dream vendor team because someone else beat you to it!"
Related: How 2020 Changed the Way We Budget and Plan For Weddings
Con: You May End Up Having To Lower Your Guest Count or Rescheduling
Juls Sharpley, founder of the Aspen, Colorado-based event planning service Bubbles & Bowties, recommends being "cautiously optimistic" if you want to plan a wedding with a large guest count for 2021.
"I am encouraging those couples to book, but only if they will be happy if restrictions demand lowering their guest count," she said. "We are also being much more thorough in reviewing COVID clauses, making sure couples truly understand what they are signing. These couples may very well end up postponing to 2022 and they need to be prepared for what that will look like before entering contracts. In most instances, they will be looking at additional fees for rescheduling, especially now that COVID is a known factor."
This may not only lead to additional fees, but also additional stress and frustration.
"If things don't work in your favor (e.g. vaccines have hold-ups, people don't take them, etc.), you'll have to once again figure out what to do," said Jamie Chang, owner and destination wedding planner at Mango Muse Events. "That could mean postponing again, downsizing, going virtual, eloping or canceling. And those decisions can result in losing vendors and deposits, having to inform and explain to guests, make new arrangements and, of course, all the stress, frustration and sadness that comes with having to change your plans."
Wedding Etiquette: How Much To Give (and Spend)
Pro: You May Be Able To Secure Better Prices by Booking Early
"You will get better deals by booking earlier on in the year than the latter," Merisier said. "The sooner you book before the beginning of the next season, the lower the prices typically are."
Booking early can also help you avoid extra fees.
"Oftentimes early planning will help avoid any expedite or rush fees that might come with a tight timeline," said Kelley Nudo, managing assistant at wedding invitation company Momental Designs.
Something To Consider: Why We Chose a Small Wedding and Big Savings
And since many vendors are eager for work after a very slow year for events, they may be willing to give you better deals.
"So many wedding pros have been out of work and slow on bookings that they will be more likely to negotiate or be flexible on contracts," said Nora Sheils, co-founder of the event planning platform Rock Paper Coin.
The same goes for venues that are eager to start hosting events again.
"Now is the best time to plan an event when it comes to venue options," said Marie Kubin, CEO at the nationwide event rental company Rent My Wedding. "Many venues have availability, even those that typically have years-long waitlists. And, many venues are offering discounts during the pandemic. That means your dream venue is now in reach!"
See: 19 Effective Ways To Tackle Your Budget
Con: Your Vendor May Go Out of Business Before Your Event
2020 was a tough year for many event vendors and many are entering the year on their last financial legs. Because of this, it is possible that your chosen vendor will go out of business before your big day.
"If a wedding pro goes out of business, you are likely out of luck, so you absolutely risk losing deposits," Sheils said. She recommends spreading out your payments so you don't lose a large chunk of cash in the event this does happen.
More From GOBankingRates