5 Smartest Money Moves for Gen Z To Make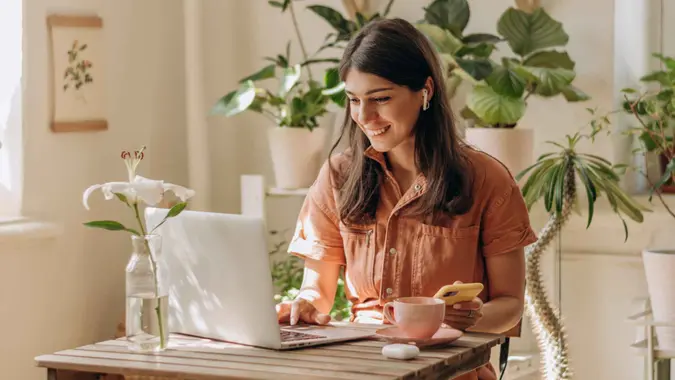 Tatiana Buzmakova / Getty Images/iStockphoto
Gen Z Americans — the first digitally native generation — have access to more democratized financial tools and information than their older cohorts. Nonetheless, this doesn't necessarily translate into good decision-making. An Intuit survey found that despite so much information at hand, their largest barrier to financial health is no longer informational, it's behavioral.
Here are some tips experts shared about smart money moves Gen Zers should make.
Get Started
As the Intuit survey notes, 82% of Gen Z Americans say they are not where they want to be in their life financially right now; 75% say they feel they only have enough money to survive but not thrive; and 68% say they only have enough money for their necessities, with nothing set aside for their life goals.
In turn, Lena Haas, principal, head of wealth management advice and solutions at Edward Jones, said one of the smartest moves is simply to just get started and educated.
"The most important step for Gen Z when it comes to financial planning is simply getting started," Haas said. "The best way to achieve your short- and long-term financial goals is to understand how the decisions you make today will make your goals a reality in the future. While many younger Americans may not have access to financial education, there are many online modules and educational programs that can serve as a starting point."
Take Our Poll: Would You Move for a Job That Paid You a $10,000 Signing Bonus?
Have a Plan
The next step is to have a plan in place in order to build a strong financial foundation and develop healthy financial habits.
"Creating a strong financial foundation includes developing a financial plan that incorporates budgeting, saving, paying off debt, and investing for future goals, including retirement," said Ryan Viktorin, vice president, financial consultant, Fidelity Investments.
Viktorin added that this generation has the benefit of plenty of years ahead, so staying invested and making contributions can help their retirement savings grow long-term and recover from any potential downturns.
Start Investing and Diversify
Many experts agree that as Gen Zers, it's important to note the difference between saving versus investing. And the Intuit survey found that despite knowing the importance of investing, a whopping 70% of Gen Zers don't know how to do it.
"Saving is putting money aside in a low, fixed interest rate savings or money market account, perhaps for an emergency. It's just one part of your financial strategy. Investing is using your money to potentially create more money over a period of time," Edward Jones' Haas said.
While investing can carry risk, not investing can also be a risk to your financial future. Haas recommends setting aside a certain amount to put in the 'save' bucket and the 'invest' bucket every month.
"This way you are engaging in smart behaviors every month without having to think about it or worry that you've overspent," Haas added.
Another important aspect of investing is diversifying across different asset classes.
"The goal of diversification is that by spreading out all your investment 'eggs' into different baskets, you won't lose your life's savings if one sector experiences a crisis," said SaveBetter's president and chief marketing officer Ben McLaughlin. "Stocks are exciting and have the potential for huge growth when the market conditions are right, but they can also be volatile. Balancing financial risks with guaranteed and federally insured savings products like CDs is a better strategy for Gen Zers' long-term financial health."
Retirement
"Gen Zers see retirement as something happening 30 to 40 years in the future – they may think they will have plenty of time to save, but the earlier you begin saving for retirement the more time you will have for your nest egg to grow," said Melissa Shaw, wealth management advisor, TIAA
Indeed, one of the financial topics Gen Z believes they lack the most information on was starting a retirement fund, with 20.3% feeling this way, according to a Rocket Mortgage survey. In turn, one of the categories in which Gen Zers are saving for the least is retirement, the survey notes.
Shaw said that Gen Z has the No. 1 factor on their side when it comes to saving for retirement: the gift of time.
"It is important to take advantage of that gift (and the compound interest that comes along with it) by starting to save now," Shaw said.
Shaw added that while enrolling in your employer-sponsored retirement plan is good, contributing up to — or  beyond — your employer's contribution is even better.
"Many employer-sponsored plans match employee's contributions, dollar for dollar, between 3%- 6%. For example, if you are earning $40,000 per year and you contribute 5% – $2,000, your employer will also contribute $2,000 to your retirement plan. There aren't many things in life that come freely, but the employer match is one of those things. Take advantage!" she added.
Sources of Information
With the rise of so-called "influencers," Gen Z is almost five times more likely to get financial advice from social media platforms than Americans 41 and older, according to the World Economic Forum.
But with the avalanche of financial information on social media, it might be wise to find a trusted source of information, such as a financial advisor.
"It's important to make sure you're getting advice that is appropriate for your financial situation," TIAA's Shaw said. "If you have access to a financial advisor or financial consultant through your employer, set up a consultation with them. Your financial advisor will look at all your personal financial goals, whether that is buying a house, car or planning for retirement and help you create a plan to achieve them."
More From GOBankingRates