Spending Assumptions You Shouldn't Make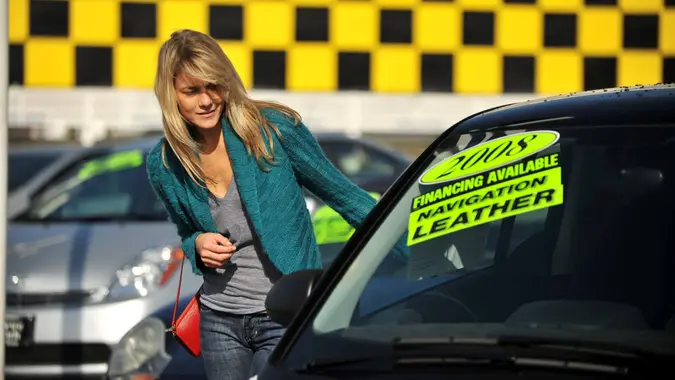 EHStock / Getty Images/iStockphoto
Your spending habits can be either the backbone of your good financial health or the root of your endless money woes. People in the first group make their spending decisions based on facts and strategies. People in the second abandon their dollars and cents to the mercy of guesswork and financial mythology.
When it comes to spending every dollar wisely, no one can bat a thousand. But by avoiding some of the most common false spending assumptions — like the five outlined below — you can do your batting average a whole lot of favors.
Avoid these money myths.
Also Helpful: What Gen X Can Learn From Boomers' Money Mistakes
More: Old-School Money Advice You Shouldn't Follow Anymore
During Sales, Retailers Mark Down MSRPs
When you buy a car, both you and the seller enter negotiations knowing the vehicle's suggested retail price (MSRP). But for small-ticket items, the MSRP isn't always clear — and, during big sales, stores often mark down a different number altogether.
The next time you see an ad for 30% off, your question should be "30% off what?"
According to the New York Times' Wire Cutter blog, retailers can, but often don't, reveal a product's true MSRP. Sellers such as Amazon and Best Buy often use baseline prices such as "Reg Price," "List Price" and "Was Price." In some cases, these designations are based on something quantifiable, such as a product's 90-day median price. In other cases, it's unclear how the retailer arrives at the price that it's purportedly slashing during a sale.
Either way, discounts offered during sales are often overstated relative to the true MSRP.
Credit Cards Are Debt Traps
A big chunk of America's unhealthy debt can be traced to those little plastic rectangles that find their way into everyone's wallets — but credit cards themselves are not the problem. In fact, you can cash in with every dollar you spend if you charge responsibly — and you'll do it at the expense of those who don't.
If you don't pay off your statement balance in full every month, you'll be hit with finance charges. Some portion of your payment will go to the purchase you made and another portion will go to covering the points, cash back, miles and other rewards that your lender doles out to cardholders who pay in full each month.
Credit cards aren't bad; they just give you an easy way to spend yourself into trouble. Instead, let other people spend their way into covering your next vacation.
'Buy Now, Pay Later' Is Not a Loan
"Buy Now, Pay Later" (BNPL) services like those offered by PayPal, Affirm and Afterpay are quick, easy and transparent. Applying doesn't affect your credit, and the results are instant. The payment amounts and deadlines are clearly laid out, you don't pay interest and there aren't any hidden fees.
Also See: Attitudes Toward BNPL Differ by Generation, but Use Is Similar
It's a beautiful thing. Nothing about it feels like the experience of using a credit card, which leads many to believe they're not borrowing money when they opt for BNPL. But they definitely are.
With BNPL purchases up 230% since the start of 2020, according to Newsweek, buyers should know that late fees can pile up fast and their credit can take a hit if they miss payments. Also, many experts worry that the same accessibility and ease of use that make BNPL so popular also make it dangerous. BNPL makes it so easy to borrow money, they fear, that many people don't even realize they're doing it.
P2P Payment Apps Are as Safe as Banks and Credit Cards
Venmo remains the biggest name in P2P payment apps. By mixing financial transactions with social media, the app stumbled through one privacy pitfall after another from the outset. In May 2021, Buzzfeed sleuths uncovered Joe Biden's entire Venmo transaction history and those of his immediate family after about 10 minutes of searching — and he's the president of the United States.
Venmo has since jettisoned the "global feed" feature that enabled that level of exposure, but making casual payments through P2P apps still comes with risks — and Venmo is hardly alone.
CashApp, Zelle and the rest don't offer fraud protection like Mastercard and Visa do, according to Consumer Reports, and once you complete the transfer, you're essentially on your own.
Buying a Home Is Always Better Than Renting
When it comes to spending assumptions, it's impossible to ignore the one thing that you'll probably spend more money on than everything else for the rest of your financial life: housing. The common assumption is that renting is for people who can't afford to buy a home, that you rent only until you save enough money to get your hands on your piece of the American dream — a six-figure loan.
Related: Is Rent-To-Buy the Next Hot Market? Wall Street Thinks So
In reality, there are many reasons that renting often makes more sense:
Homes are not liquid assets and it can be difficult and expensive to access the cash associated with a property's value.
Real estate transactions — which include broker fees, closing costs, attorney fees and agent fees — can cost tens of thousands of dollars, especially for sellers.
Homeowners sacrifice mobility and the freedom to quickly relocate if something like a far-away job opportunity comes up. If they must move unexpectedly, homeowners can find themselves paying two mortgages at the same time or renting while paying a mortgage.
You won't break even for two to three years on average, according to Business Insider, and it takes a decade to turn a profit, in most cases — but there's no guarantee that you'll ever profit from a sale.
Even many modestly priced buildings offer rentals with perks that homeowners could only dream about — e.g., pools and gyms, concierge service, game rooms, bars.
More From GOBankingRates