5 Immediate Steps You Should Take in a Financial Emergency When You Can't Pay Right Away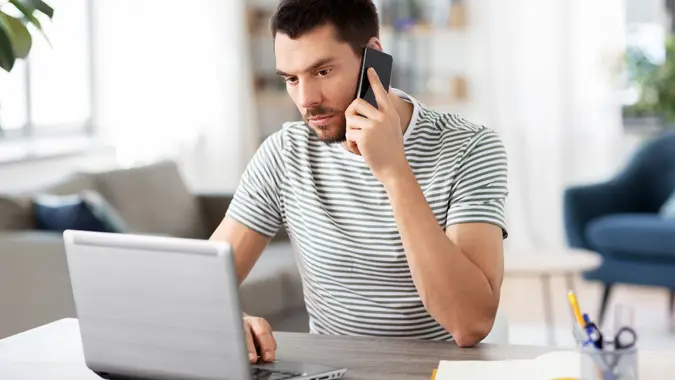 dolgachov / iStock.com
Financial emergencies can happen at any time. Unexpected medical bills, loss of a job or emergency car repairs can all be costly, and if you don't have the money to pay for them right away, they can cause major financial issues.
If you find yourself in a situation where you have a bill to pay and don't have the money to cover it, here are five steps you should take right away.
1. Take Inventory of Your Finances
Before taking any action, you should assess your finances. Take inventory of your accounts and how much is in each to see if you can use any of that money for your emergency.
"Bank and non-retirement accounts are the obvious place to start," said Joe Allaria, partner at CarsonAllaria Wealth Management and founder of the Retirement Powerhouse Podcast. These are liquid accounts you can access without taxes or penalties. But, people often go too quickly to traditional IRAs and 401(k)s, even though doing so triggers taxes and possible penalties.
Allaria added, "Many people don't know that you can take out of your Roth IRA contributions at any time, for any reason, without penalty. However, it's best to avoid so your retirement accounts can continue growing until you need them, but withdrawing from Roth IRAs could be your best option in a pinch."
Other accounts that charge fees for withdrawing early could be an option, but you'll need to compare the fees with the cost of using other payment methods to decide the best option for you.
2. Prioritize Expenses
Next, you should look at your budget and prioritize your expenses. List your bills and expenses and rank them in order of urgency and importance. Things like rent or mortgage, utilities and food are essential expenses. These should take priority over nonessential expenses like eating out or entertainment.
There may be some nonessential expenses you can eliminate or pause until you are in a better financial situation. You could cancel subscription services, cook at home instead of ordering take-out meals, or buy store-brand products instead of name-brand. 
3. Reach Out to Your Creditors
If you cannot pay your bill, contact your creditors and inform them immediately. Notify them of your situation and ask if there are any payment plans or forbearance options. Payment plans allow you to spread out your payments over a longer period of time. Forbearance allows you to pause or reduce your payments temporarily.
Different lenders can offer different solutions, but most lenders want to work with you to find a solution. This can help you avoid late payments or other issues affecting your credit score.
4. Evaluate Alternative Options
If none of the previously mentioned solutions work for you, there are a few alternative options to explore. You could bring in other sources of income, take out a home equity loan, or apply for a 0% introductory APR credit card. Let's review these below.
Bring In Other Sources of Income
Earning supplemental income is more work, but it likely the best financial option for paying off a bill if feasible. You could consider starting a side hustle, like driving for a rideshare, making and selling crafts, mowing lawns, babysitting, or pet sitting.
You could also sell unneeded items around your house for extra cash to help pay off the bill. Maybe you have clothes you haven't worn for years, kitchen items you don't need, or furniture you could go without. Although this may not be enough to cover your entire emergency expense, any amount helps. And you can always combine multiple options to cover the bill.
Home Equity Loans or Lines of Credit
Home equity loans or home equity lines of credit (HELOC) are secured by the value of your home. You use your home's equity as collateral for the loan. This makes these loans less risky for the lender, and therefore, these loans can offer lower interest rates than personal loans or other types of unsecured loans. Repayment terms on HELOCs and home equity loans are usually long and have lower monthly payments.
However, you risk losing your home to foreclosure if you don't make your payments. Also, home equity loans and HELOCs may charge closing costs of up to 5% of the loan amount, and some HELOCs charge annual fees. Therefore, this should not be a go-to option for an emergency bill without careful consideration.
0% Introductory APR Credit Cards
Some credit cards offer 0% APR during an introductory period. That means you don't have to worry about interest for the first few months, or even a full year, after opening the card. However, once the introductory period ends, you must pay the standard APR for the credit card, so make sure you can afford your payments.
5. Prepare for Future Emergencies
After you have dealt with this bill, it is important to set up a plan so you're not in this position the next time an emergency occurs.
"While it may not help you this time around, it's important to get a jump start on an emergency fund so that you don't find yourself in a position where you can't pay for something you need," says Allaria. "Building an emergency fund and paying off high-interest debt must be the foundation of every financial plan."
The Bottom Line
If you've experienced a financial emergency and don't have the money to pay for it, try not to beat yourself up. There are options for fixing the situation. The best thing to do is to learn and prepare for the future.
More From GOBankingRates