Suze Orman: 4 Things Every Employee Should Know About Emergency Savings as a Workplace Benefit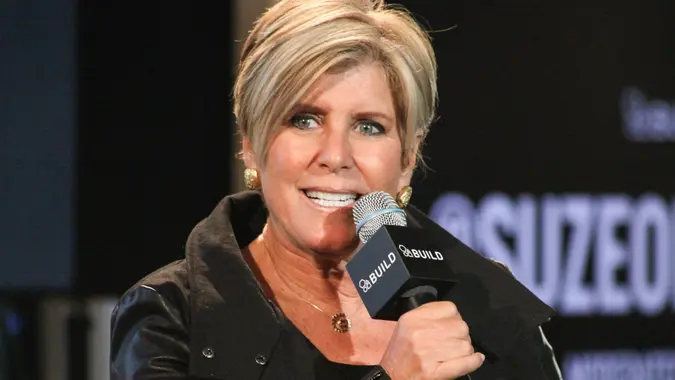 Mediapunch / Shutterstock.com
Several major corporations, including Starbucks and Delta, are adding emergency savings funds as part of their workplace benefits packages, and this benefit is likely to become even more prevalent in 2024 under the new Secure 2.0 Act.
If your employer does offer this benefit, here's what you need to know about it, according to Suze Orman, co-founder of emergency savings startup SecureSave.
Plus, Orman explains why everyone needs an emergency savings fund.
Employer-Sponsored Emergency Savings Plans Allow You Easy Access To Your Funds
Unlike an employer-sponsored retirement account, funds in an employer-sponsored emergency savings account can be accessed at any time for any reason. But like a 401(k) or 403(b), these funds often offer an employer match, which can help your savings grow even quicker.
"If there's ever been a time in economic history to have access to money with no strings attached, now is the time," Orman told GOBankingRates. "Where else are you going to find a benefit where an employer matches you, in most cases, that you can access whenever you want without having to ask permission?"
You Keep the Money Even If You Leave Your Employer
Even if you change companies, any money in an employer-sponsored emergency savings fund is yours to keep.
"You can absolutely take it with you if you were to leave the company," Orman said. "If there's ever been a benefit that you should take advantage of, this is the benefit."
Contributions Are Automatic
As with an employer-sponsored retirement plan, once you set up your contribution amount per paycheck, the process is automated.
"That's what's so great about this — you don't have to do anything after that," Orman said. "It's automated for you. All you have to do is watch your money grow. It's not like you have to push another button and make sure you deposit it. You don't have to do anything other than enjoy the fact that your money is growing."
Because deductions are made automatically, you are more likely to stick with your savings goals.
"People love the idea of saving automatically from their paycheck — they don't see it," said Devin Miller, co-founder of SecureSave. "There's a little bit of a psychological trick there that people want. They want to be able to put this money aside and not see it, but to know that it's there when they need it."
You Can List a Beneficiary
Employer-sponsored emergency funds, like the ones offered by SecureSave, allow you to add a beneficiary.
"This money isn't just important for the employee — it's important for the employee's family," Orman said. "If something happens to the employee — they die, they're in a car crash, whatever it may be — this emergency savings account allows you to designate a beneficiary so if something happens to you, the money in there goes where you want it to go."
What You Should Do If Your Employer Does Not Offer an Emergency Savings Benefit
If your current employer doesn't offer this benefit, it's worth meeting with your HR team to ask for it to be added to your company's benefit package. Giving employees financial peace of mind through having an emergency fund can be beneficial to the employer as well. A recent PwC study found that cash-strapped employees are 5.8 times more likely to miss deadlines and 4.9 times more likely to produce lower-quality work. And according to a 2019 study by Salary Finance, businesses in the U.S. lose around $500 billion annually due to employees' personal financial stresses.
"Why wouldn't an employer want to give their employee the benefit that an employee most needs and wants? The only reason that they wouldn't want to do that is they don't know about it," Orman said. "So if you're an employee and you're reading this article or you've heard about this, it's your responsibility to go to your HR person and tell them about it. Because I'm almost sure that if the employer has heard about it, they would start to really look into it."
More From GOBankingRates