Suze Orman: Watch Out for This Sign That You Are Living Beyond Your Means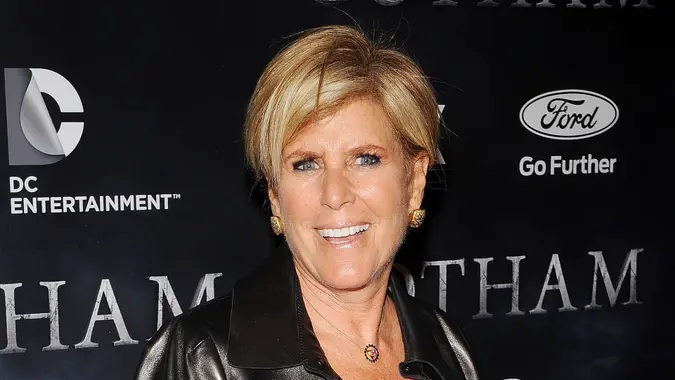 Broadimage/Shutterstock / Broadimage/Shutterstock
Thanks to credit cards, it's easy to buy things you can't actually afford. You may put a major purchase on a credit card from time to time that you can't pay off in full, but if you make a habit of carrying a balance, that could be a financial red flag.
Unfortunately, this is all too common. According to a recent report from the Consumer Financial Protection Bureau, nearly half of credit card users don't pay off their bills each month, and the average unpaid balance is nearly $4,800.
Here's why Suze Orman said that carrying a balance is a warning sign that you're living beyond your means and aren't being "financially honest."
Want to vote for Suze as your favorite money expert? Click here and go to her expert page.
If You're Carrying Credit Card Debt, You May Not Be Separating Your Wants From Needs
Sometimes, you need to rely on a credit card just to get by. But for many people who regularly carry balances, this is often not the case.
"I totally get it if you have limited income and find yourself using a credit card to pay for essentials. But I sense that many of you with more income are not being financially honest with yourselves," Suze Orman said in a recent blog post.
As Orman notes, many Americans who are carrying credit card debt have higher-than-average incomes.
"More than half of households surveyed by the [Consumer Financial Protection Bureau] with income between $80,000 and $125,000 have unpaid credit card balances, with an average balance of more than $7,500," she said in the post. "Nearly one-third of households with income greater than $125,000 are also carrying costly credit card debt, with an average unpaid balance of around $7,400."
Orman said that if you fall into these categories, it's likely that you're overspending on wants.
"If [you're carrying credit card debt] because of a big medical out-of-pocket cost that's one thing. Or groceries. Or the utility bills. But be honest: Is your credit card debt a signal that you have inadvertently become a victim of lifestyle creep? That's the tendency to spend more when we make more," she said in the post.
"If you are making a solid income and still can't avoid credit card debt," she continued, "I think that may likely be a sign you are living beyond your means."
If You're Making a High Income and Still 'Struggling,' It May Be Time To Reassess Your Spending
Orman said that she finds the fact that many high-income earners are taking on debt to be concerning.
"I was frustrated to read in the same report that 1 in 4 households with income between $80,000 to $125,000 reported that they have trouble covering their monthly expenses. And nearly 1 in 4 said that if their household's main source of income disappeared, they didn't have enough savings to cover more than one month of their expenses," she wrote in the blog post.
"Again, I can't help but think that for many of you, that's because of choices to spend more than you honestly need to," she continued.
Some common examples of overspending include living in an expensive home or rental, driving a luxury car you can't actually afford, or simply making "want" purchases throughout the month that can quickly add up. 
"Scale back what you're spending on streaming, eating out, concerts and constant wardrobe changes — then all that savings can be redirected into building up your emergency savings," Orman said in the post.
You May Be Causing Yourself Unnecessary Financial Stress
If you live with credit card debt but don't have to, you're doing yourself a disservice, Orman said.
"I am just so frustrated that those of you who have more income are likely making choices that can't help but cause financial stress," she wrote in the post. "I realize you can't move next week. Or trade in the car next month. But you can decide to stand in your truth and start thinking through if it is possible to restructure your spending so you can finally live below your means but within your needs. 
"Long-term, I know you will be happier if you can make those changes," Orman continued. "In the meantime, please please please push yourself to scour your monthly spending on 'wants' for potential cuts so you can build up your emergency savings."
Credit Card Debt Is Becoming Increasingly Expensive
In addition to causing stress, there is also a major negative financial impact of holding onto credit card debt, especially in a high-interest-rate environment.
"The cost of that unpaid balance has gone from expensive to even more expensive," Orman said in the post. "The average interest rate for card users with an unpaid balance is nearly 21% these days, up from around 16% a year earlier."
That should be even more motivation to curb your spending and stop living above your means once and for all.
More From GOBankingRates