What Tax Implications Do You Need To Look Into When a Family Member Dies?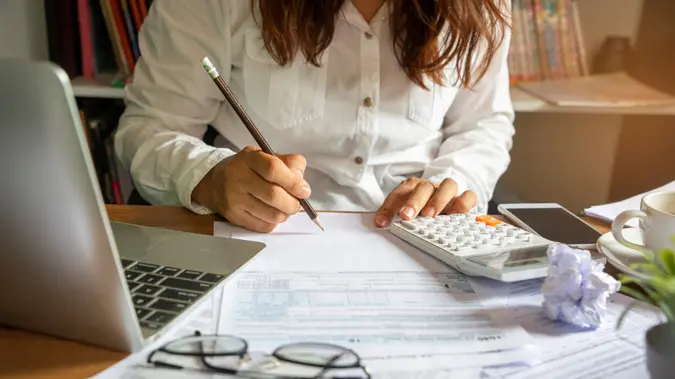 Pra-chid / Getty Images/iStockphoto
When a family member dies, your first thoughts will probably not be about taxes.
Learn: What Happens to Social Security When You Die?
From Healthcare to Groceries: Brilliant Ways Seniors Can Save Money
"Emotions are likely to set in as phone calls to family and friends are being made and funeral services arranged. When the dust settles, many times the next call is to trusted advisors — the attorney, CPA and financial advisor — all of whom will bring up the topic of taxes," said Nicole Bailey, CFP, CPA, partner at Moneta.
When you're ready to deal with the financial implications of the death, here's what you need to know about the tax implications of a family member's passing.
How To Manage Income Taxes After a Death
When someone dies, there are two forms of taxation to consider — income tax and estate tax.
"Income tax is applicable in almost every case," Bailey said. "A final individual income tax return (Form 1040) is due for the year a person dies to report income through the date of death, which may be a joint return with the surviving spouse, if applicable. In cases where there are dependent child(ren), the spouse may be able to file with a qualifying widow(er) filing status for two years beyond the year of death."
The tax return reflects all income received, such as wages, dividends, interest and rental income. That income is subject to typical deductions and credits.
Discover: What Is the Death Tax?
"In addition to filing the final individual income tax return (Form 1040) as mentioned above, an estate income tax return (Form 1041) may be required as well if the estate generates more than $600 in annual gross income," Bailey said. "The estate income tax return reports income earned by the decedent's estate before it's settled. Similar to individuals, income generated from dividends, interest and rental income would be reported and offset by deductions and credits. The major difference between an individual income tax return and an estate tax return is the estate tax return is allowed an income distribution deduction for distributions to beneficiaries (reported on Form K-1). It's recommended to retain some or all of the money available in the estate to satisfy any income tax liability."
How To Manage Estate Taxes After a Death
"Unlike income taxes, The Tax Policy Center reports federal estate taxes are generally paid by less than 0.1% of estates, so unless your loved one had accumulated assets over $11.7 million — the current federal estate tax exemption — no federal estate taxes are due," Bailey said. "However, that doesn't mean the state in which the deceased resided doesn't impose a state estate tax."
Currently, 17 states and the District of Columbia may tax your estate, inheritance or both and in many cases, the exemption is much lower than the federal exemption.
"If you are involved with a larger estate, there are two additional items worthy of mentioning," Bailey said. "A large estate can take two or even three years to settle and fully distribute, so be patient. Secondly, get professionals involved early, as preparing and filing an estate tax return is a tedious and arduous process. Ideally, an attorney, tax accountant and financial advisor will coordinate efforts and help guide you through this process."
Family Trusts vs. Wills: What Are the Differences Between These Estate-Planning Options?
How To Determine If Capital Gains Tax Is Owed
You may be responsible for paying capital gains taxes on behalf of the deceased.
"Cost basis is important to understand because it determines whether capital gains tax is owed," Bailey said. "Capital gains can result from the sale of most assets, but most commonly securities, residential or business property and, yes, cryptocurrency. What you pay for an asset establishes the cost basis. When someone dies, assets titled in their name get a step-up in cost basis to the fair market value at their date of death; thus, heirs avoid paying income tax on the appreciation — i.e. unrealized gain."
How To Determine If You Need To Pay Taxes If You Sell The Deceased's Home
"Home sales can also be subject to tax, but in most cases, the step-up in basis takes care of this," Bailey said. "That said, if a surviving spouse is a joint owner, then only half of the home's value receives a step-up unless you reside in a community property state, where the surviving spouse's share will also get a step-up in basis."
If you are the surviving spouse and plan to sell the home, it may be better — tax-wise — to do this sooner rather than later.
Social Security Survivor Benefits: The Most Important Things You Need To Know

"If the surviving spouse is inclined to sell the home, it's a good idea to determine the amount of gain that will be realized on the sale so there are no surprises," Bailey said. "Each taxpayer is eligible to exclude $250,000 of gain on the sale of their home ($500,000 between the two spouses). However, the surviving spouse is only able to use their deceased spouse's exclusion for two years following the date of death. So, if you purchased your home many years ago and are considering selling it after your spouse passes away, you might want to consider selling within two years following the date of death if there will be a large gain."
How To Determine Taxes Owed on Securities in a Brokerage Account
"If the deceased had brokerage accounts, there may be securities — i.e. individual stocks/bonds, mutual funds and ETFs — involved. The executor or trustee may decide to fully liquidate the portfolio to freeze the value as close to the date of death as possible to avoid unrealized gains/losses," Bailey said. "Remember, the assets were stepped-up in basis, so a sale shortly following the deceased's date of death may help minimize capital gains and losses."
Heirs may also request a "distribution-in-kind."
"This means they receive the actual shares of stocks, mutual funds or property itself," Bailey said. "For example, the stocks may complement an heirs' own diversified portfolio, or a particular stock could have sentimental value (i.e. mom devoted her working life to IBM for 40 years). If assets are liquidated, it's good to remember there could be trading costs involved and you may want to evaluate lower-cost options before hitting 'sell.'"
How To Manage Retirement Accounts After Death
An IRA or a company 401(k) or 403(b) is inherited based on named beneficiaries.
See: 10 Estate Planning Mistakes To Avoid
Find: 40% of Americans Fear Retirement More Than Death — Here's Why

"Generally, a surviving spouse can roll over the account balance to a spousal IRA and continue to defer the income tax that would otherwise be owed until he/she/they are subject to required minimum distributions," Bailey said. "If the beneficiaries are non-spouse individuals, they can roll the balance to an inherited IRA, but are subject to a 10-year payout (with some exceptions). This was a somewhat recent change with the passage of the SECURE Act. Roth IRAs are similar, but they distribute tax-free."
More From GOBankingRates
Last updated: August 31, 2021