The Six-Figure Debt Trap: Unraveling the Paradox of High Income, High Debt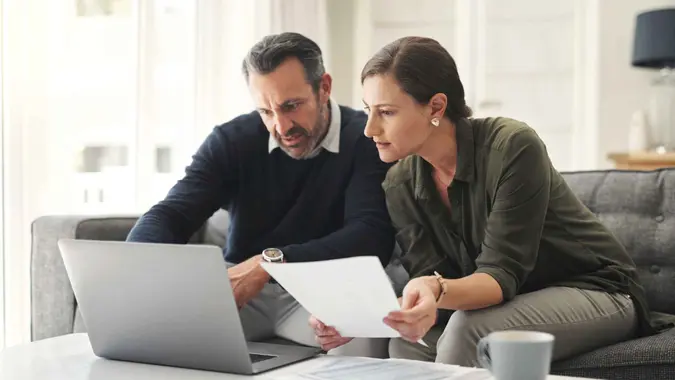 shapecharge / iStock.com
In today's economy, earning a six-figure salary is often seen as a surefire path to financial stability. However, a surprising number of high earners find themselves caught in a perplexing cycle of high income and high debt. This paradox, often referred to as the "six-figure debt trap," can be a complex web to untangle.
Understanding the Six-Figure Debt Trap
Lifestyle Inflation
Keeping Up Appearances: With a significant income, there's a societal pressure to live a lifestyle that matches or exceeds one's earnings. This often leads to overspending on luxury cars, high-end fashion, and lavish vacations.
Costly Habits: High earners may develop expensive habits or hobbies, further straining their finances.
High Cost of Living
Expensive Areas: High salaries often come with jobs located in cities with a high cost of living. The cost for housing, utilities, and general living expenses can quickly eat up a large portion of the income.
Education and Childcare: These areas also tend to have expensive education and childcare costs, adding to the financial burden.
Debt Accumulation from Early Career
Student Loans: Many high earners carry significant student loan debt from obtaining advanced degrees.
Credit Card Debt: Early career struggles may lead to reliance on credit cards, accumulating high-interest debt.
Breaking the Cycle
Embrace Budgeting and Financial Planning
Live Below Your Means: It's crucial to resist lifestyle inflation and live below your means, regardless of income level.
Budgeting: Implementing a strict budget can help high earners keep track of their spending and save more effectively.
Focus on Debt Reduction
Debt Avalanche or Snowball Method: Tackle debts strategically, either by paying off high-interest debts first (debt avalanche) or by clearing smaller debts for motivational wins (debt snowball).
Refinance High-Interest Debts: Consider refinancing options to lower interest rates on existing debts.
Invest Wisely
Retirement Savings: Maximize contributions to retirement accounts like 401(k)s and IRAs.
Diversify Investments: Diversify your investment portfolio to include stocks, bonds, and other assets.
Avoid New Debts
Cash Purchases: Where possible, make purchases with cash instead of credit.
Limit Credit Card Use: Use credit cards responsibly and avoid carrying a balance.
Increase Financial Literacy
Educate Yourself: Take the time to understand financial basics and stay informed about personal finance.
Seek Professional Help: Consider hiring a financial advisor for personalized advice and planning.
Set Long-Term Financial Goals
Clear Objectives: Set clear, achievable financial goals for the future, such as buying a home, saving for retirement, or starting a college fund for children.
The six-figure debt trap is a modern financial paradox that can be challenging to navigate. High earners must be vigilant in managing their finances, resisting the temptations of lifestyle inflation, and prioritizing debt reduction and savings. With disciplined financial planning and lifestyle adjustments, it's possible to break free from this trap and achieve long-term financial security.
Editor's note: This article was produced via automated technology and then fine-tuned and verified for accuracy by a member of GOBankingRates' editorial team.
More From GOBankingRates