Trending on TikTok: How Much Money Is Spent by Greek Life During Rush Week and On?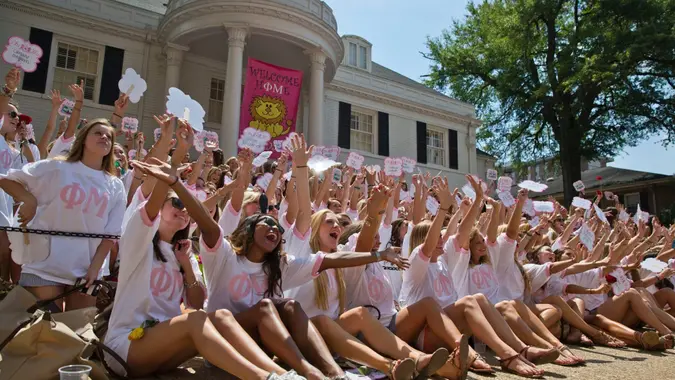 ©Brynn Anderson/AP/Shutterstock
As summer wound down at the end of August, rush week began on college campuses across America, just as it has for generations. 
But this generation is different.
Read More: Fourth Stimulus Checks Are Coming From These States — Is Yours on the List?
See: What Is the Next Big Cryptocurrency To Explode in 2021?
If you were in a fraternity or sorority, you know that rush week is when PNMs (potential new members) introduce themselves to their campus' Greek clubs, talk about themselves and see which frat or sorority might be a good fit. Maybe your rush took place in a campus gym or cafeteria.  
Not anymore. 
Read: 51 of the Biggest Money Influencers on TikTok and YouTube
This year, TikTok's algorithms pushed #RushTok to the front of the national discussion when the theme drew more than 120 million views on the app. What the world witnessed was a farcical, yet hyper-competitive world where traditional college hijinx collided with haute fashion at sorority parties with price tags approaching six figures.
Read More: 34% of Gen Z Is Learning Personal Finance From TikTok and YouTube, Survey Finds
At the Vortex of #RushTok Was #BamaRush
Greek life has always been a big deal at the University of Alabama, and rush week is a well-planned and tightly coordinated event there, according to The New York Times. It makes sense, then, that UA's rush week — and its BamaRush hashtag — is what wound up in everyone's TikTok feed as PNMs peacocking for the sororities they hoped to join quickly became the must-see viral videos of the moment.
At UA, members of the school's 24 active sorority chapters pay $7,465-$9,445 every semester to live in a sorority house. For context, the average cost for a full year of tuition and fees at a four-year in-state public college is $10,560, according to the College Board.
#BamaRush was a sensation, racking up nearly 375 million views. Much of it centered around #OOTD (outfit of the day), where PNM hopefuls showed off designer clothes and expensive jewelry that they hoped would satisfy the standards of their sorority of choice.
Find Out: Can You Afford Education in America at These Prices?
Greek Life Cost Big Bucks Long Before TikTok
According to the college financial aid platform Frank, the cost of joining a fraternity or sorority begins before you're even a member — if you're one of the lucky ones who makes the cut, that is — thanks to an average rush registration fee of $50-$150. It's $350 at UA. The cost of going Greek varies widely from school to school and organization to organization, but always includes things like:
Active member dues:

$300-$600 per semester (up to $4,978 per semester at UA)

Social expenses:

$100-$1,000 per semester, but at schools like UA, spring break in the Caribbean, dresses for mixers and formals and an endless itinerary of functions can send that price skyward

Room and board:

$1,000-$7,000 per semester

Extra fees:

It's easy to rack up small fees of $25 or less for things like missing meetings.

Alumni fees:

If you want to stay in good standing with the organization after you graduate, that'll run you $50-$100 a year — for life, if you choose.
So, Where Does All the Money Go? To Partying?
One of the most-watched TikTok videos to come out of #BamaRush was made by a UA alum and former sorority member named Christy Sasso, who shed some light on where all that money goes in a clip that tallied more than 1 million views.
In an informal and anecdotal accounting of Greek cash, she recounted that her sorority dues had been around $6,000 a year. With 420 members, that's about $2.5 million coming in annually from her chapter alone. Despite how massively overstuffed the organization's coffers were, there was very little formal oversight. 
At 19 years old, Sasso — who remembers having about $200 in her own bank account and no qualifications or experience in managing organizational money — had direct access to several sorority bank accounts with millions of dollars in them. 
She was responsible for drawing on those accounts to do everything from paying utility bills to hiring caterers. Despite some alumni oversight and a loose system of checks and balances, she had incredible discretion about what was spent and where. Those checks and balances included having the president of the sorority — another college student her age — sign off on a bunch of checks she had written earlier in the day. That accounting session took place at a bar. She recalled walking around campus with a half-million dollars worth of checks in her backpack at one point and when she reminisced about what kinds of things she spent it on, she recalled throwing an "$80,000 party on a Tuesday."
More From GOBankingRates