5 Unique Ways To Use Cash App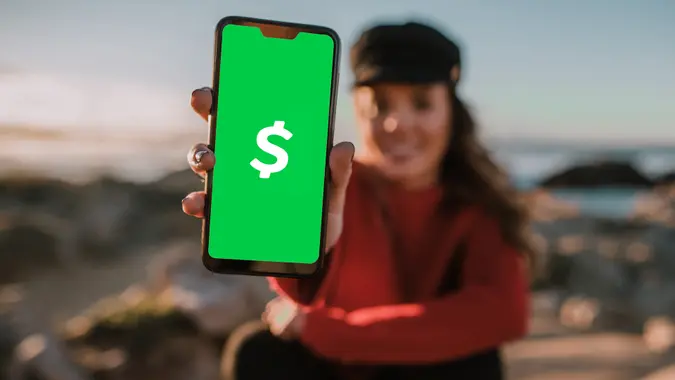 MarioGuti / Getty Images/iStockphoto
You may use Cash App to send and receive money from family and friends, but that's just one of its many functions. Chances are, you could be doing a lot more with this app than you realize.
The top finance app on Apple's App Store, Cash App is owned by Block Inc., formerly known as Square Inc. If you don't already have it on your phone, you might want to consider downloading it as it offers some unique advantages you won't get with its competitors.
Ready to learn more about what Cash App has to offer? Here's a look at six ways you might not realize you could be using the app.
Bitcoin Trading
If you hadn't already heard, Cash App supports Bitcoin trading.
"As a financial expert, I've closely followed the rise of cryptocurrencies and Cash App's inclusion of Bitcoin trading is a significant development," said Ilan Levy-Mayer, an associated person with the Introducing Broker Cannon Trading Company in Beverly Hills, California, and owner of E-Mini.com. "With Cash App, you can buy, sell and hold Bitcoin directly within the app, giving you easy access to the world of digital currencies."
This is a feature he personally uses.
"I've found it particularly convenient to have a platform like Cash App that allows me to monitor and manage my Bitcoin investments alongside my other financial activities," he said.
Cash Card
Cash App's Cash Card is another feature Levy-Mayer personally uses.
"It's a customizable debit card linked to your Cash App account," he said. "I have found it extremely useful for making purchases at physical stores and even withdrawing cash from ATMs."
He said being able to use the app as a debit card is convenient.
"It's convenient to have immediate access to my funds without the need to carry around multiple cards or visit a physical bank branch," he said.
Stock Trading
Another benefit of Cash App is the ability to trade stocks from the platform, Levy-Mayer said.
"This sets it apart from many other money transaction apps that solely focus on transfers and payments," he said. "With Cash App, you can dive into the world of stock trading right from your mobile device."
He said using this feature is simple.
"The user-friendly platform makes it easy to research, buy, and sell stocks, allowing you to participate in the stock market without the need for a traditional brokerage account," he said. "For example, I have personally used Cash App to invest in some of my favorite tech companies, taking advantage of their growth potential and benefiting from the convenience of trading on the go."
Andy Kalmon, CEO of Benny, a company that helps employees take advantage of their Employee Stock Purchase Plan, also highlighted the app's built-in investments tab as a way to purchase fractional shares of common large stocks.
"This is a neat feature that can help make investing more accessible for many, especially if you just have a couple of dollars left in your account," he said. "Fractional shares tend to be pretty low-risk and can make a great introduction to investments."
Additionally, Professor Michael Collins, CFA of Endicott College in Beverly, Massachusetts, noted the ability to invest in exchange-traded funds.
"You can buy and sell stocks and ETFs commission-free with Cash App," he said.
Paying Bills
"Cash App allows you to pay bills quickly and easily," said Collins, who is also the founder and CEO of WinCap Financial. "With Cash App, you can link your bank account and pay your bills with a few clicks."
This can make remembering to pay bills on time easier since you can do it right from your phone.
Running a Small Business
If you're a small-business owner, Cash App has multiple features that can make your life easier.
"Small business owners can apply for a Paycheck Protection Program loan via the app, a helpful feature in times of economic crisis," said Phillip Parker, founder of payment services blog CardPaymentOptions.com. "Cash App also serves business needs, accepting business payments, which is particularly beneficial for freelancers, small business owners and entrepreneurs."
Hopefully, you'll be able to use at least some of these features to help improve your finances, get started with investing or simplify your business needs. However, Levy-Mayer emphasized the need to proceed with caution anywhere money is involved.
"It's important to note that while these features offer convenience and opportunities, it's crucial to research and understand the risks associated with trading stocks and cryptocurrencies," he said. "As a seasoned financial expert, I always encourage individuals to make informed decisions based on their financial goals and risk tolerance."
Just remember, Cash App should be an easy way to manage your finances, so never take any risks that make you uncomfortable.
More From GOBankingRates