Warren Buffett's Financial Advice That Celebrities Love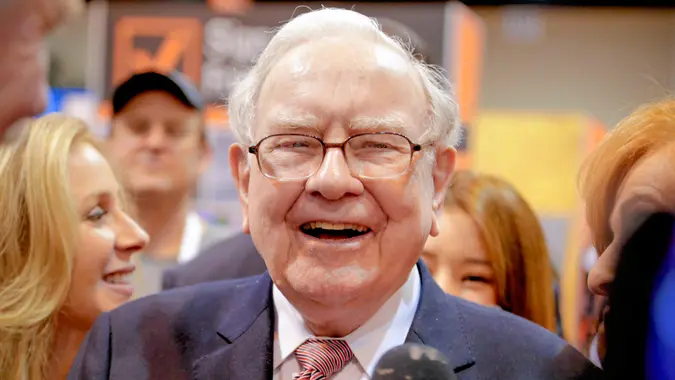 AP/REX / Shutterstock.com
Warren Buffett, the so-called "Oracle of Omaha," is known for giving great financial advice.
After all, he is one of the world's wealthiest. According to CNBC's Make It, he was reportedly worth $117 billion last year, ranking him among the "top 5 richest people in the world."
Unsurprisingly, many celebrities rely on his advice to make their own fortunes or at least make their fortunes last. From A-list actors and professional athletes to well-known CEOs, everyone is usually all ears when Buffett drops any kind of financial tips. He speaks on everything from maintaining relationships and keeping promises to investing in companies that you believe in. 
We scanned the internet to find the advice that celebrities love and why they rely on it. Here is what we discovered.
Friendships Matter
Bill Gates and Warren Buffett not only share a seat at the table for the world's richest people, but they are also friends. Earlier this year, CNBC's Make It reported on the "most important thing" Bill Gates learned from the financial guru who also happens to be his golf buddy. 
He explained in an interview with U.K. Prime Minister Rishi Sunak that, "Warren Buffett talked about [how], in the end, it's how friends really think of you and how strong those friendships are [that matters]."
This isn't the first time that the co-founder of Microsoft spoke fondly of Buffett's friendly advice. As reported by CNBC, in a 2016 blog he again spoke about their friendship that began in 1991. "I've learned many things from Warren over the last 25 years, but maybe the most important thing is what friendship is all about," Gates says. 
Take Our Poll: Do You Think Bankruptcy Is an Acceptable Way To Escape Student Loan Debt?
"A Brand Is a Promise"
A-list actress and Grammy-winning singer Jennifer Lopez has said that her fragrance, Promise, was actually named after advice that Warren Buffett had given. The scent, which debuted in 2019, was inspired by his words, "A brand is a promise," as explained in a CNBC Make It article, and reported by ABC News.
Buffett had previously shared this concept of "keeping promises" at several Berkshire Hathaway shareholder meetings. Lopez said that the idea "resonated" with her. She explained, "He said a brand is a promise. And I just feel like everything that I put out into the world has to be a promise. We have to have promises with ourselves. It's really the foundation that keeps us going. It really made me think about life in a bigger way."
Long-Term Investments Are Key
World-renowned alpine skier, Mikaela Shiffrin, says she heeds Warren Buffett's investment advice, and she isn't alone. According to CNBC Make It, so do fellow billionaires like Elon Musk. Buffett is known for encouraging long-term investments over short-term trends. He regularly reminds people that the best thing to do is to invest in the stock of businesses that you believe in. 
He explained in a 2022 Berkshire Hathaway Annual Report that, "our goal in both forms of ownership is to make meaningful investments in businesses with both long-lasting favorable economic characteristics and trustworthy managers." 
He continued, "Please note particularly that we own publicly traded stocks based on our expectations about their long-term business performance, not because we view them as vehicles for adroit purchases and sales. That point is crucial: Charlie and I are not stock-pickers; we are business pickers."
Protect Your Customers and Protect Your Brand
American Express's CEO, Stephen Squeri, said in an interview with Barron's Editor at Large, Andy Serwer, that Warren Buffett gave him critical advice. He said, "Warren is our largest investor, and I talk to him quite a bit. And during the pandemic, you know, his advice to me [was] to 'protect two things. Protect your customers and protect your brand.'"
The CEO went on to say that the advice helped him decide to invest during the pandemic. He explained that during the pandemic, "it would have been pretty easy to pull back even more, but we invested more value propositions for our customers. We invested in our colleagues. And we invested in our brand." The strategy was a success since American Express's profit continues to soar.
More From GOBankingRates