4 Ways That COVID-19 Has Helped Americans Save Money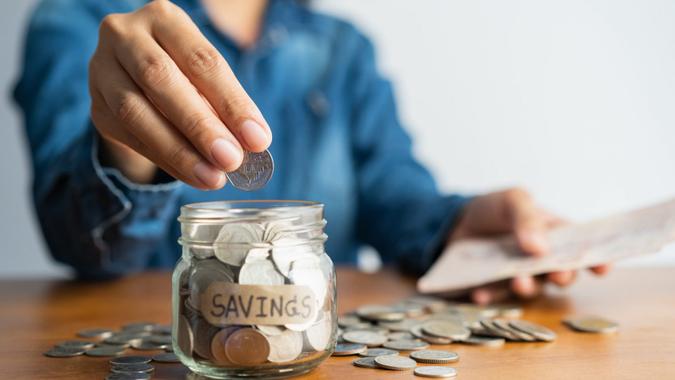 sorrapong / Getty Images/iStockphoto
COVID-19 has changed our entire lives seemingly overnight. Many of us who had never joined a video call before the pandemic are now Zoom background experts. But COVID-19 hasn't just changed the way we communicate; it has also drastically impacted how we spend money. From food to travel to entertainment, so many of our habits are different now, and some of those changes may even become permanent. So, despite some very tough times, COVID-19 has helped many Americans save money — here's how.
Read: 25 Experts' Predictions on When We Will Bounce Back From COVID-19
Delaying Large Purchases
Many Americans have found themselves delaying large purchases due to the pandemic. TD Bank's sixth annual Love & Money Survey found that 36% of Americans chose to delay those larger purchases due to the pandemic. Of course, large purchases are oftentimes not discretionary purchases, such as buying a home or a car. Nevertheless, the pandemic has had a big impact on how much we've spent on big-ticket items.
See: 12 COVID-Proof Money Tips From Financial Planners
Reduction in Impulse Spending
One way the pandemic has helped Americans save money is by reducing impulse spending. After all, items that are often bought on an impulse, such as candy bars and magazines, are strategically placed next to the cash registers at grocery stores. But for those buying groceries through curbside pickup services, that may no longer be the case, said Daniel Kellogg, senior financial advisor at Personal Capital. "You are now able to be more intentional about what you purchase, avoid impulse shopping at the store and maybe even become more thrifty through the use of electronic coupons."
More: 50 Purchases Buyers Almost Always Regret
Not Saying 'I Do'
Another way in which people are unsurprisingly spending less is on weddings. According to a survey done by MassMutual last July, it was found that 50% of people were spending less on weddings last summer. This was a foreseeable result of COVID-19 since weddings involve large gatherings, oftentimes indoors, and may also involve travel for many guests. Although people are getting vaccinated, it's likely that some people are still holding off on their wedding or on attending because of uncertainties and ongoing issues.
"It is tough to be planning a wedding or big vacation right now," Kellogg said. "Even so, if you know a big event like a wedding is happening in the near future, it makes sense to save and budget for those expenses, even if it is unclear the exact point when it will happen. Saving for those events now may help you be better prepared to incur the costs when they eventually do happen."
Find Out: Is It Smart To Plan Big Events Early in the Year?
Lower Travel Expenses
It isn't a huge surprise to hear that the biggest reduction in spending during COVID-19 is due to traveling less. What's more interesting is that people are using their savings to pad their savings accounts. "Consumers prioritize travel expenses, and it has kept them from saving," said Howard Dvorkin, chairman at Debt.com. "We've all heard that most Americans can't survive a $400 emergency, and their love of travel may be the cause." Of those who were able to save during the pandemic, the biggest contributing factor was no longer spending on travel, according to the survey from MassMutual.
Read: How To Plan Future Travel Without Risking Your Deposits
Plus, 63% of people said they plan to spend less on vacations this summer. Of course, vacations will happen again in the future, so you should still budget for them. "Most people are probably looking forward to when they can resume normal leisure activities like attending concerts and sporting events or taking weekend vacations, so they likely are still budgeting for those expenses," Kellogg said. Indeed, we will certainly want to get away at some point in the future. But for now, most travel remains on hold.
More From GOBankingRates
Last updated: March 11, 2021