6 Ways Millennials Are Wasting Money in 2023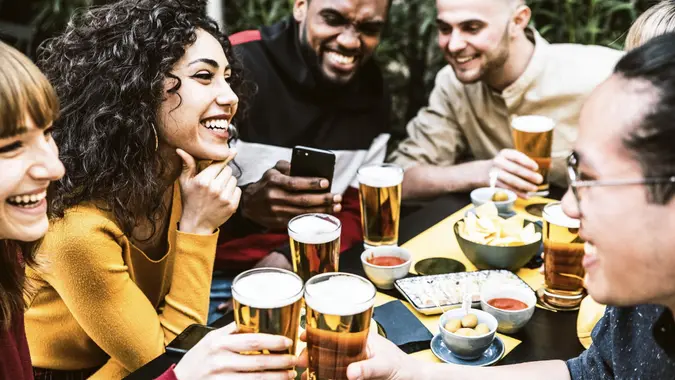 Kar-Tr / iStock.com
Millennials, or those born between 1981 and 1996, are the largest generation, making them powerful spenders. Unfortunately, not all of their money is spent in the best way possible. While a recent survey found that they were some of the best savers last year, it also revealed that they had a significant amount of credit card debt. 
Their spending habits are unique and focused more on convenience than previous generations. Millennials spend substantial amounts of their income on things like streaming services, a pricey cup of coffee and entertainment. The good news is that many of these expenditures can be cut from the budget overnight, allowing millennials to save more and retire earlier. Here are six ways millennials are wasting money in 2023.
Unused Subscription Services
Subscription services are convenient and costly. A 2022 survey conducted by C+R Research found that consumers spend approximately $219 per month on these services. It also found that most underestimated just how much they spent on subscriptions such as Netflix by over $100. 
What makes it worse, is that most of the time the subscriptions were set on auto-pay, making it easy for shoppers to forget that they even purchased the service. Nearly half (48%) of millennials admitted to signing up for a service and forgetting about it. 
One of the problems is the sheer amount of different services to choose from. There are subscriptions for just about everything from movies and TV to clothes and entertainment. One service may not break the bank but 10 could do the trick. 
Eating Out/Takeout
Another common expense for millennials, also referred to as Generation Y, is dining out. According to SevenRooms, millennials (defined by the guest management software company as those born between 1980 and 2000) "spend the most dining out, averaging $95 per week." 
The company continued, "While 43% of millennial respondents said they dine out for convenience, 49% said they eat in restaurants because it provides a social setting for them to spend time with friends and family."
SevenRooms also noted that a survey by the National Restaurant Association found that 72% of millennials saw takeout and delivery services as "'essential' to their lifestyle." Needless to say, cutting back on eating out, takeout and delivery could deeply impact your income for the better.
Coffee
Over 40% of millennials surveyed for Acorns Money Matters Report admitted to "spending more on coffee in the past year than they invested in their retirement." While a $5 splurge on a cup of joe may not put you into debt, daily trips to the coffee shop can really add up.
Online Shopping
The exponential growth of online shopping has also made convenience costly for millennials. As reported by Invesp, over half (54%) of the purchases millennials make are online. Sixty-seven percent of the generation also prefers to shop online as opposed to going to a brick-and-mortar store. While online shopping may be fast and easy, it can also lead to unnecessary spending. 
Entertainment and Experiences
An Eventbrite press release revealed that millennials are increasingly "fueling the experience economy." They are less interested in possessions and more interested in "creating, sharing, and capturing memories earned through experiences that span the spectrum of life's opportunities."
The nationwide research conducted by Harris found that 78% of the millennials surveyed "would choose to spend money on a desirable experience or event over buying something desirable." Over 80% had participated in a live event such as a concert, festival or sport in the past year, and 72% said they wanted to increase their spending on these things. 
FOMO Debt
Finally, and perhaps most distressing, is the rise of FOMO debt among millennials. A study by Credit Karma/Qualtrics found that almost half (48%) of those surveyed said that they spent money they didn't have in an effort to keep up with their friends. Unsurprisingly, the FOMO spending is on stuff like eating out and experiences. 
While the amount of debt that the generation is willing to take on related to their "fear of missing out" ranges, it is generally over $100. The survey found that 71% of millennials went over $100 into debt and 32% went in excess of $500 in debt.
More From GOBankingRates