6 Ways To Use ChatGPT for Your Personal Finances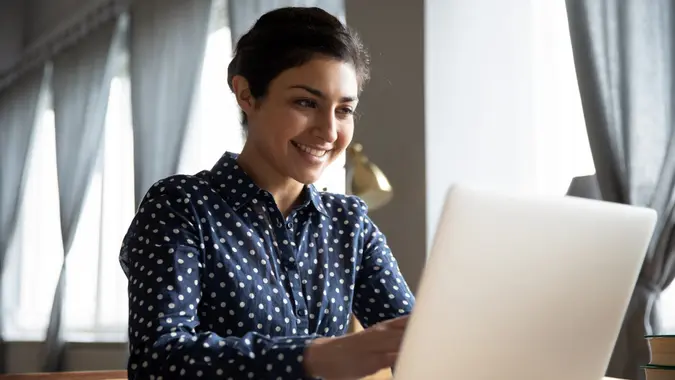 fizkes / Getty Images/iStockphoto
ChatGPT has taken the world by storm since its release in November 2022. In fact, it had already reached 100 million users by February 2023. The chatbot can do almost anything. It can code, write jokes and even write a love story in the style of a 1940s mobster.
Of course, some of the ways people use ChatGPT are more useful than others. For instance, did you know you can use it to improve your personal finances? Indeed, ChatGPT is not for entertainment purposes only.
ChatGPT also isn't a replacement for human financial advisors. It can produce errors at times, and it can't provide personalized financial advice. Still, it can help you gain a general understanding of personal finance concepts. Here's how to make it happen.
Budgeting Help
Starting a budget can be difficult, especially if you aren't sure where to begin. Fortunately, ChatGPT can do most of the work for you. All you have to do is input information about your income, such as your salary, bonuses and any other sources of income you might have. Then, give it information about your expenses, such as rent, groceries, transportation, utilities and other major expenses. Based on your information, ChatGPT can provide tips on reducing expenses and maximizing your savings.
Saving Strategies
ChatGPT can help with saving strategies based on your financial goals. If you are saving for a specific goal, such as a wedding, it can suggest ways to achieve your goal. For example, it might suggest setting up a savings plan or investing your money in an investment product suitable for achieving your goal.
A lot goes into saving money, and ChatGPT can put you on the right path. It can help you track your expenses by providing tools and tips to help you manage them. It might also suggest apps and software best suited to tracking your expenses based on your preferences. 
Providing Information About Investing
ChatGPT can provide you with a wealth of information about investing. There is a lot to think about with investing, so it's helpful to have what feels like your own personal assistant helping you along. It can help you understand your investment options and teach you about important concepts like asset allocation, diversification, risk tolerance and tax consequences.
For instance, should you invest in stocks, bonds, mutual funds or exchange-traded funds (ETFs)? Perhaps another investment would be better for your situation? These aren't always easy questions to answer, but ChatGPT can help you see things more clearly. It can also answer other questions you may have, like how to allocate your portfolio and how taxes might affect your investment returns.
Manage Your Debt
Getting out of debt can seem impossible for some, but ChatGPT can help you create a plan to start managing and paying it down. That might start with creating a debt repayment plan tailored to your financial situation. You can also give ChatGPT details about how much you owe, interest rates and minimum payments. This will help the chatbot give you the optimal strategy based on your financial situation.
Understanding Your Credit Score
ChatGPT can help you understand and monitor your credit score more effectively. First, it can help you understand what credit scores are, how they are calculated and what factors affect them. It can also provide you with information on the different credit bureaus and credit scoring models. In addition, ChatGPT can provide information on checking your credit report with different credit bureaus. It can also explain how to interpret the information in your credit report and how it impacts your credit score.
ChatGPT can also suggest credit monitoring services to help you catch changes, such as new accounts, inquiries or delinquencies. It can also help you understand the alerts you receive and suggest appropriate actions if any suspicious activity is detected. ChatGPT can provide tips to help you improve your credit score, such as building a positive credit history and paying your bills on time.
Tax Planning
ChatGPT is not an accountant or a CPA. Still, it can help you with some basic tax planning tips. For instance, it can help you better understand tax laws and regulations in your state. It also can explain the different tax brackets, deductions and credits. Plus, it can suggest tax deductions for which you may be eligible, including charitable contributions, mortgage interest and education expenses.
ChatGPT can also explain tax credits, such as the child tax credit and the earned income tax credit (EITC). It can explain how these credits work and help you calculate your potential tax savings. Finally, it can suggest tax-efficient investments, such as municipal bonds or tax-deferred annuities. Doing so helps you reduce your tax liability while maximizing your investment returns.
More From GOBankingRates