At What Age Can You Start Taking Financial Risks?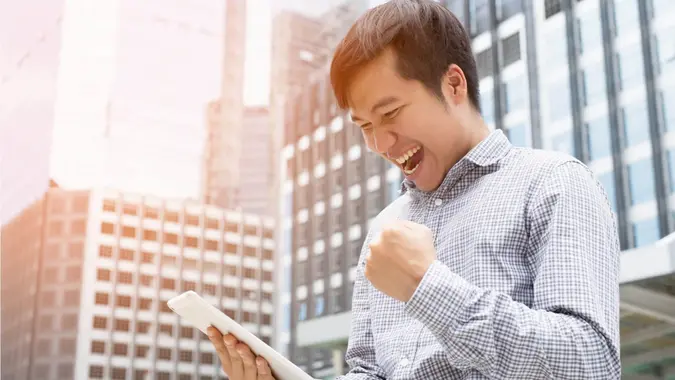 Thanks to technology and free financial advice on social media, Americans are beginning to invest earlier than they did in past generations. Around 22% of Gen Z investors say they started before the age of 18 while only 8% of millennials say the same, according to a recent survey from MagnifyMoney.
When it comes to the financial risks of investing, though, young people have mixed feelings. A 2021 survey from RSM US LLP and Junior Achievement USA found that, if given money to invest, a large portion (37%) of teens would rather not use it for that purpose at all with 20% viewing the stock market as "too risky."
This hesitancy points to an important question today's young people face: When does it make sense to start taking financial risks? Here's what the experts recommend.
Start Taking Smart Risks as You're Financially Stable
In general, "the earlier, the better" is timeless advice when it comes to investing. But before you start taking risks with your hard-earned cash, make sure your finances are stable, said Brian Meiggs, founder of personal finance site My Millennial Guide.
"As a general rule of thumb, it's usually best to wait until you have a solid financial foundation in place before taking any major financial risks," he said. "This means having a steady income, a decent savings cushion, and a good handle on your overall finances. Once you have these things in place, you can start thinking about taking on more risks in pursuit of higher returns."
This doesn't mean you have to wait until you've settled down, started a family and purchased a home, though. In fact, it's wise to experiment with smart financial risks before you adopt sizeable responsibilities, said Evon Mendrin, CFP and founder of Optometry Wealth Advisors.
This advice holds true if you're thinking about experimenting with risks like starting a business, switching careers or taking a low-salary job at a startup company with growth potential.
"Earlier in your life, you have fewer life and family responsibilities, less money at stake, and more time to recover from the risks you take," Mendrin said. "You have more flexibility to learn from mistakes and innovate. Don't take reckless risks, but think about taking smart risks earlier in your life."
Mitigate Financial Risks by Saving Cash and Paying Off Debt
The thought of putting all your savings into a new business or fast-growing stock may sound exciting. But if you don't take appropriate steps to protect your investment, you endanger your financial stability.
That's why Mendrin advises young people to set up an emergency fund — and some extra savings if possible — before taking financial risks.
"A good emergency fun and some available liquidity are great ways to lower your household risk in times of need," he said. "If you have the right amount of funds set aside and planned appropriately, emergencies become inconveniences. If you're starting a business and worry about being able to pay the bills, build up your cash savings to cover the first couple of years of spending."
Drew Feutz, CFP and co-founder of Migration Wealth Management, recommends that young people mitigate investment risks by first paying off high-interest debt, making a plan for paying off other debts and purchasing appropriate insurance policies.
"Of course, each financial risk comes with its own unique and potential downsides," he said. "You should make sure to consider the worst-case scenario, how to protect yourself against that scenario, and what you would do if it were to take place."
Protect Your Wealth by Planning an Exit Strategy and Diversifying Your Portfolio
Meiggs encourages young people to use hedging strategies in case their financial investments fail. This involves paying a premium to take positions in both directions of an asset to offset potential losses.
"For example, if you are worried about a stock market crash, you might buy put options on the market. This would allow you to sell your stocks at a set price, even if the market crashes," he said. "Finally, it's also important to have an exit strategy in place. This way, if things do go wrong, you know how you will get out of the situation. Having an exit strategy can help you limit your losses and protect your capital."
Lastly, be sure to diversify your investments and income sources to protect your wealth. This may include purchasing various types of assets, such as stocks, real estate or small businesses.
"Concentration builds wealth, and diversification protects it," Mendrin said. "Concentrate your efforts earlier in your career, then once you're established and building wealth, you can diversify your investments and sources of income to protect what you've built."
More From GOBankingRates