Generational Shift: Here's What Gen X and Millennials Will Pass Down to Their Heirs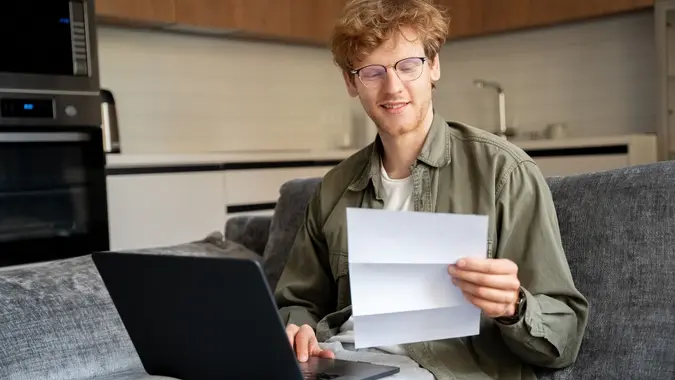 Yaroslav Olieinikov / iStock.com
Wealth. It's something most people want to obtain in their lifetimes and pass along to loved ones who come after them.
Creating and passing down financial stability from one generation to another is how a legacy of prosperity endures in the modern age. Only the modern age is changing, with technology shifting the ways wealth is created, including artificial intelligence and different methods of investment.
Retirement Savings: Here's How Much Cash Baby Boomers Need To Retire in the Next 5 Years
Learn: How To Build Your Savings From Scratch
So how and what will Gen X and millennials change in terms of what gets passed down to their heirs?
GOBankingRates reached out to some financial experts to find out what the generational inheritance shift might look like and why. Here is what Gen X and millennials will pass down to their heirs in the not-too-distant future.
Digital Currency
Money now comes not in dollars and cents, but rather in code. You just have to let your grandchildren know the password. But by that point, decoding an inheritance probably will be secondhand.
"Digital currencies like Bitcoin and Ethereum are getting more popular," said Antony Chan, founder and editor of IncomeBuddies.com, a personal finance website. "Many millennials … are born at the time where these digital currencies are still considered 'cheap,' making [them] a digital asset of the new generations." 
"Not only is it easily transferred to future generations, many of these digital assets have increased in value over the past few years."
Take Our Poll: Who Has Given You the Best Money Advice You Have Ever Received?
Virtual Investments
Non-Fungible Tokens (NFTs) are still alive and kicking, making them digital investments that can accrue wealth for future generations. This includes artwork, virtual real estate and collectibles — none of which are actually tangible.
"Many of these NFTs were bought and sold for thousands of dollars to millions of dollars," Chan said. "Many of these NFTs live in the virtual world, but it shows great potential to become an asset that comes in the form of inheritance, combining creativity and value."
André Disselkamp, co-founder of German company Insurancy, said, "The recent boom in NFTs has given rise to a new asset class in the form of one-of-a-kind digital assets like works of art, songs, virtual properties and other such things. These items could be passed down as an inheritance as well."
Future Wealth Transfers
The way money moves is bound to change just as much as how it is acquired. New ways of transferring this type of financial wealth from one generation to another might also come with new opportunities to increase it.
"As technology continues to advance, we can anticipate the emergence of new asset classes and investment opportunities that may become part of future wealth transfers," said Percy Grunwald, personal finance expert and the co-founder of Compare Banks.
With baby boomers, the wealth was passed down through traditional retirement plans, a la 401(k)s and pensions. However, more and more Gen Xers and millennials are now self-employed or owners of their own businesses. This means they can depend only on their solo-generated income to be an asset for retirement. So new assets need to be obtained outside the common workspace.
Strategize for Success
There are going to be new ways to invest; but, as always, investments need to be strategic. Mark Voronov, co-founder & CEO of SocialPlug, highlights that three key components are going to be essential for future generations to understand.
Financial Education. "Encouraging financial literacy and teaching younger family members about wealth management and investment strategies will empower them to make informed decisions," Voronov said.
Diversification. "Advising the next generations to diversify their assets across different investment classes — including stocks, real estate, cryptocurrencies and other promising areas — can mitigate risks and optimize wealth growth," Voronov said. 
Philanthropy and Social Impact. "Many Gen X and millennials have a strong inclination toward social responsibility. By incorporating philanthropic values into their wealth transfer plans, they can create a positive impact while securing the financial well-being of their successors," Voronov said.
Voronov thinks the changes Gen X and millennials face in transferring wealth is "driven by unique assets, technological advancements and forward-thinking strategies." 
"The integration of emerging technologies, such as AI and blockchain, along with diversified investment approaches, will shape the future of inheritance," Voronov said. "By imparting financial knowledge and instilling a sense of social responsibility, younger generations can pave the way for the alpha generation and others to come."
More From GOBankingRates