Why I Hired a Financial Advisor and You Should, Too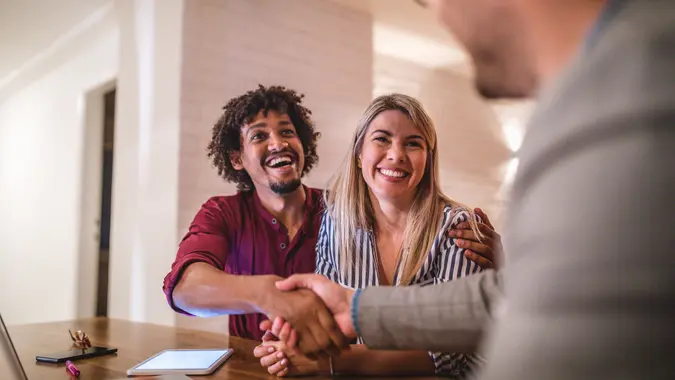 FluxFactory / Getty Images
Financial advisors are professionals trained to help anyone who needs to get a better handle on their overall finances or help with specific problems or goals.
Getting out of debt, planning for retirement, saving for a home, learning better budgeting skills-these are all the kinds of financial issues that financial advisors are trained to help with. However, many people may wonder when and whether it's worth hiring one.
We spoke to two people who've hired financial advisors and are glad they did. See why you should hire one, too.
Managing Money
Elder Zamora, a psychology doctoral student, found himself in the unique position of receiving a large amount of money three years ago, partly from an inheritance and partly from a stock buyout.
"Though I've always been fairly good at money management, I don't really have a head for investments and finance planning," he said.
This was a more sizable amount of money than he'd ever had to manage before, so he thought to consult someone who had a better understanding of financial matters and investments before he made any moves.
Communication Is Key
Zamora's financial advisor and he had "long conversations about what I saw myself doing financially within the next few years, then after that, and after that, culminating in a comfortable retirement."
He felt that his financial advisor was very patient and thorough in explaining all of his options — and left room for him to discuss his concerns. But she also helped him expand his budget to include more long-term planning. 
"As I suddenly had more financial options available to me," he said, "it really helped me rethink … what goals and milestones I wanted to set for myself."
Goals, Unlocked
Because of her help, Zamora feels that he was able to better achieve his goals.
"I think I really would have been over my head without the help and guidance she provided," he said. "Her knowledge regarding sustainable financial growth has really provided me with a sense of security about the future."
Stay in Touch
Though you may not need to have regular check-ins with your financial advisor, Zamora reaches out to his about twice a year, "just to see that everything is still as it should be and if there are any changes or adjustments I need to make." 
While hiring a financial advisor can be costly at times, and it's important to find a good fit, Zamora admitted, "I would have been filled with anxiety and doubted myself the whole time" if he went it alone. He felt that hiring a financial advisor granted him peace.
Do Your Research
You do, however, want to put in the legwork to find an advisor who is right for you, Zamora urged.
"Do research, thoroughly read up on who you're thinking of working with," he said. "I was lucky to find mine through a personal reference that had worked with them in the past — but even then, I did research. When financial security is at stake, you can't be too careful or too thorough."
Get Help With Retirement Goals
Another excellent reason to work with a financial professional is to set retirement goals and work toward them.
JC Lynne, author and CEO of Ngano Press, LLC, said, "We chose a financial advisor because we didn't feel comfortable or confident in managing our own retirement portfolios. We have a lot on our plate, and while we subscribe to the 'Don't panic; wait it out' philosophy, there is a fine line between hanging in there and neglect."
Clarify Goals
Lynne and her husband needed advice on whether their retirement investments were earning effectively and how to manage their accounts. With several IRAs from different employers as well as several life insurance policies, they wondered what the best approach was.
"She clarified goals in terms of projection," Lynne said of their advisor. "She showed us, given current lifespan expectations (Armageddon and climate disaster aside), how to change our investment and savings so we would actually have funds when we needed them."
Working with their planner made it so they didn't have to do the deep financial research themselves, while also getting a trusted professional's advice.
Get Help Consolidating
Another thing their advisor did was help them clean up and consolidate "our hodgepodge of IRAs and 401(k)s," Lynne said. "She was able to roll over multiple accounts, and that alone made our lives easier. She also clarified our life insurance plan."
Find a Professional
Lynne and her husband plan to keep working with their financial advisor because it makes good sense.
"We go to doctors because they are specially trained," she said. "We take our pets to veterinarians because they are specially trained. It's ludicrous to think we have the time, expertise and resources to keep track of investment law, retirement laws and the squirrelly market.
"[Our advisor] also recommended a great accountant, and that accountant recommended a great attorney because, in addition to needing to consolidate investments and retirement, we didn't have a will or trust."
Know What You Want
Before you work with a financial advisor, Lynne said you should make a list of needs. "Do you need help with debt, taxes, investment or retirement? Find out how much they charge. … Do your research. Check with FINRA, NAPFA and the Better Business Bureau."
Also, make sure the advisor you choose is a fiduciary.
"Fiduciaries are legally obligated to provide full disclosure and transparency on the recommendations they make," she said. "If they are selling products, as ours did with life insurance, make certain they are explaining policies, costs and options."
Equally as important, she added: "Find someone who listens to you, understands where you are in terms of life and career, and who offers easy communication."
More From GOBankingRates