Why You Shouldn't Feel Guilty About Using Your Emergency Fund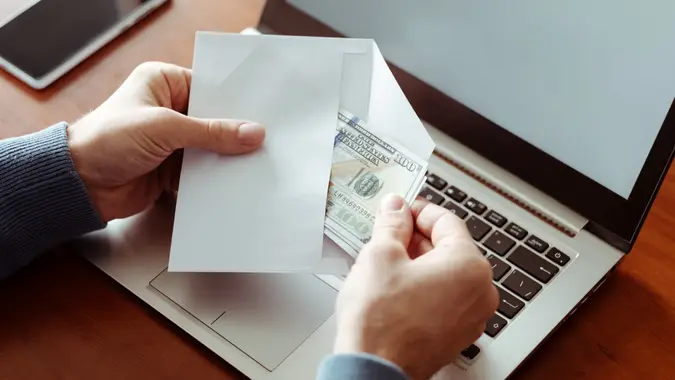 igor_kell / Getty Images/iStockphoto
There are a few rules everyone collectively follows when it comes to creating an emergency fund. We have an understanding of how much savings should be set aside in this fund, how we should store the money and the best ways to use it. 
Generally, dipping into an emergency fund is done in a relatively dire situation. Some of these situations include the loss of a job, unexpected medical bills or car trouble and home repairs. These situations are usually out of our control, and while we may be grateful to have additional money, we may also feel guilt spending it knowing it takes a lot of time and energy to save for an emergency fund.
It is possible to use your emergency fund without dealing with feelings of guilt, however. The next time you need to, consider the following reasons as to how this fund works for, not against, you.
You Know Why You're Using the Emergency Fund
It's highly likely you know the full reason why you're using this emergency fund. You're facing a situation in which you might be dealing with a rough patch and need to find a way to stay financially afloat. The money isn't paying for a non-essential, like a vacation or entertainment expense. It's addressing an issue you are facing right now.
How do you know you are truly going through an emergency? Danielle Miura, CFP and founder at Spark Financials, said guilt can stem from not understanding when we should use our emergency funds. Miura recommends asking yourself these questions to determine when, and why, to use this money.
Is it urgent? 
Is it unexpected? 
Is it necessary?
If the answer is yes to any or all of these questions, you are financially justified in using your emergency fund.
Take Our Poll: Do You Have a Second Job or Backup Plan in Case You Are Laid Off?
It Provides Peace of Mind
One of the significant silver linings in using an emergency fund is it keeps you from resorting to more extreme financial measures, like taking out a loan or maxing out a credit card. Instead of worrying how you will come up with the money, you already have a backup plan to address this issue.
Think about how you might feel if you did not have this fund. You might feel stressed out, anxious, worried and scared about the future — and the present. Having an emergency fund gives you peace of mind that you aren't living directly on the financial edge. You are prepared for "what if?" scenarios and should have more confidence you can get through them.
You Will Pay the Money Back
One of the lesser-discussed aspects of building an emergency fund, and then dipping into it, is the notion that most people will not refill the account. Feeling guilty about using an emergency fund is only a temporary feeling if you focus on replenishing it afterward. 
Miura recommends creating a plan to pay the money back. This will make you feel less guilty about using your emergency savings. Feelings of guilt will be replaced with feelings of empowerment and gratitude. You created a financial plan to help you through this hurdle and you got through it. Take a moment to feel pride in your hard work and thankful for the extra help found in an emergency fund.
More From GOBankingRates