Women Saved $4,000 Less Than Men Last Year — Here's What Experts Advise To Boost That Number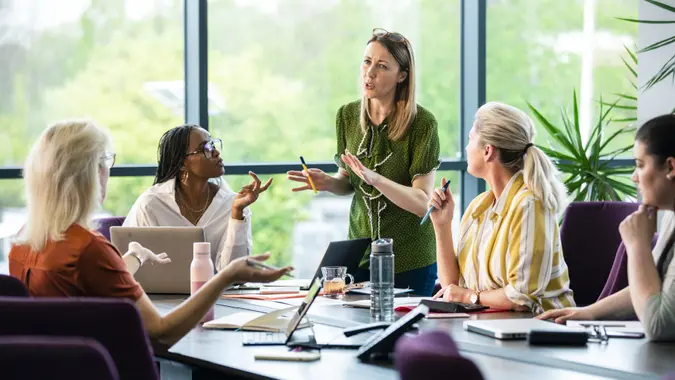 SolStock / Getty Images
If anyone wondered whether the gender pay gap is still a force to be reckoned with, they need look no further than at men and women's respective savings account balances in 2022. According to New York Life's latest Wealth Watch survey, in 2022 women saved an average of $3,146, while men saved an average of $7,007.
Social Security: Women Get $354 Per Month Less Than Men – Here's Why
Read: 3 Ways Smart People Save Money When Filing Their Taxes
Find: How 2023 Recession Will Differ From 2008 and How You Should Prepare Differently
So what is the reason behind the near $4,000 difference in savings between the sexes? As GOBankingRates has pointed out in the past, a persevering gender pay gap certainly plays a role.
"This [survey] shows an inherent issue that exists in personal financial management in 2023; that the pay rates of many women have still not risen to the level of their male counterparts," said Dr. Enoch Omololu (MSc. Econ), founder of Savvy New Canadians, an online personal finance resource.
"Now, I don't want to state in a blanket fashion that women are always paid less than men, but if you look at recent gender pay gap studies, they show that the average woman needs to work for about 15 months to earn what the average man makes in 12. With this in mind, men, on average, have more disposable income, making it easier for them to save and invest."
The best solution to the problem? Sealing that gender pay gap. Unfortunately this may not be as simple as it sounds.
"Closing the gender pay gap would be the most effective way of eliminating this difference between male and female savings, but according to the World Economic Forum's Global Gender Gap Report, that could take almost 132 years," Omololu said.
Surely more immediate solutions are needed to help women save money in 2023. What can they do?
Create a New Income Stream
"If your current income leaves little wiggle room, find additional ways to catch up," Omololu said. "To start, ensure you are being paid fairly at your current job, then look into popular side hustles and courses you can take to add to your skillset and build additional income for yourself."
Put Money in an Account Where It Can Earn More Over Time
"For these additional earnings, don't just add them to a standard savings account," Omololu said. "Put your money where it can build additional earnings over time, like a savings builder account, investment account or mutual fund."
Take Our Poll: What Are Your Financial Priorities in 2023?
Examining the Gender Pay Gap: Industries Where Women Still Make Less Despite More Challenges
Address the Gender Pay Gap in the Workplace
Andrew Lokenauth, founder of Fluent in Finance, suggested tackling the gender pay gap at work in whatever way is appropriate to your situation. "This can be done by knowing [one's] worth, discussing salaries with colleagues, and asking for a raise or changing jobs," Lokenauth said.
More From GOBankingRates