Would You Break Up With Your Partner If They Lost Their Job?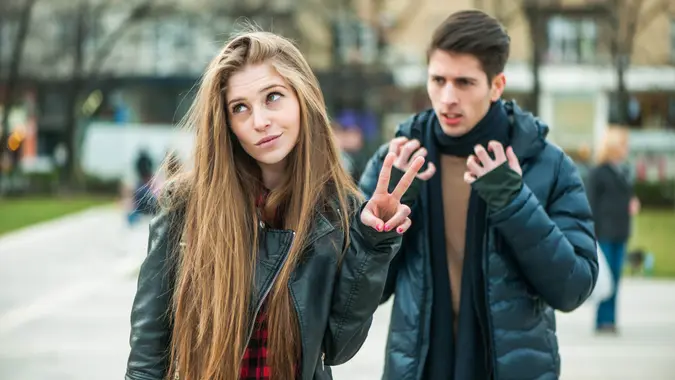 stock-eye / Getty Images/iStockphoto
Although the job market has largely bounced back from its pandemic lows, there's always the possibility of a layoff or job loss. But is this grounds for breaking up with someone?
Keep Reading: 54% of Americans Say Having a Partner in Debt is Cause for Divorce
Check Out: 12 Top Side Hustles You Can Do From Home, According to Career Experts
According to a recent survey by TD Bank, most people in relationships say it isn't — only 11% of Americans consider unemployment to be grounds for a breakup. However, this percentage goes up for those in unhappy couples (34%). And nearly half of women (48%) see unemployment longer than a few months as a reason for ending the relationship.
Here's a look at some other fascinating stats about relationships and money revealed by the TD Bank survey.
Nearly One-Third of Americans Are Keeping a Financial Secret From Their Partner
The survey found that 32% of those in relationships are keeping a financial secret, with 76% saying they have no plans to share this secret with their partner or anyone else.
The most common financial secret people keep is regarding a big purchase (40% of those who have a secret), followed by significant credit card debt (18%) and a secret bank account (13%).
"Financial secrecy can end relationships," said Shelly-Ann Eweka, CFP, senior director of financial planning strategy for TIAA. This is especially true with credit card debt, she said.
"I know one family where the husband found a credit card statement that showed his wife's discretionary spending far exceeded what they had discussed," Eweka said. "The dishonesty upset him, of course, and he realized how much her spending would hurt his credit rating and his financial goals."
See: Jaw-Dropping Stats About the State of Debt in America
Most Americans Are Comfortable Discussing Money With Their Partner
Despite the high percentage of Americans who are keeping money secrets, the majority (80%) say they are comfortable discussing money with their partner. Among couples who engage in money conversations, 57% discuss finances weekly and 86% do so monthly.
Loreen Gilbert, CEO and founder of Wealthwise Financial Services, recommends having a financial check-in with your partner at least once a month.
"No matter how frequently you meet to discuss finances, there are some key metrics to keep top of mind," she said. "Your spending plan: Where are you overspending and/or underspending based on your monthly budget? Net worth: Where have you made progress and where have you lost ground? Upcoming expenses: Expenses are not even month-over-month. What upcoming expenses do you need to address together?"
Women Place Greater Importance on Financial Stability
Not only are women more likely to view unemployment as grounds for a breakup, but they also are also more likely to view high income as an attractive trait in a partner. Overall, 21% of respondents said a high income makes a partner more attractive, but among women respondents, this number jumps to 74%. It's also higher among millennials, with 69% of those in this age group stating that a higher-earning partner is more attractive.
Younger generations of women are less likely to conform to views that male partners should be the higher-income earner, according to a separate survey conducted by Life Happens.
"When you look at the younger generations, more women are reaching for the bill as societal norms around finances in relationships are changing," said Faisa Stafford, president and CEO of Life Happens. "In fact, 80% of people believe it's more socially acceptable today for women to earn more than their male partners, and 77% don't think relationships need one 'breadwinner' anymore."
More From GOBankingRates