Small Parties, Big Spending: Here Are 2021's Biggest Wedding Trends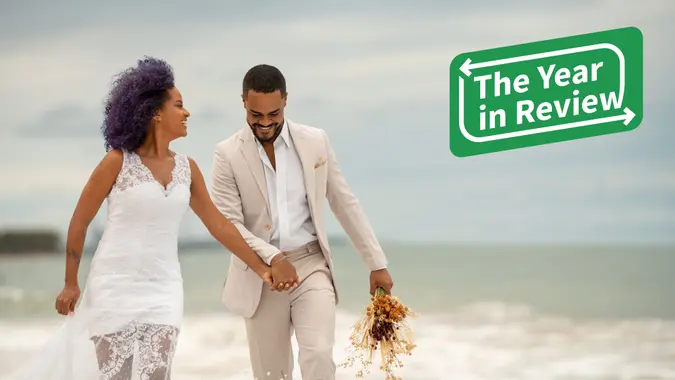 As a whole, 2021 weddings were a departure from guest lists filled with mere acquaintances, crowded indoor events and wedding cakes big enough to feed an army. Instead, for couples who decided to forge ahead, their celebrations were often more flexible, unexpected and intimate, according to wedding industry experts across the U.S.
Here's a look at how 2021 weddings were different — plus, a peek at how tying the knot might look different in the future.
Were Big Weddings a Thing During 2021?
Whether big weddings were "in" during 2021 depends on who you ask. Here's what different industry experts had to say. 
Shannon Tarrant, a veteran of the Orlando, Florida, wedding industry and owner of WeddingVenueMap.com, noted that weddings in her area that occurred earlier in 2021 weren't as large as those that occurred later on in the year. 
"While weddings resumed quickly in 2021, most of them remained more intimate with less than 75 guests until the Spring of 2021. Many of the weddings that opted to postpone later into 2021 included guest counts averaging closer to 125 and ranging as high as 250. The size of the weddings was really affected by the mandates and rules in each individual state."
Nora Sheils, the owner of Bridal Bliss, which is one of the top event-planning firms in the Northwest, said that big 2021 weddings were definitely out. 
"Many couples who did host larger weddings didn't post photos publicly as they knew they would likely be shamed," Sheils said. "Many were too nervous to host a large event, and even some that tried had too many guests decline to have a larger guest count. Most couples opted to have a smaller wedding — those that had postponed from 2020 and those that were originally planning a 2021 event."
The pulse was a bit different in the Northeastern U.S., according to Denise Buzy-Pucheu, owner of The Persnickety Bride in Newtown, Connecticut. 
"Being in the northeast (we handle brides and their families from CT, NY, MA, NJ, VT and NH), I can tell you that weddings from April through October were robust … with many of our brides having between 75 – 300 people."
What Trends Were Popular and What Did People Avoid?
"Backyard weddings had a big uptick in 2021," said Tarrant. "As the state governments placed restrictions on the venues and businesses that host weddings, engaged couples opted to host the wedding in their own backyard. This led to an increase in rentals like tents and outdoor lighting."
Bobbi Brinkman, CEO of Bobbi Brinkman Photography, said many couples kept their wedding small but turned it into a weekend-long celebration. 
"One of my favorite trends for our couples that decided to stick with their original wedding date but had 15 or fewer guests was that they opted to forgo their bigger venue and chose a house rental where they all could stay together," said Brinkman."They made a long weekend out of the marriage celebration. They hired private chefs for dinners and sightseeing excursions for everyone to enjoy during the day. Several couples worked with their planners to set up an outdoor movie night complete with all the nostalgic drive-in movie fun food.
"Indoor weddings and receptions were avoided for most of our 2021 weddings, regardless of the guest count."
Sheils said that even though couples may not have invited as many guests, they still splurged on their events. 
"They hosted very thoughtful and over-the-top beautiful events or full weekends splurging on florals, rentals and the overall guest experience," said Sheils. "They wanted those that came out of their bubble to celebrate to feel comfortable and loved and went out of their way to do that."
What Other Ways Did People Celebrate Their Wedding That Was Different?
The tradition of inviting guests to the wedding ceremony was less popular for a lot of couples tying the knot in 2021. Here's how that looked. 
"In 2021, it wasn't unlikely to receive a wedding invitation for just the reception," said Tarrant. "Many couples opted to elope or have a private ceremony during the pandemic and postponed the celebration portion until they felt safe."
"The pandemic was still a concern for several of our couples that had rescheduled from 2020 to 2021," said Brinkman. "They opted early on to move their bigger receptions to 2022 to have that big party. Many couples eloped over a weekend with just the two or chose to get married in a small family wedding at home. 2021 indeed brought more elopements and small weekday weddings than any other year."
Jennifer Prince, editor of Hill City Bride, pointed out that people becoming acclimated to virtual meeting spaces, such as Zoom, during the pandemic was helpful for those having weddings in 2021. 
"This allowed couples to livestream their weddings for people that couldn't travel or wouldn't due to their comfort level or being immunocompromised," said Prince. "What blossomed from this is that folks in other countries and sick or older people, such as grandparents, are able to join virtually. This has become the norm, whether a couple is having a microwedding or not."
What About Weddings in 2022?
Now that we are on the cusp of a new year, what's to come for weddings scheduled for 2022? There's no doubt that the wedding landscape has changed, and many of those changes will stick going forward. 
Again, it depends on who you talk to, but here's what Buzy-Pechu had to say. 
"This year coming up in 2022 is expected to be the biggest wedding year in 50 years," she said. "We still have people ordering custom masks, so I would believe safety is still a priority for many, as is checking vax cards with guests."
More From GOBankingRates