Yes, You Can Manifest More Money: Start With These 3 Tips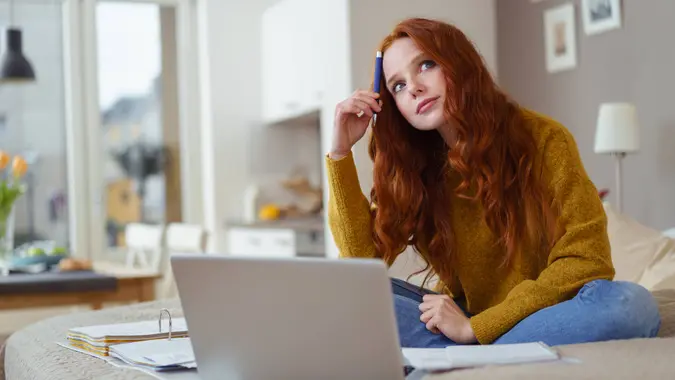 ©Shutterstock.com
It is possible to manifest more money into your life. However, one should not go into the process thinking "I will have more money" and expect it to magically appear before you.
GOBankingRates spoke with Joy Altimare, chief revenue officer at EHE Health, who frequently speaks on career advice and believes in the power of manifesting. Here are Altimare's tips on how to manifest positive growth in your finances.
Learn: Are You Really Financially Happy If You Make Six Figures?
Related: Would You Break Up With Your Partner If They Lost Their Job?
Less Money, More Positive Growth Opportunities
Altimare said it is possible to manifest positive growth in your finances. But, it's not about money. This is about the opportunities available to create great wealth that should be actively pursued and become part of your manifestation process. 
Altimare uses the following examples where you may manifest more opportunities to bring you financial success.
"I will get the raise that will change my financial standing."
"I will hit X goal for my finances."
"I can and will be able to afford everything that I want and need."
"I will make better investments (in people, in myself and in companies) that will help me achieve my financial goals."
How the Law of Attraction Factors Into Manifestation
Altimare said that the law of attraction and manifestation go hand in hand. The law of attraction is a philosophy where positive things come into your life when you have positive thoughts. Manifestation is when you leave anxiety and fear behind and live your life by speaking out what you want and in return will have. 
"For manifestation to work, you need to put out the positive energy to allow good things to come your way," said Altimare. 
Is Manifesting the Same as Perceiving Money?
Altimare said the reason why many fail in manifesting money is because of negative money perceptions. In a 2021 FINRA study, a large number of Americans reported financial anxiety and stress before the COVID-19 pandemic. Sixty percent of Americans surveyed indicated feeling anxious when thinking about personal finances while 50% of respondents felt stressed discussing their finances.
"For manifestation to work, you must let go over your negative thoughts and fears," said Altimare. "You must live knowing that you will achieve what you have stated."
Discover: 6 Steps You Should Take To Increase Your Financial Confidence
Tips for Manifesting Money Into Your Life
Now that you have a better understanding of what it means to manifest positive financial growth and the role the law of attraction plays in manifestation, here's how you can begin manifesting money into your life.
Speak It Into Existence
"I personally like to voice my manifestations out loud — it's not enough to just think it," said Altimare. "Speak it into existence."
Altimare also recommends looking at yourself in the mirror or writing these manifestations and then repeating them out loud. Both approaches can help in your manifestation journey. 
Look For Opportunities Around You
Part of the manifestation process is actively pursuing available opportunities that will allow you to create great wealth and lead you to your desired financial situation. Now is the time to start looking for opportunities around you.
Opportunities where you may manifest positive growth in your finances are all around you. Some of these opportunities may include investing in a cause or company that you believe in or picking up a side gig that allows you to explore your passion. You may even have a chance to discuss a promotion or raise with your employer.
As you look for opportunities, Altimare said you will begin to start seeing the opportunity all around you.
"You are your only limit. When you start taking in the good around you, you will start attracting more good," said Altimare.
Practice Gratitude
As you manifest positive financial growth, do not forget to express gratitude for what you already have. 
"Be grateful for what you do have. Practicing gratitude can help your positive mindset and letting go of the stress, fear and negative thoughts that many have about their finances," said Altimare.
Consider your current level of wealth as you begin to manifest more. What are some areas of your life where you have financial gratitude? Think about the obvious wins, like having a job that helped you repay a significant chunk of debt or a retirement plan you've been actively contributing to for years. Then, consider the less-than-obvious areas where being in good financial health allows you to embrace smaller, delightful rewards. For example, you might have a budget that allows you to enjoy a small treat each day. 
Express an attitude of gratitude for everything you have and know that this attitude will allow you to manifest a bright financial future for yourself.
More From GOBankingRates