From Coupons to Cheaper Brands, Here's How Americans are Saving on Back-to-School Shopping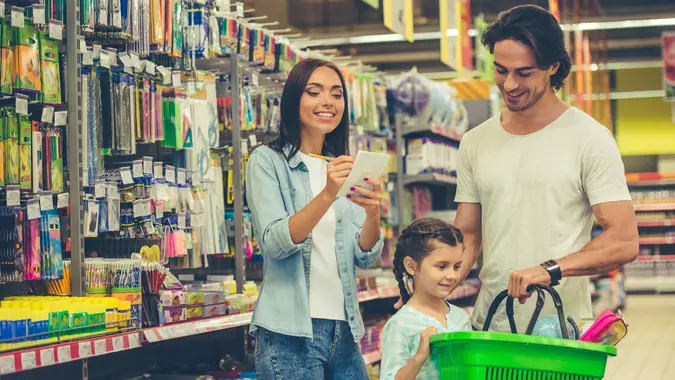 George Rudy / Shutterstock.com
August is back to school season, and many of your favorite big box stores are offering deals on everything from notebooks to dorm room furniture. But with inflation still affecting the budgets of most Americans, parents are looking for ways to keep their back-to-school bills as low as possible. In a recent report by the National Retail Federation (NRF), a third of the people polled said that they were cutting back on spending in other areas to afford supplies for the new school year. So, what are Americans doing to combat these inflating prices?
Read Next: 7 Walmart Brand Items That Are Just as Good as Name Brands
SNAP 2022: Is My State Extending Emergency Allotment Money for August?
A recent GOBankingRates survey asked readers how inflation has impacted their back-to-school shopping. Of those surveyed, 35% said that they are looking for sales and coupons more often. Another 30% said that they're switching to cheaper alternatives. Inflation has changed American shopping habits as well, with 35% of people polled saying that they've switched to shopping at discount stores to spend less.
Make Your Money Work Better for You
With so many of us trying to save money, here are a few tips for spending less on supplies this school year.
1. Compare Prices
Before you set out with the school supply list in hand, do some reconnaissance on your favorite stores. Compare deals from chains like Target and Walmart to make sure that you're getting the most for your money. And double check their price-matching policies. One of the best ways to get the lowest prices and the best deals is to prepare ahead of time.
Take Our Poll: Do You Tip for Service?
2. Stack Your Coupons
Another thing to do before you set out on your shopping trip is look online and in your weekly paper ads for coupons. Keep in mind, some online coupons will need to be printed before you can use them. If you haven't already, download the apps for your favorite stores. Many of these apps will compile the different types of active coupons they'll accept so you don't have to search as hard.
Make Your Money Work Better for You
3. Don't Forget About Cash Back
There are a large number of rebate apps and websites that allow you to get cash back on certain purchases. Apps like Ibotta allow you to select from a wide variety of rebate options, and once you're done shopping, you just upload a picture of your receipt in the app. This may not lead to immediate savings, but every dollar earned will add up quickly.
More From GOBankingRates
Make Your Money Work Better for You