15 Brilliant Ways to Defeat Impostor Syndrome from Michelle Obama and More Icons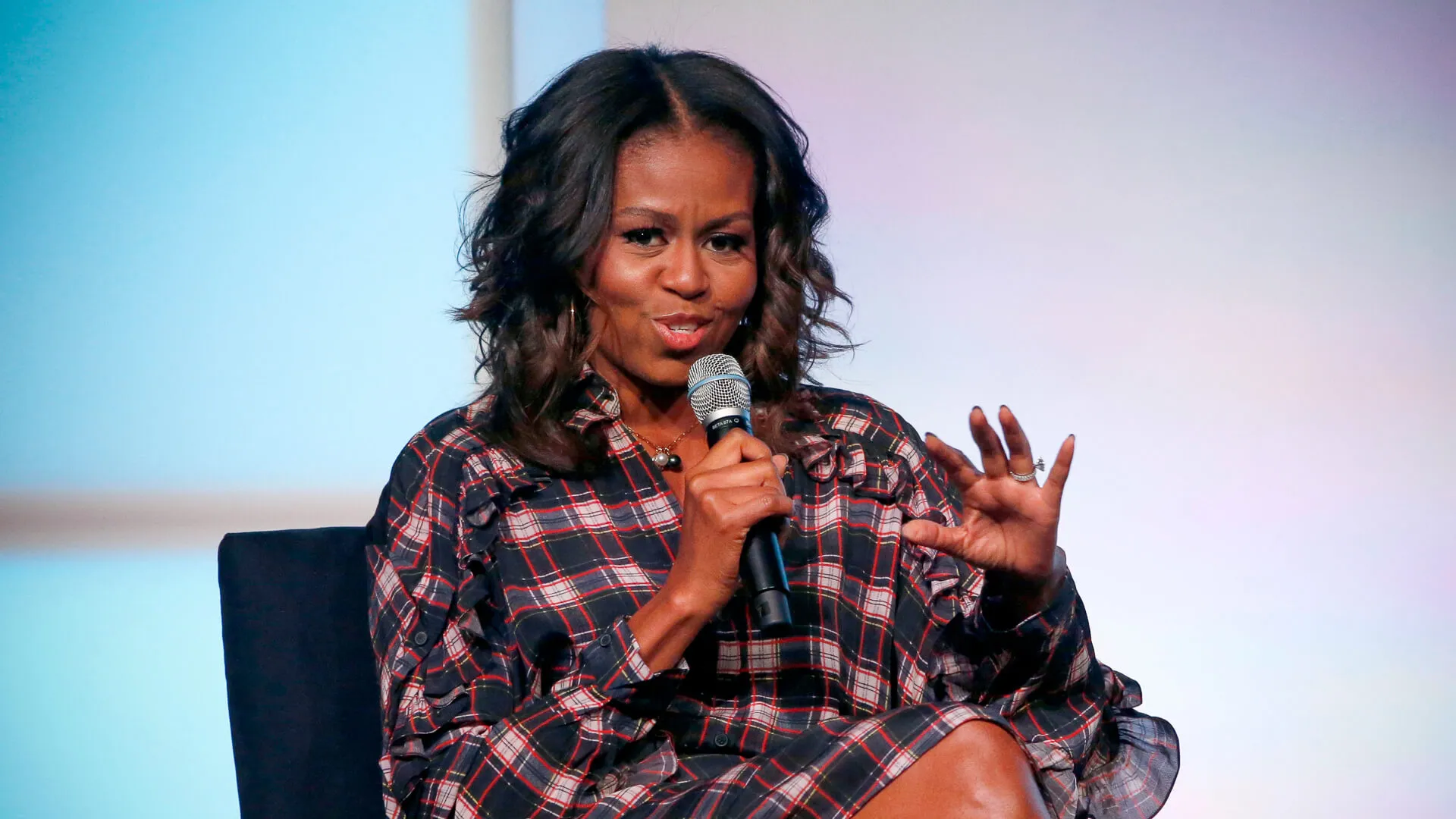 Getting a promotion or a new job opportunity, or being tasked with tackling a new challenge at work can be exciting and rewarding — but it can also be daunting. Maybe you feel like you don't deserve it, like you're a fraud and that everyone will soon see who you really are. If you've ever felt this way, you're not alone.
An academic review on the "impostor phenomenon" — also known as imposter syndrome — published in the International Journal of Behavioral Science found that 70 percent of people have felt this way at some point in their lives. And that 70 percent includes many incredibly successful people, from Michelle Obama to Richard Branson. Fortunately, these greats have also shared their secrets for overcoming impostor syndrome.
Make Your Money Work Better for You
Realize That Not Everyone Is as Smart as You Think They Are
Michelle Obama spoke about her struggles with impostor syndrome to students at London's Elizabeth Garrett Anderson School as part of her book tour, the BBC reported.
"I still have a little [bit of] impostor syndrome," she said. "It doesn't go away, that feeling that you shouldn't take me that seriously. What do I know? I share that with you because we all have doubts in our abilities, about our power and what that power is."
One thing that's helped her to beat impostor syndrome is the realization that just because someone is in a powerful position, it doesn't mean that they are smarter than you.
"Here is the secret," she said. "I have been at probably every powerful table that you can think of, I have worked at non-profits, I have been at foundations, I have worked in corporations, served on corporate boards, I have been at G-summits, I have sat in at the UN; they are not that smart."
Don't Be Afraid to Make Mistakes
Making a mistake does not mean you're not worthy of the role or responsibility you've been given — it just means you're human and made a mistake. This is the realization Emmy Award-winning news correspondent and author Betty Rollin came to after talking about her own impostor syndrome with a male co-worker, which she wrote about in a New York Times story.
"When you're on a story," I asked him, "do you ever think it's not going to work out?''

"Sure," he said merrily. "All the time. "

"Do you worry about it?"

"Sometimes," he said, not sounding sure.

"When it doesn't work out, do you usually figure it's your fault?"

"No," he said, sounding sure.

"Suppose it is your fault. Does it make you feel terrible?"

"Nah," he said.

"Why not?"

He looked at me. "Aren't I entitled to make a mistake once in a while?"
Make Your Money Work Better for You
Silence the Voices of Your Early Critics
Singer Andy Williams recorded 18 gold and three platinum albums, but he struggled with feelings of impostor syndrome for all of his career, according to his memoir.
Williams recalled being told by his father, "You're not as good as them, so you have to work harder," which made him experience a "crisis of confidence" even as his career took off. At the time he wrote the book at 81, he said that he was "finally beginning to believe that maybe I am as good as the others after all."
As hard as it might be, try to silence the voices of parents and other early critics so you can truly celebrate your successes as you achieve them.
Give Yourself a Break
In the book "The Secret Thoughts of Women," Valerie Young quotes Supreme Court Justice Sonia Sotomayor as saying that when she started her high-level job she felt like "a visitor landing in an alien country." And that for the entire first year, she was "too embarrassed and too intimidated to ask questions."
Young says the best way to deal with these feelings is to "give yourself a break. When you are outside your cultural comfort zone, for example, you're bound to have more insecurity about your competence than a native does. If you are a first-generation professional, the fact that you got where you are without the benefits that accompany social class makes you both commendable and exceptional."
Remember That You Don't Represent an Entire Class of People
Author, playwright and U.S. Congresswoman Clare Booth Luce once said, "Because I am a woman, I must make unusual efforts to succeed. If I fail, no one will say, 'She doesn't have what it takes.' They will say, 'Women don't have what it takes.'"
But feeling like you must represent an entire class of people — whether based on your gender, ethnicity or age — is putting an unfair burden on yourself. You are just one individual, and the only person you truly represent is yourself.
Read more: 30% of Americans Got a Raise in 2018 — Here's How You Can Get One, Too
Make Your Money Work Better for You
Ask for Help When You Need It
Needing the assistance of others does not make you an impostor — it just means you are able to recognize your own weaknesses.
In "The Secret Thoughts of Successful Women," Young writes that "only a true impostor would be afraid to ask for help. Years ago I heard Secretary of State Henry Kissinger nonchalantly tell a reporter about a potential nuclear crisis he didn't know how to handle. What did he do? He picked up the phone and called the guy who'd held his job before him. Not only did Kissinger see no shame in seeking outside counsel, he seemed downright tickled with himself for thinking of it. 'I make progress by having people around who are smarter than I am — and listening to them. And I assume that everyone is smarter about something than I am,' he said."
Take Comfort in Knowing That Other People Feel the Same Way
If you feel like a fraud, you're not alone. It's a perfectly normal feeling that's not worth beating yourself up over.
"The beauty of the impostor syndrome is you vacillate between extreme egomania, and a complete feeling of: 'I'm a fraud! Oh god, they're on to me! I'm a fraud!'" Tina Fey told The Independent. "So you just try to ride the egomania when it comes and enjoy it, and then slide through the idea of fraud. Seriously, I've just realized that almost everyone is a fraud, so I try not to feel too bad about it."
Fake It 'Til You Make It
It might seem counter-intuitive to "fake it" when you already feel like a phony, but acting more confident is a good stepping stone toward genuinely feeling confident.
"I'm very good at pretending that I know what I'm doing when I don't," said designer, entrepreneur and "Project Runway" winner Christian Siriano, according to "The Secret Thoughts of Women."
This "method" has also worked for Grammy Award-winning singer-songwriter James Taylor. "I started being a songwriter pretending I could do it, and it turned out I could," he once said, according to the book.
Make Your Money Work Better for You
Embrace and Internalize Positive Feedback
Joyce Roché has served as Avon's first black female vice president, COO of Carson Products Company, now part of L'Oreal, CEO of the national nonprofit Girls Inc., and is now a board member of four Fortune 500 companies — but even she suffered from impostor system.
"Just about every new accomplishment came with the stultifying doubt that I did not deserve the success, and that sooner or later I would be discovered as an impostor," she wrote in a blog post for The Shriver Report.
Roché noted that when you feel like an impostor, it's difficult to truly internalize external validation — but this is a mistake.
"When someone compliments you on a task you did really well, resist your habitual negative response and just let the information sink in," she wrote. "Another way to practice this is to ask a trusted ally what your special gifts are; listen carefully and 'metabolize' your friend's words."
Focus on Why You Do What You Do
Once you've been promoted or otherwise recognized, you can get caught in a cycle of constantly striving to get your next promotion or next opportunity for recognition — and not getting that next big thing can make you feel like you've fallen short. Instead of striving for what's next, focus on the passion that got to where you are in the first place.
"I go through [impostor syndrome] with every role," actress Lupita Nyong'o told Time Out London. "I think winning an Oscar may in fact have made it worse. Now I've achieved this, what am I going to do next? What do I strive for? Then I remember that I didn't get into acting for the accolades, I got into it for the joy of telling stories."
Make Your Money Work Better for You
Speak Up — Even If You're Scared To
Facebook COO Sheryl Sandberg has spoken openly about her struggles with self-doubt. But instead of giving into these feelings, she pushes past them.
"I force myself to sit at the table, even when I am not sure I belong there — and yes, this still happens to me," she told City Colleges of Chicago graduates in her 2014 commencement address, according to Entrepreneur. "And when I'm not sure anyone wants my opinion, I take a deep breath and speak up anyway."
Despite that she has come under scrutiny during a rough 2018 for the social media company, it's living this advice that has helped Facebook pave the road to its success.
Use Your Vulnerability to Your Advantage
Former Starbucks CEO Howard Schultz has said that embracing your feelings of being an impostor can be a good thing as a leader.
"Very few people, whether you've been in that [CEO] job before or not, get into the seat and believe today that they are now qualified to be the CEO," he told The New York Times. "They're not going to tell you that, but it's true. So everyone you meet has a level of insecurity. The level of insecurity that you have is a strength, not a weakness. The question is, how are you going to use it?
"For whatever reason, people believe that when they get to that spot, they have to know everything. They've got to be in total control, and you can never show weakness. I would say one of the underlying strengths of a great leader and a great CEO — not all the time but when appropriate — is to demonstrate vulnerability, because that will bring people closer to you and show people the human side of you."
Make Your Money Work Better for You
Stop Negative Self-Talk
Arianna Huffington has said that negative self-talk is at the root of her own impostor syndrome.
"The greatest obstacle for me has been the voice in my head that I call my obnoxious roommate," she told Fast Company. "I wish someone would invent a tape recorder that we could attach to our brains to record everything we tell ourselves. We would realize how important it is to stop this negative self-talk. It means pushing back against our obnoxious roommate with a dose of wisdom."
Instead of talking to yourself negatively, practice positive self-talk. Have some empowering mantras you can turn to when you're filled with any self-doubt.
Just Say 'Yes'
Fight the urge to immediately say "no" if you don't feel worthy or capable of taking on a new opportunity or responsibility.
"Even if I have no idea where I'm going or how to get there, I prefer to say yes, instead of no," Richard Branson wrote in a blog post. "Opportunity favors the bold — this is a lesson that I learned early on, and have used to guide the Virgin story. If somebody offers you an amazing opportunity but you are not sure you can do it, say yes — then learn how to do it later."
Accept Fear as Part of the Process
When you step into a new role or take on a new project, there is a level of risk involved, so feeling self-doubt and fear is totally normal. Just don't let the fear prevent you from moving forward.
"Writing is always full of self-doubt, but the first book is really full of self-doubt, and it was much more of a struggle to keep the faith," New York Times best-selling author Cheryl Strayed told the Butler University blog Booth. "By the time I wrote 'Wild,' I was familiar with that feeling of doubt and self-loathing, so I just thought, 'Okay, this is how it feels to write a book.'"
Click to read more about money secrets that wealthy, successful people know.
More Career Tips
We make money easy. Get weekly email updates, including expert advice to help you Live Richer™. 
Gabrielle Olya contributed to the reporting for this article.
About the Author