$15 Minimum Wage Would Reduce Poverty, but at What Cost?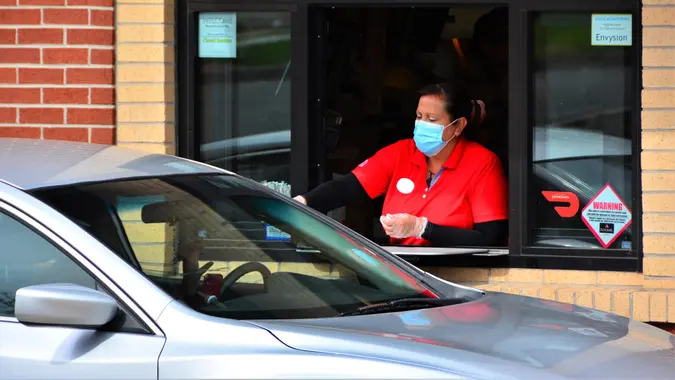 Jim Lambert / Shutterstock.com
President Biden and many members of Congress support an increase in the minimum wage from $7.25 per hour to $15 per hour. The $7.25 rate has been in effect since 2009, and many states and municipalities have already increased the minimum wage for their workers since then.
See: (Almost) Half of All American States to Get a Minimum Wage Hike in 2021
Find: When Will You Get Biden's $1400 Stimulus Check?
Under the basic supply and demand model, an increase in cost will lead to a decrease in demand. However, economists also talk about the income effect and the substitution effect. As it applies to labor costs, the income effect means that increasing wages will give consumers more money to spend, and that's good for employment. Low wage workers generally can't afford to save money, so any increase in income tends to go right back into the economy.
The substitution effect means that as costs go up, people will look for ways to do things cheaper, and that's bad for employment. Some businesses can no longer afford to operate, and others find ways to cut out workers. But even with the minimum wage at $7.25, self-checkout counters and automated customer service systems have replaced workers in many companies.
Make Your Money Work Better for You
See: 30 Jobs That Will Soon Be Gone for Good
Find: Walmart Is Raising Its Hourly Wages
So what's likely to happen? In 2019, the Congressional Budget Office released a report that estimated the effects of a minimum wage increase on employment levels and on family poverty. Their models showed that a $15 minimum wage would be likely to reduce employment by 1.3 million by 2025. A $12 minimum wage would have a smaller effect, reducing employment by 0.3 million, and a $10 minimum wage would have no effect.
As for a change in the number of people in poverty, a $15 minimum wage would reduce it by 1.3 million, a $12 minimum wage by 0.4 million and a $10 minimum wage would have no effect.
See: What Happened When These Places Raised the Minimum Wage to $15
Find: Best and Worst States to Be Poor in America
One issue is that an increase in the minimum wage affects both people who currently earn the minimum wage and those who currently make an amount between the old minimum wage and the new minimum wage. With a $15 minimum wage, anyone making $13 would get a raise. The $13-an-hour worker would not be affected by a $12 minimum.
Make Your Money Work Better for You
And so we're left with a tradeoff between total people employed versus total people in poverty. Solve it, and maybe you can win a Nobel Prize.
More From GOBankingRates:
Make Your Money Work Better for You