20% of Americans Recently Laid Off: What Are They Doing Now?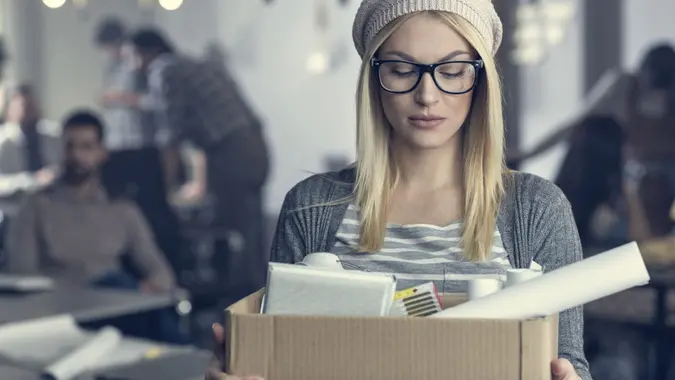 hoozone / Getty Images
Millions of Americans lost their jobs due to the COVID-19 pandemic. Then the pandemic began to recede, and many folks believed everything would return to normal. And while things have returned to normalcy somewhat, the layoff frenzy is going strong again.
Check Your $2 Bills: They Could Be Worth Upwards of $4,500
With a Recession Looming: Make These 3 Retirement Moves To Stay On Track
A recent GOBankingRates survey of 1,002 Americans found that 20% of recipients said they were laid off from their job in the last 12 months. Respondents were both men and women, both young and old.
This begs the question: what comes next for these recently unemployed workers? Do they look for another job? Start a business? Become a full-time freelancer? To help answer this question, we sough insight from the experts.
Challenges for Laid-off Americans
Laid-off Americans face many challenges today, says Kim Crowder, founder & CEO at Kim Crowder Consulting. "Many people who have returned to the workforce still find themselves struggling with physical, mental, and emotional complications from long COVID that do have a substantial impact on their ability to function in the workplace," Crowder said.
Make Your Money Work Better for You
In addition, Crowder says many Americans are still caring for themselves or loved ones. "Post-COVID, many people are still contending with health struggles that they themselves face, or are caring for loved ones."
This is a problem, especially for people who are still unemployed. "The high cost-of-living expenses, child care, and basic life needs have also influenced the number of workers (especially women) who have been unable to return to work."
What are Laid-off Americans Doing Now?
Some laid-off Americans are still dealing with the direct impacts of COVID. Others are working once again but are rethinking their relationship with work. Some still want a traditional job but don't want to be tied down as before.
"For this reason, many people are looking for flexible work environments," Crowder said. "Companies that provide flexible work schedules, including work-from-home opportunities, flexible leave, and on-site child care are more appealing to job seekers."
While many Americans have these concerns, employers are starting to respond to the rapidly changing labor market.
Take Our Poll: Are You Concerned About the Safety of Your Money in Your Bank Accounts?
"To expand on that, companies that have a genuine recognition of the fact that employees are people first often have higher retention and workplace satisfaction rates," Crowder said. "Employees have families, lives, health concerns, and emergencies that come up. Creating a work environment where life is understood and not seen as an inconvenience is important to employee morale and workplace retention."
Make Your Money Work Better for You
Do Full-Time Jobs Still Provide Better Job Security?
In the past, there was at least the perception that full-time jobs provided better job security than other forms of employment, like freelancing or temp jobs. But with so many Americans being laid off recently, we might be seeing some cracks in that perception.
A recent report from A.Team shows that 66% of respondents feel less confident in the stability and security of full-time employment after the recent wave of layoffs. And of the respondents who were laid off in the last 12 months, 88% said layoffs have made freelance work more attractive than before. In addition, 83% now feel less secure about committing to one employer.
"More and more workers are breaking up with full-time work, fed up with rigid structures and the illusion of stability, and choosing the freedom and flexibility of independent work," said Raphael Ouzan, founder & CEO at A.Team. "They know what they want and deserve, and would rather play the field and bet on themselves vs. committing to one employer."
Make Your Money Work Better for You
The data shows that at least some Americans are losing confidence in the security of full-time employment. As a result, we might see them be more willing to pursue other forms of employment like freelancing or starting a business.
Support for Laid-off Americans
With so many Americans being laid off, it may be necessary to provide support as they cope with the financial and emotional challenges that come with losing a job. Various government support programs can help with things like unemployment benefits, healthcare and job training. Community resources like banks and housing assistance can also help with some of the financial burdens that come with unemployment.
In addition, those who are experiencing stress, anxiety and depression may need therapy, counseling or support groups during this time. It's important to have resources for those who are going through a difficult time. Policies and programs that provide support and assistance to those impacted by job loss are also needed.
Bottom Line
With 20% of survey respondents laid off in the last 12 months, different people are dealing with the fallout differently. Some have returned to work but are still dealing with the physical, mental and emotional impacts of COVID. Some are still taking care of themselves and some are caring for others. Some workers have still not been able to return to work, which is especially true for women.
This has people rethinking the prospect of full-time employment. Many people are less confident in the job security it provides, which has them turning to freelancing and other non-traditional forms of work. Nevertheless, providing the support needed for the impacted individuals during this time is important.
More From GOBankingRates
Make Your Money Work Better for You