5 Alternatives To Quitting in the Post-Pandemic Great Resignation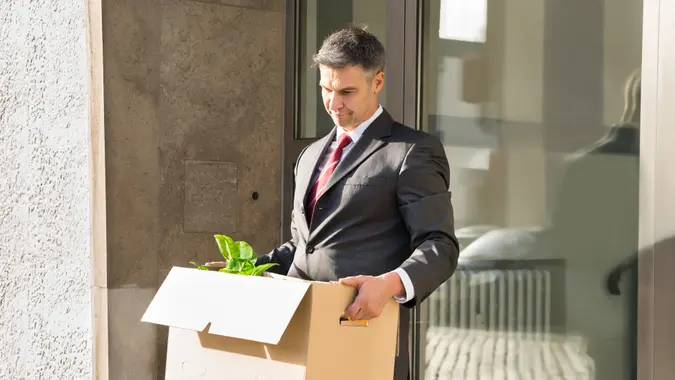 AndreyPopov / Getty Images/iStockphoto
After months of economic shutdown due to the COVID-19 pandemic, the economy began to shuffle toward recovery. Jobs rebounded and people could get off unemployment. For all intents and purposes, 2021 promised a better economic landscape than 2020. What experts did not anticipate, however, was that 4 million people would quit their jobs in April 2021, according to the Department of Labor, prompting what some are calling "the Great Resignation." The reasons behind this mass exodus may be manifold. According to MSN, the pandemic allowed people to reconsider their goals, priorities and the way they work.
Dream of Living Abroad? These 8 Countries Make It Easy To Work RemoteCheck Out: 10 Unexpected Jobs You Can Do From Home
"There's been an unexpected paradox plaguing post pandemic hiring, for industry giants and mom-and-pop stores alike–the new roles aren't seeing much uptake, and existing workers are leaving left and right," says Pablo Listingart, a career development expert and founder of ComIT, a free online training program in IT skills.
However, for some people, quitting a job in this not-quite-recovered economy is a risky proposition, as there might not be either a safety net or a new job for them to rely upon. If you're thinking about quitting, experts offer some alternatives.
Ask For Additional Training
Since one of the reasons people quit may have to do with feeling that "their opportunity for growth is passing them by," said Listingart, a good thing to do is to ask your employer if they have virtual training programs or on-site certification courses. "Inquire about your employer's capacity to cover the expenses…Be specific about your educational goals and how you believe they'll relate to your work with the company." He suggests most employers will be happy to work with their employees toward such goals.
Make Your Money Work Better for You
Ask For Schedule Flexibility, Reduced Hours or Breaks
According to Eden Cheng, co-founder of PeopleFinderFree, "In this post-pandemic climate, many employers are now being confronted with the need for finding ways to retain their work forces as the pandemic has changed what workers value." As such, she said it's appropriate and timely to ask for flexible hours that promote a good work-life balance.
"Alternately, if you happen to be dealing with an excessively huge workload…then you should try asking for help," Cheng said.
This may take the form of more breaks throughout your day, a reduced workload or a change in hours. "If you feel your candle burning at both ends with a big workload, you may think you need a job change when what you really need is a break," said John Li, co-founder and CTO of the financial lending company Fig Loans. Even adding in just a couple of breaks to your existing day might go a long way toward improving how you feel at work.
Ask For a Promotion/Raise
Maybe the problem with your job is more financial. Lizzy Hosford, national director of sales and marketing at Patriot Asset Management said, "Typically, workers start to feel drained if they feel as though there's no place to advance to."
Start by asking if there is some way you can work toward a promotion in the near-term through a shift in responsibilities, projects or title.
And it never hurts to ask for more money, either, according to Jim Pendergrast, SVP of altLINE, a division of The Southern Bank Company, "Most people don't get raises simply because they don't ask. With so many people resigning from their positions, it's never been a better time to ask your employer for a raise."
Make Your Money Work Better for You
Make a Vertical Leap
If you're feeling undervalued or uninspired by your job, but you generally like the company you work for, you might want to consider a change in the form of another role within your company. "Some companies will offer the chance to shadow experienced colleagues in their roles to see what is involved," said James Crawford, co-founder and CEO of e-commerce platform DealDrop. "If you are lucky you could find yourself in a new job, but with your service uninterrupted and working with people you already know."
David Aylor, lawyer and CEO of David Aylor Law Offices, adds, "By switching roles, you won't be starting over at square one. You'll already have relationships built with management and show your continued commitment to the organization."
Find: How Much You're Saving Still Working From Home
See: 24 Tips To Change Your Career and Land Your Dream Job

Figure Out What Your Dream Job Looks Like
If, after all of these suggestions, you still want to quit, Mark A. Herschberg, a former teacher of career skills at MIT and author of "The Career Toolkit: Essential Skills for Success That No One Taught You," said, "Start by asking what your dream job would look like." Whether that's a better title or a certain set of responsibilities, he said to ask if your current job is helping you get the experience you need for that dream job. "If it's not, are there ways you can change the job so it is? Maybe altering the job responsibilities or just getting involved in certain projects that can help you grow." Either way, he recommends speaking with your manager about your long-term career plans. You are the catalyst for your own career growth.
Make Your Money Work Better for You
More From GOBankingRates
Last updated: Aug. 23, 2021