5 Ways To Develop and Maintain Professional Relationships When You're Working Remotely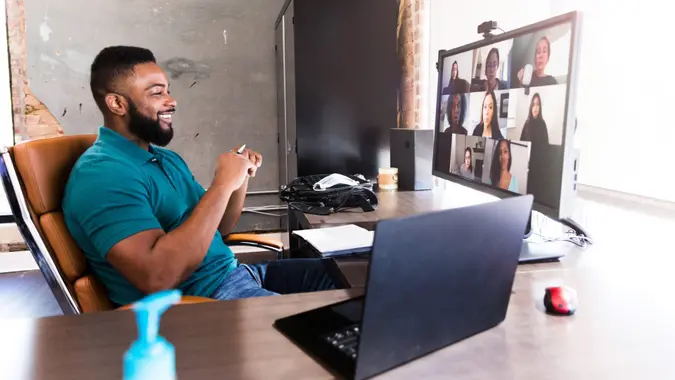 SDI Productions / Getty Images
It's been over a year since the pandemic began, and the professional working landscape is vastly different from 12+ months ago. And for many workers, the changes are positive. According to Microsoft's WorkTrendIndex, which details specific insights on workplace networks and connections, 73% of workers surveyed want flexible remote work options to continue. Additionally, over 40% of the global workforce is considering leaving their employer this year, and 46% are planning to move within the year now that they can work remotely.
COVID-19's Financial Impact After 1 Year: See All Our Coverage
You may already be working from home, which, like any working situation, has its challenges — one of which is developing and maintaining professional relationships. While no one will argue that it takes extra effort to develop and maintain these professional relationships when your connections are largely virtual, that doesn't mean it's impossible. Here are five great ideas to make it work for you.
Make Your Money Work Better for You
Seek Out Relevant Online Groups
Online networking groups are an excellent way to meet other professionals and build relationships, according to Joe Wilson, the senior career advisor at MintResume. To find relevant online groups, type the name of your industry + groups, such as marketing + groups.
Read More: Should Employers Require Workers To Take Time Off?
"There are a wealth of networking groups still running, be it remotely, and these are an excellent way of meeting people and building professional relationships," Wilson said. "Often, this doesn't involve paying to join a network but simply joining a free Facebook group. These are used as a lead magnet to join a paid group often, but the groups are full of professionals asking for and offering advice. Join the conversations and offer value. This is a great way to get noticed and to meet people who want to work with someone like you or need your services. Following this, it's easier to take the conversation outside of a group and the start of building a proper relationship."
Utilize Virtual Real Estate
Using virtual real estate can help keep staff motivated and connected, said Mike Peake of Yonderdesk.
Find Out: Companies That Let You Work From Anywhere
"All staff have an avatar and their own office/desk on a virtual interpretation of their actual office; they can see who's where, who is with who, and so on," he said. "It makes it easy to drop in on colleagues and really helps with the social isolation aspect – it helps people feel connected. From a client point of view, it helps there as well as these virtual offices can be branded: visitors arrive at your virtual lobby, meet a virtual reception and they can be taken into your boardroom, conference room or wherever you'd like to take them."
Make Your Money Work Better for You
Be a Source of Useful Information
Ana Casic, media relations coordinator at TalentLMS, recommends actively looking for ways to provide value to others.
Discover: How To Protect Yourself When You Return to Your Office
"Whenever you come across useful advice, a new viewpoint, or an interesting report, share it with a contact who might benefit from it," Casic said. "It can be a job opportunity, an interesting article, or a really awesome industry meme. Alongside sharing it in a DM, you can tag the person you want to share the info with in the comment below the story on LinkedIn or in the thread below the tweet. Spend 15 min[ute]s every day on this, and you'll be perceived as a value-giver in your network."
Send a Thoughtful Gift
Receiving a thoughtful gift can instantly create positive feelings toward the gift giver, said Brian Robben, CEO of Robben Media.
See: Handshakes and More Office Rules Changed by COVID
"Giving gifts is probably the best way to develop and maintain professional relationships when you're remote," Robben said. "For example, say you solved a problem at work or your personal life that a colleague told you they're struggling with at the moment. Send them a book that was really helpful during this challenge. Make sure to leave a thoughtful note inside the cover too. This goes a long way. Secondly, you two now have a conversation starter for a long time as he or she goes through the book. And lastly, [that person] will be more likely to offer value to you. Giving and receiving gifts is a powerful activity when you want to build deeper relationships while working remotely.
Make Your Money Work Better for You
Maintain Authenticity
You should maintain your authenticity in your online professional interactions with others to help develop or maintain those relationships, said Alina Clark, marketing director and co-founder of CocoDoc.
Read: 5 Things To Negotiate at Your Job Other Than Salary
"Whatever happens, don't lose authenticity while interacting online," Clark said. "Remote communication can quickly get boring and impersonal. Be your own person. In fact, maintaining my joking nature has helped me bond with more people."
More From GOBankingRates
Make Your Money Work Better for You