After a Layoff, Can a Career Coach Pay Off?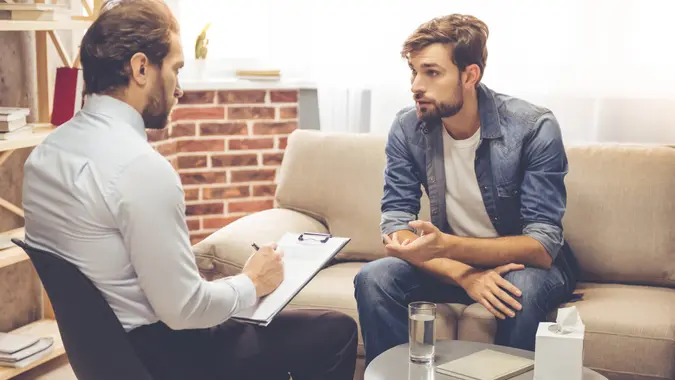 ©Shutterstock.com
In early December, Patrick McGrath of Los Angeles was laid off after five years at his beloved job in the tech sector. The let-go came as a huge blow, but McGrath didn't waste time feeling sorry for himself. He quickly revamped his resume, began reaching out to former colleagues to refresh connections and started applying to new positions.
Find Out: How Much Americans Have in Their Savings Accounts in 2023
See Why: Protect Your Financial Future With Gold and Silver
Check Out: GOBankingRates' Best Banks of 2023
Some time passed. He took classes on LinkedIn and other platforms to upskill, networked like crazy and kept applying to new positions. 
More time has passed. More waves of layoffs have happened in the tech sector. And McGrath has yet to land a new role. He is starting to wonder whether it isn't time to be doing more. Specifically, should he hire a career coach? He's on the fence because of the expense.    
Make Your Money Work Better for You
"Times are tough," McGrath said. "My wife works freelance, so she doesn't get benefits, and we have a 6-month-old baby. The idea of splurging on a career coach seems sort of absurd while collecting unemployment, but my job applications aren't getting much attention, it seems, and I'm starting to feel like a needle in a haystack. Perhaps a career coach can help me stand out or do something that I'm not already doing." 
What Does a Career Coach Do, Exactly? 
What McGrath and perhaps the thousands of others who have recently been laid off should know is what exactly a career coach does.   
"A career coach is like a personal trainer for your job search," said Kimberley Tyler-Smith, an executive at Resume Worded. "They're there to help you through the process, educate you on what to expect and provide guidance along the way.
Take Our Poll: Do You Have a Second Job or Backup Plan in Case You Are Laid Off?
"There are lots of things a career coach does for you that you simply can't do on your own," Tyler-Smith said. "For example, a career coach will help you understand how to identify the skills you want to use in your next job, how to make sure those skills align with the needs of employers and how to find positions that are appropriate for your skill set. A career coach will also help you think about what kind of work environment is best for your personality type and goals.
Make Your Money Work Better for You
Tyler-Smith added, "A career coach can bring value to the job search experience by helping you to identify your strengths, goals and job search strategies. They can help you create a job search plan, review and improve your resume and cover letter, provide feedback on your interviewing skills and help you to network effectively. They can also provide motivation and support throughout the process, which can be especially helpful during times of uncertainty or change."
One way to consider how a career coach will work with you is to break down how the person can help, according to Polina Ruvinsky, founder and executive director of To The SHE Power. 
Morale/mindset. "If you've been laid off, no matter what you're saying externally, this is an ego hit," she said. "You understand it's not personal, it's a business decision, but it still brings up thoughts like, 'Am I washed up? Will others recognize my value? Is the market so saturated with others in my position that I won't have a chance?' You may be tempted to feel sorry for yourself and wallow a bit. A good coach can help you break out of this thinking, build you up and get you to take action quicker than you would on your own. They can also encourage you to see the bigger picture of job search failures."
Fresh perspective. "If you have been working for the same company for some time, you may not have been updating your resume and you may be out of touch on resume best practices," Ruvinsky said. "You may not know current processes followed by recruiters, or you may not have a sense of how your resume, cover letters or your pitch come across to others. A good coach can offer a fresh perspective on your job search tools and help you level up your LinkedIn, personal brand, resume, pitch and career story."
Accountability. "When you are familiar with working within an existing system that sets deadlines and measures how you follow through, finding yourself without structure or anyone to 'report to' can be unsettling. Creating the discipline to really focus on your job search in consistent and effective ways may be hard to do. A good coach can help you set goals and deadlines, then follow up with you on whether you hit your goals. This can be a very energizing and effective tool for someone who is newly job searching."
Ability to identify why you may have trouble landing interviews or are not doing well in interviews. "As you interview," Ruvinsky said, "a good coach can help you debrief your experiences and determine what may need to be improved if you are not getting the outcomes you want."
How Much a Career Coach Costs  
"The cost of a career coach can vary depending on their experience level, location and the package you choose," Tyler-Smith said. "On average, a career coach charges $75 to $250 per hour. Some career coaches also offer package deals for a set number of sessions or a specific period of time."
But career coaches can cost far more. 
Make Your Money Work Better for You
"On average, a career coach costs around $500 to $2,500, depending on their level of experience and qualifications," said Carter Seuthe, CEO of Credit Summit.  
Surely, demographics also might play a huge role in the price of a career coach. 
Is a Career Coach Worth the Money? 
"Although it may seem pricey initially, having that extra expertise to help land the job makes all the difference," said Jake Hill, CEO of DebtHammer. "A career coach brings valuable insight on practical techniques as well as inspirational motivation and holistic advice on how to be successful in fulfilling your life's purpose.
"By examining our strengths and weaknesses as well as exploring our passions and interests, career coaches can be instrumental in assisting in mapping out an appropriate strategy to help you achieve success with your next career opportunity."
More From GOBankingRates
Make Your Money Work Better for You