4 Benefits Women Should Demand From Their Workplaces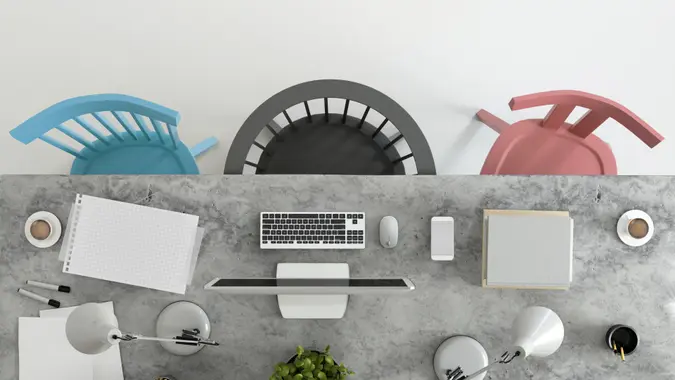 ExperienceInteriors / iStock.com
McKinsey's October 2022 Women in the Workplace report found that women leaders are switching jobs at the highest rates ever. As for why women are jumping ship, it's because they "are demanding more from their companies, and they're increasingly willing to switch jobs to get it," the report found. So, what demands are women making? And what should they be demanding?
In this "Financially Savvy Female" column, we're chatting with career experts to find out the benefits women should ask for from current and future employers.
Flexible Work Options
The McKinsey report found that "women employees who can choose to work in the arrangement they prefer — whether remote or on-site — are less burned out, happier in their jobs and much less likely to consider leaving their companies." It also found that having the option to work remotely is important to most women, as only 1 in 10 women wants to work mostly on-site.
"Women should absolutely seek out remote/flexible work arrangements," said Sara Causey, certified human resources manager and owner of Causey Consulting, LLC. "So often, women are still disproportionately responsible for child care, elder care, household maintenance, etc. Plus, with inflation, the cost of care outside the home has skyrocketed."
Causey said that if an employer agrees to a work-from-home and/or flexible work arrangement, it's important to get this in writing.
"What a hiring manager might verbally agree to in an interview setting can be changed later once the employee has actually started work," she said. "It provides a better hedge of protection to have WFH or flexible scheduling put in writing in an employment contract and/or formal offer letter."
Make Your Money Work Better for You
Personal Leave for Mental Healthcare
The McKinsey report identified personal leave for mental healthcare as one of the key practices driving progress toward gender equality, with roughly 90% of top companies that have a higher representation of women and women of color offering this benefit.
"Women need paid leaves of absence for mental healthcare because they experience depression at twice the rate of men and are much more likely than men to experience postpartum depression," said Kimberley Tyler-Smith, VP at the career platform Resume Worded.
Caregiver Benefits
"Finding affordable and reliable child care is a significant barrier to women in the workforce; therefore, employers can offer access to free or discounted child care," said Sarah Grimstead, regional vice president with Insperity, a provider of human resources solutions.
The McKinsey report specifically recommends that employers provide emergency backup child care services as a standard employee benefit.
Return and Career Pathing Programs
The McKinsey report recommends allowing caregivers and parents to take extended time off and return to a similar role. Grimstead recommends taking this a step further.
"Many women who have taken time away from their careers and want to rejoin the workforce need support," she said. "Companies can offer customized training, upskilling and development programs to reacclimate boomerang employees to the company's practices and training needed for new technology or processes.
"Showing empathy for those who may have had no choice but to remove themselves from the workforce will help retain these crucial workers," she continued. "As women consider returning to the workplace, they want to know there is a clear growth path. Employers can offer opportunities to provide additional credentials and create formal mentorship programs with career growth in mind."
Make Your Money Work Better for You
GOBankingRates wants to empower women to take control of their finances. According to the latest stats, women hold $72 billion in private wealth — but fewer women than men consider themselves to be in "good" or "excellent" financial shape. Women are less likely to be investing and are more likely to have debt, and women are still being paid less than men overall. Our "Financially Savvy Female" column will explore the reasons behind these inequities and provide solutions to change them. We believe financial equality begins with financial literacy, so we're providing tools and tips for women, by women to take control of their money and help them live a richer life.
More From GOBankingRates