5 Best Industries To Apply for a Job if You're Looking for a Change of Pace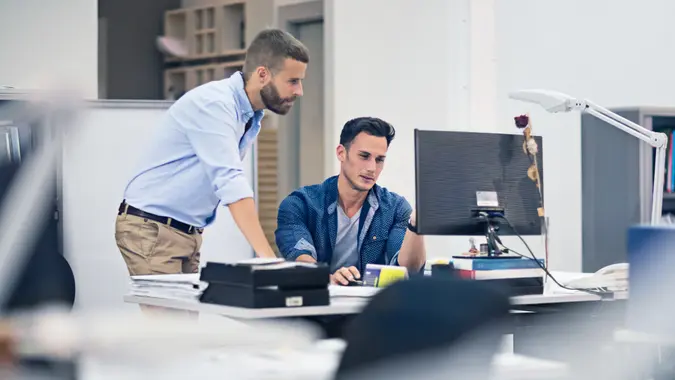 Xavier Arnau / Getty Images
Changing jobs is more popular with workers than ever before. According to survey data from the Pew Research Center, 2.5% of workers (4 million) changed jobs each month between January and March 2022. Some of the common reasons for changing jobs, according to the survey, included having little to no job security or a personal financial situation that was fair to poor.
Do You Have a Tax Question? Ask a Tax Pro
More: With a Recession Looming, Make These 3 Retirement Moves To Stay On Track
However, sometimes the reason people change jobs is simply because they are looking for a change of pace. If you're just looking to mix things up, the smartest move is to stay in your current job until you are hired for a new one to avoid a gap in pay. But in what industry should you start looking? To find out, GOBankingRates looked at the latest LinkedIn Workforce Report, which includes hiring data from January 2023, to determine the industries that are showing the most hiring activity.
Make Your Money Work Better for You
Here are the five best industries to apply for a job if you're looking for a change of pace.
Holding Companies
Holding companies, also known as umbrella or parent companies, do not sell products or services or manufacture goods. Instead, they exist solely for the purpose of controlling other companies. They may also own assets, such as real estate and stocks. For example, The Goldman Sachs Group, Inc. owns many subsidiaries, including Greensky, which is a fintech platform for consumer home improvement loan originations.
The holding company industry has seen a +4.3 month-over-month percentage change when it comes to hiring, according to the LinkedIn Workforce Report. Jobs at holding companies can be varied and include the following: graphic design manager, lead officer of corporate security and construction planner.
Take Our Poll: Do You Have a Second Job or Backup Plan in Case You Are Laid Off?
Oil, Gas and Mining
The oil, gas and mining industry has seen a +1.6 month-over-month percentage change when it comes to hiring, and it offers a variety of jobs. Many of the jobs take place in the field, according to the Bureau of Labor Statistics, including the following: first-line supervisors/managers of construction trades and extraction workers, operating engineers and other construction equipment operators, and oil and gas roustabouts.
Make Your Money Work Better for You
However, there are also office-based administrative jobs that don't involve going into the field.
Transportation, Logistics Supply Chain and Storage
The supply chain is the backbone of American industry. If you're into problem solving, a job in the transportation, logistics supply chain and storage industry might be just what you're looking for in terms of a job change. For example, logistics supply chain management entails successfully delivering the right products to each specific customer's location in an efficient manner.
The transportation, logistics, supply chain and storage industry has seen a +2.7 month-over-month percentage change when it comes to hiring. Different jobs that are available right now include the following: supply chain analyst, inventory control supervisor and warehouse operations supervisor.
Utilities
The utilities industry is undergoing massive changes and is focused on innovating to create new business models, better customer experiences and operational improvements — which means more job opportunities. The utilities industry has seen a +0.1 month-over-month percentage change when it comes to hiring.
Make Your Money Work Better for You
Some of the current jobs available in this industry include the following: energy consultant, marketing planner for utilities solutions and CCTV sewer camera operator.
Technology
Even though hiring in the technology, information and media industry hasn't been the strongest lately, technology is still a solid industry to pursue due to its firm foothold in the future of industry and its likelihood to rebound. If you're looking for a change of pace but haven't ever worked in the tech industry, networking and finding a mentor are key.
Additionally, you might want to consider getting at least one technical certification in an area of your interest, such as data security or project management. Tech startup companies or companies looking for people to help them learn how consumers interact with technology are both good places to apply for a job if you lack technical experience.
More From GOBankingRates
Make Your Money Work Better for You