All the Best Mistakes I Made at My First Job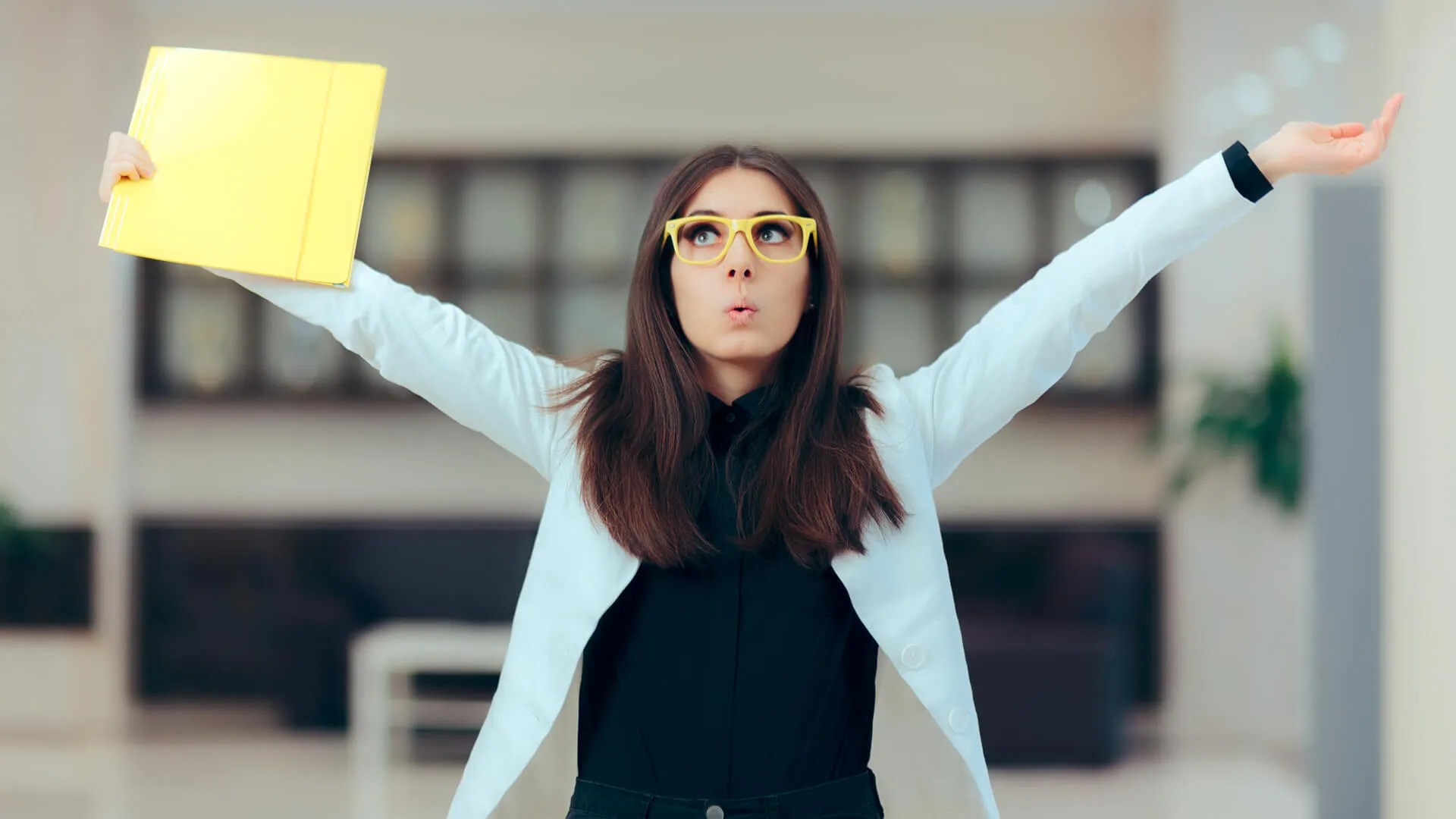 The richest man in the world, Jeff Bezos, wrote in his first annual letter for Amazon that "failure and invention are inseparable twins."
Many of today's titans of industry didn't get to the top without a slip-up or two. Following an early box-office bomb, America's first black woman billionaire, Oprah Winfrey, learned to "never again, ever — put all of your hopes, expectations, eggs in [one] basket… Do the work as an offering, and then whatever happens, happens." And after Elon Musk was demoted at the first company he founded, he learned how to stop micromanaging and start actually working with people.
Everyone makes mistakes on the job. But when you're reeling from a big professional screw-up, it's tough to remember that one day, you'll use that failure as a springboard to do something amazing. So we reached out to successful emerging professionals to find out how they screwed up big time at their first jobs — and why they're glad they did.
Click through to find out what you need to know before your first real job.
I Wasn't Upfront About My Commitments
Before starting her first summer job at a party center, journalist Gaby Olya had a family vacation planned for about a month after her start date — but she didn't say anything about it to make sure she got the job.
"I told them about a week out about my trip, and when I returned they stopped putting me in the schedule — their not-so-subtle way of firing me," she said. "If I had been honest and upfront, they might have been more eager to have me continue to work there when I got back from my trip."
Now, she always tries to vocalize red flags before they become a problem.
Make Your Money Work Better for You
I Made Assumptions About How I'd Be Treated
Colin Becker, now a video content creator, started working at his father's heating and air conditioning business in the summer when he was 15. "I initially thought that my dad would go easy on me… WRONG. Cut to me climbing ladders and crawling through humid basements."
Getting covered in dirt and dust gave Becker a whole new level of respect for his dad, he said. "I never really knew what my dad did when he went off to work every morning, prior to this experience. Some days were fun… others not so much. However, my dad hardly ever complained. He went into work each and every day with the understanding of what it would entail, but that never affected his spirit or determination. The look on customers' faces when the air conditioning kicked on after a long eight-hour day was priceless … Although, I think my smile was bigger."
Becker tries to maintain that same easygoing attitude and treats his coworkers at every level with respect.
I Didn't Contribute to My Company's 401k Plan
Mark Evitt, a personal finance editor, made a big money mistake at his first job that he'll never make again.
"My company had a pretty generous 401k plan with a great matching program. I didn't put a single dollar into it, even though I worked there two years. I told myself I had more important things to save for (like an engagement ring), but I should have at least contributed enough to get the full match.
"Subsequent jobs were startups and had terrible benefits, and I realized I missed a great opportunity to save money early. Today I'm contributing as much to my 401k as I can."
Make Your Money Work Better for You
I Didn't Set Boundaries
Katie Wudel, a digital media editor, said her first "real" job was as a writing center tutor at a community college, where she got sucked into her clients' drama. "A lot of the students somehow ended up graduating from high school without being fully literate. I got really angry at the teachers who'd failed them.
"I ended up more of a therapist than the person who was getting them back on track in class, which was emotionally draining for me. I took a lot of that toxicity home. Plus, it left little time in our appointments for actively improving their reading, writing and critical thinking skills.
"Over time, I learned to allow just a few minutes for venting, then dig right into the work at hand. As I've grown in my career, I've never forgotten that experience, which helps me remember that my co-workers, bosses and direct reports are all just human beings. But I try to avoid gossip and drawn-out complaint sessions and do what I can to healthily engage while also getting the work done."
I Didn't Take Care of Myself Off the Clock
Photographer Chase Brock's first job was as a greens mower at a local public golf course where his dad was superintendent. "I was left alone to handle myself and manage my work," he said — which taught him to "jump ahead and take on further responsibilities, such as becoming a greens mower on the large golf course where tournaments were played."
Still, Brock said he made a few mistakes — one very embarrassing. "Due to the early morning schedules starting at 4 a.m., sometimes I wouldn't get enough sleep, and have to wake up at 3 a.m. to be at work ready to go [in time]." But one morning, Brock fell asleep while mowing "the first hole's green, where I swerved pretty badly to make curved lines instead of straight ones on the green. This error due to lack of sleep required me to re-mow the green once more so golfers wouldn't complain about the non-straight lines they care about so much."
Now, before a big day of work or when starting a new job, Brock rests and takes care of himself to make sure he's prepared.
Make Your Money Work Better for You
I Didn't Ask Questions
Celene Zavala, a media strategist, started her first real job in her early twenties — and she let her nervousness prevent her from learning. "At the time, I thought this was a problem because all of my colleagues were a lot older than me… It was like I set up these invisible boundaries just because of the age difference. When I would have a problem at work I often didn't ask questions because I didn't want to seem like the little girl who didn't know anything.
"Thankfully my peers were always reaching out and constantly showing me the ropes. Once I moved to other jobs I found it much easier… to assimilate despite any age gaps. Sometimes I even prefer hanging out with older co-workers because you never know who can become a valuable mentor."
I Only Communicated Digitally
Sarah Johnston, who works in social media, was a customer service representative right out of college. "My manager at the time was new to the role, but together we were a great team. Experimenting with new ways to reach our customers and be of service, like many other companies, we would use Slack or Google Hangouts to ping each other with quick ideas, questions or other small tasks."
Yet Johnston said, "the process of chatting online while sitting across the room from each other proved to be more toxic than we cared to admit…. The loss of context in face-to-face communication led to more mistakes, which led to a more strained and damaged relationship. Tasks that should have been simple became stressful, as I anticipated something always being lost in translation."
Fortunately, Johnston and her boss settled on syncing in person, and "all of the stresses and the mistakes disappeared, and our productivity even increased because of the constant direct communication. As an employee hired to communicate to customers, it was the greatest lesson I learned about communication in the workplace AND in my chosen career path, and I'm mindful of it still."
Make Your Money Work Better for You
I Didn't Ask for Help
Researcher Andrew DePietro said he made an error early in his career when "deciding to initiate and work on projects that were outside my role/title purview — a mistake in one sense since I was only assigned menial, ultimately not-moving-the-needle tasks at the time."
Yet, DePietro said this "mistake" — going above and beyond — resulted in some of his best work and accomplishments. Still, "believing I could do it alone" was also a big mistake. Though he ended up with solid projects in his portfolio, DePietro thinks they could have been better. "It made me realize the importance of interdependence to create something truly great."
I Was Impatient
Marketer Ali Branch said that after college she got her first job working as a PR and marketing assistant for a digital agency — and for the first time, her Type A personality didn't serve her well. "I was super eager to get my first few projects completed by the deadline given to me. I found myself almost rushing through them to get them finished as soon as possible. It took me a few months, but I soon learned that this strategy was likely hindering the quality and results of my work."
Fortunately, Branch trained herself to be patient, especially "in the early brainstorming stages of a project. I was then able to think more outside of the box and uncover potentially better solutions to the task at hand than if I were to hit the ground immediately running. While hitting deadlines will always be important, it's equally important to take the time needed to ensure the quality result of the project."
I Solved a Problem Without Thinking About the Long-Term Impact
Writer and editor Erica Corbin said that one of her first jobs was as a babysitter. "I was very young, 11 or 12 years old. Why someone would let an 11-year-old watch their kid is beyond me, but I guess, to be fair, I had taken a little babysitters' course that included first aid and CPR for infants.
I would regularly babysit for a family with three kids: ages 2, 4 and 6. The mom told me rather casually once when I started working for them that the middle child sometimes got nosebleeds, but that it was no big deal and that they would pass quickly.
"Then, one day while I was watching them play, that kid got a bad nosebleed. If you have never been around someone who gets nosebleeds … how should I best describe it? Ever seen the blood-flooding-the-hallway scene from 'The Shining'? Anyway, the kid was gushing. Despite this apparently being a regular occurrence, he was also crying and flailing his arms.
"I was in such a panic to staunch the flow that I ran to the nearest closet and grabbed some bath towels — they were the family's very nice guest towels. Why I didn't think to look for paper towels or some rattier towels elsewhere still escapes me.
"Anyway, six full-sized bath towels soaked in blood later, his bleeding stopped, and I was able to get him cleaned up. Needless to say, his mom had very mixed emotions when she came home later and saw the towels.
"Silver lining though: The whole experience really taught me about problem-solving and how to prioritize in the face of an emergency. Now, when something bad happens – be it a computer crash or an injury – I go into this Zen mode and think very clearly and calmly. This ability has helped me at several jobs, including the years I spent as a Certified Nursing Assistant when I dealt with – you guessed it – a lot of blood."
Click through to read more about ways to improve your chances of getting a job.
Katie Wudel contributed to the reporting of this article.
More on Making Money