The Best Things To Do Before, During and After a Phone Interview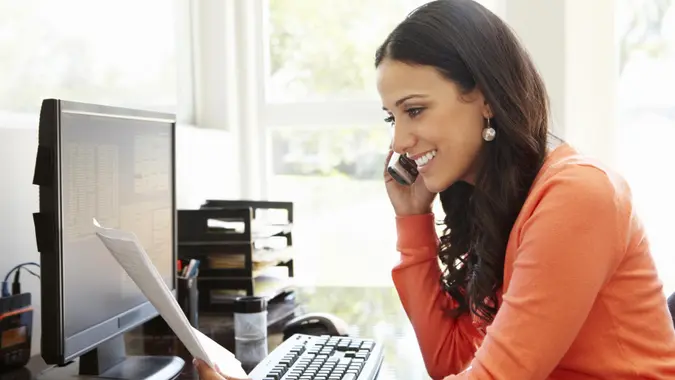 ©iStock.com
During the job interview process, a phone screening is typically the first step. While this may be more informal and informational than a video or in-person interview, it's the first impression you will be making on your prospective new employer, so it's important to make the most of it.
Here's everything you should be doing before, during and after a phone interview.
What To Do Before Your Interview
As with any interview, preparation is key. Make sure you spend some time getting ready for the interview so that you can shine when the time comes.
Do Your Research
There are a number of things you need to look into before the interview.
Make Your Money Work Better for You
"Research the person you are meeting with on LinkedIn to see their background, understand what they do and see if you have any touchpoints in common (past jobs, school, where you live, etc.)," said Stacie Haller, career expert at ResumeBuilder.com. "Review the job description and be prepared to give examples from your experience that show you are more than qualified for the position. Research any news about the organization that you can bring up to show that you have done your homework and are excited about the opportunity."
Prep an Elevator Pitch
Screening interviews usually open up with the interviewer asking you to tell them about yourself and your background.
"I recommend candidates prepare a brief 'elevator pitch' to introduce themselves," said Kate Zimmer, senior corporate recruiter with Varian. "I am looking for someone to provide a high-level overview of their career, while also showcasing they understand what the company/position is looking to solve for and how their experience will support the business need."
Make Your Money Work Better for You
Prepare Questions in Advance
At the end of the interview, the interviewer will likely ask if you have any questions for them. Be sure to take full advantage of this opportunity.
"I suggest creating a list of questions to ask that can help you understand if the company and role is a good fit," said career development coach Michelle Enjoli.
Do a Practice Run
"Don't go into any interview cold," said Rob Barnett, headhunter and author of "Next Job, Best Job: A Headhunter's 11 Strategies to Getting Hired Now." "Get fully warmed up by running through one or more full rehearsals with someone you trust. Even when you feel highly confident, getting to rock-solid in rehearsal is the best way to increase your chance to stick the landing."
Make Your Money Work Better for You
Barnett recommends asking a friend to run through a dress rehearsal for every job interview.
"Set up a rehearsal at least one day in advance of the actual job interview," he said. "Don't leave this for game day. Send your friend an email with as many potential questions you can think of for the mock interview well in advance of your time together. Include your best short answers for every question. This lets your prepper help you stay on point."
Choose a Quiet Place
You don't want ambient noises or distractions getting in the way of your focus during the interview, so figure out in advance where you will take the call.
"Make sure you are in a quiet place that will allow both parties to hear each other clearly," Enjoli said.
Do a Technology Check
Right before the interview, "make sure that your technology is working — i.e. that your phone is fully charged and functional," said Colleen Paulson, career coach and executive resume writer.
What To Do During Your Interview
Here's how to make the best impression on your interviewer.
Have Your Resume Handy
"I recommend having a printed copy of your resume next to you so that you can refer to it and not be caught off guard," said Akram Assaf, CTO and co-founder of the online recruiting platform Bayt.com.
You should also have the job posting easily accessible as well.
"It's a good idea when you apply to jobs to copy and paste the job description into a new document so you can refer to it during the interview process," said Vicki Salemi, career expert at Monster.
Pay Careful Attention to the Interviewer
"If you actually listen to the questions being asked and answer them to the best of your ability, you will do better than most candidates," Paulson said. "Many people answer the question that they want to answer — not the question that is actually asked."
Use the STAR Method When Answering Questions
"The STAR format is a common method used in interviews — break your response into four parts," Zimmer said. "Describe the Situation, assigned Task, followed by your Action(s) and the Result of your efforts."
Demonstrate Your Value
Whenever you can quantify a response, you should do so.
"If you saved the company money, how much did you save? Manage a team? Great! How many people? How often do you conduct performance reviews? Etc.," Salemi said. "Get specific and granular when it comes to numbers."
Be Honest
You may be tempted to overstate your experience (or flat out lie about it) but this is a big no-no.
"Picture a huge yellow caution sign when you hear any incoming questions about specific experience that you know you don't have," Barnett said.
Instead of blurting out a lie, take your time to gather your composure.
"If you don't possess a skill set, be honest," Salemi said. "You can say something like, 'While I haven't had the opportunity to acquire that skill on my current job, I am a quick learner and can research it, and did teach myself XYZ…'"
See: 26 Highest-Paying Jobs That Let You Work From Home
End on a Good Note
"Your prime directive with a screening interview is to earn a second interview with the people you will end up working with," Barnett said. "If you sense your call is coming to a close, send clear signals about how a second conversation will give you the opportunity to share more about why you are the ideal candidate. Let them know you intend to offer more ideas on how to drive the business forward. And don't miss a chance for a happy ending. Let them know directly that regardless of where they are in the process, you're excited about the opportunity for a second conversation as soon as they want. Make sure your final words express real appreciation for the meeting and definite interest in pursuing this further."
More: Companies That Let You Work From Anywhere
What To Do After the Interview
If you're interested in the position, follow-up is key.
Send a Thank You Note
"Within 24 hours of the interview, send a thank-you note and stress again the reasons you are the best candidate for the position," Haller said.
You can also ask about next steps if this wasn't brought up during the call.
Don't Make Repeated Contact
Once you send a follow-up note, the ball is now in their court and you should not make additional efforts to connect or correspond with them.
"Don't try to connect with the interviewer on LinkedIn — unless they reach out first — or find them on social media to ask when they will hire for the role," said Dana Case, director of operations at MyCorporation.com. "And do not email repeatedly for updates either. They are likely still going through the first round of interviews and will contact you when they are ready for next steps."
More From GOBankingRates
Make Your Money Work Better for You