50 New, Easy Ways To Make Money From Home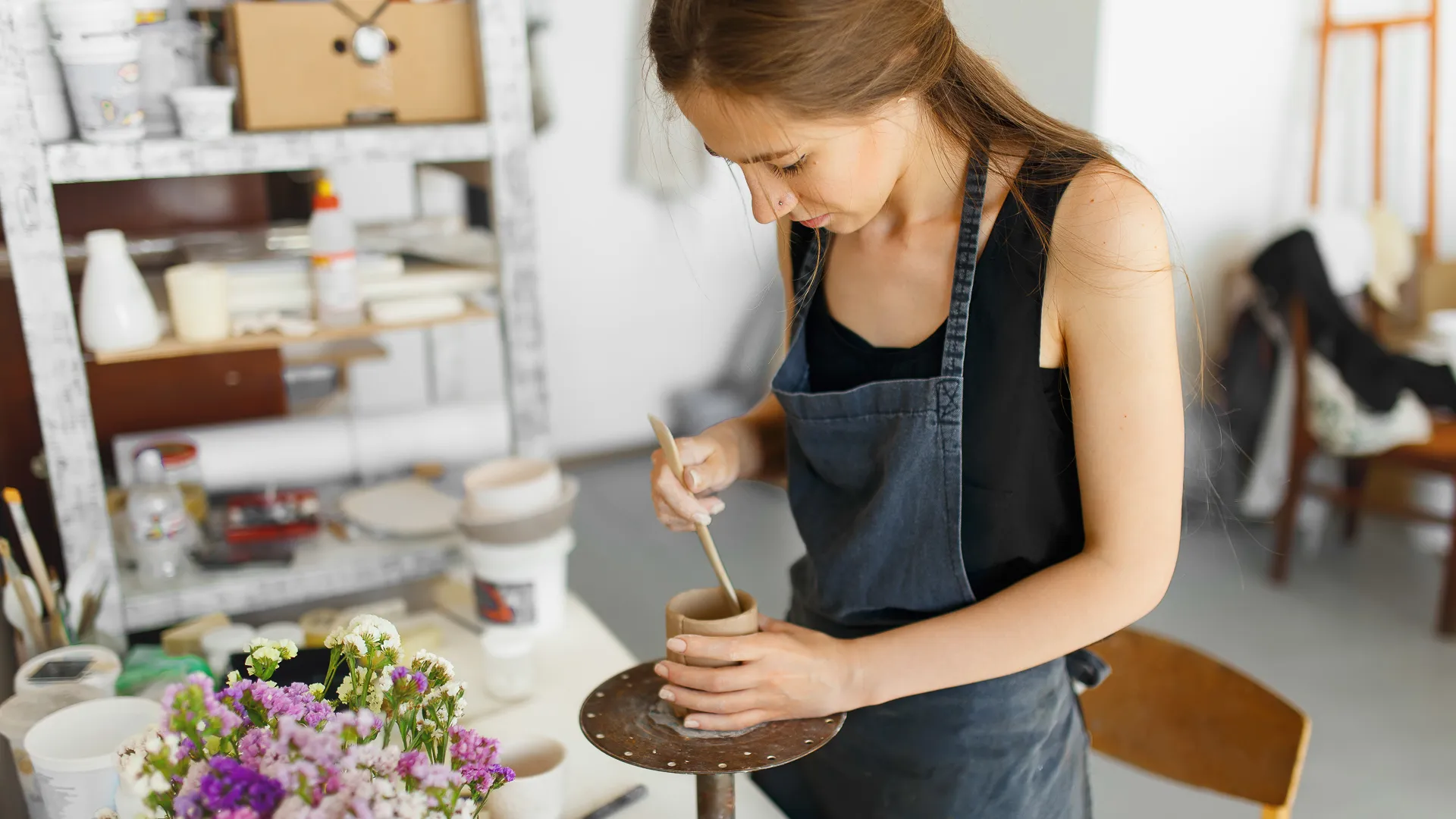 Make Your Money Work Better for You
Pet Sit
If you love animals, getting paid to watch other people's pets is a dream job.
Sites like Rover connect pet sitters with pet owners. You'll need to set up a profile explaining why you'd be a great pet sitter, but once you're approved, you can set your own rates and hours. You could earn more than $1,000 per month, according to Rover.
Don't Miss: 25 Hot Jobs That Pay More Than $100K a Year
Sell Stock Photographs
If you have a knack for capturing the perfect shot, you could turn those pictures into cash. Sites like Shutterstock, Fotolia and Adobe Stock enable users to upload images and get paid when people purchase them.
You'll receive a fraction of the sales price — and a good picture can earn you thousands of dollars if it's downloaded a lot. You must have the exclusive rights to the photos, and you must include signed releases for any recognizable people or private property in the images.
Transcribe Audio Clips
If you can type quickly and accurately, you can earn money transcribing audio clips in your free time. Companies like TranscribeMe! pay about $20 per hour, and top earners can earn $2,200 a month from these work-from-home jobs. If you have a specialized background like medical or legal training, you can earn higher rates.
Sell Unused Stuff
You could host a garage sale, but there's no guarantee you'd get enough people who want to buy your things. If you've looking for quick cash, consider selling items around your house, including your CDs, DVDs, games or books on the Decluttr site. Just enter the barcode, and Decluttr will tell you how much they'll pay you for it.
Read More: 5 Times You Should Splurge, Settle or Skip When Shopping
Make Your Money Work Better for You
Take Paid Surveys Online
Various online websites will pay you for sharing your opinions on a range of topics. For example, e-Rewards is open to anyone older than 13. You'll earn e-Rewards currency for each survey you complete, and you can redeem it for gift cards.
Other options include GlobalTestMarket and Harris Poll Online. The amount you make depends on how many paid surveys you're eligible for and how quickly you complete them.
Become a Remote Sales Agent
If you have a smooth voice and like talking to customers, sign up as a sales agent. You'll take calls like you would in a physical call center, but some sales agent positions are remote jobs.
For example, you can sign up with the company LiveOps to take calls for 30-minute blocks. First you must apply, be accepted and complete a company training course, which takes about 12 hours. Depending on the job, you could be paid between 20 cents and 25 cents per minute and receive incentives for selling certain products.
Make an Online Business Out of Creating Online Courses
If you have specialized knowledge, use it to create an online course. If you partner with a site like Udemy, you can set your price — between $20 and $200 per course — and keep a portion of the earnings based on whether you drive the traffic to the site or Udemy's advertising attracts the students.
Surf the Internet
There are dozens of ways to make money online. For example, companies want to know what you're doing online, so they pay data aggregators like Nielsen to collect that information.
To do this, Nielsen pays people to share details about their computer and mobile phone usage by installing an app. You can earn up to $50 for each mobile device, plus sweepstakes entries for computers.
Make Your Money Work Better for You
Serve as an E-Juror
You can make extra cash by serving as a mock juror so attorneys can practice their arguments and judge the value of their cases. Sites like eJury recruit U.S. citizens over 18 who haven't been convicted of a felony.
You can't be an attorney, paralegal or legal assistant — or closely related to an attorney or employed by a law firm. Expect to make between $5 and $10 for each verdict.
Rent Out Your Car
Renting out your car is one of the many ways you can make money off of tourists in your city. When you're sitting at home, you're not using your car, so consider making money from home by renting it to someone else. Companies like Getaround enable you to offer your car to someone who wants to rent it when you're not using it.
Getaround offers car owners $1 million of insurance and 24/7 roadside assistance — so you're fully protected. Active car owners earn about $10,000 per year, according to Getaround.
Get Cash Back When You Shop
Sign up with Ebates to get cash back when you shop online. Ebates has negotiated deals with more than 2,000 companies.
Each time you click through the Ebates site to partner sites, the company pays a referral fee to Ebates, and Ebates shares it with you. You can also earn $25 for each friend you refer to Ebates.
Take a Look: 27 Most Lucrative Side Hustles for People Over 50
Become an English Proficiency Test Grader
To test for English proficiency, foreign students take tests that include writing paragraphs, which need to be scored. Companies like EditFast need people to grade the tests, and you can earn between $18 and $25 per hour.
You must be a native or native-like English speaker, have a four-year college degree, pass proficiency exams and complete the training.
Make Your Money Work Better for You
Host Dinner for Guests
If you like to cook — and others like to eat your food — you could make money by hosting dinners at your home. Companies like EatWith coordinate guests for your dinner parties.
You must apply and host a demo event so the company can verify your culinary and hosting abilities. If you're accepted, you go through additional training — and then you'll be on your way to making up to $700 per dinner.
Recycle for Cash
Recycling helps the Earth by reducing pollution, but it can also put some cash in your pocket. Some states implement a bottle deposit you can get back when you turn in the used bottles at a collection center. For example, in California, you can earn 5 cents for most glass and aluminum cans and 10 cents for 24-ounce or larger bottles.
Watch Promotional Videos
Some companies put together videos they want consumers to watch — and sites like InboxDollars find and reward consumers willing to do it. You'll earn a little cash for each video you watch. If there aren't any videos available to watch, InboxDollars also has surveys you can take and games you can play to earn additional rewards.
Turn Your Home Into a Bed and Breakfast
If you don't mind sharing your home with people, you can sign up to rent it to vacationers. On sites like Airbnb, you can list your space, set your rate and wait for guests to sign up. You have the flexibility to rent when you want and close up shop when you want your house to yourself.
Share Your Spending History
Companies want to know what you're spending money on. Snap pictures of your receipts, and upload them to the ReceiptPal app to earn entries into sweepstakes and points you can redeem for gift cards.
Make Your Money Work Better for You
Test Websites
If you like surfing the internet, consider becoming a website tester for UserTesting. Companies that are launching new sites will pay you to provide feedback about them and perform tasks to make sure they're functioning properly. You can expect to make $10 for each website you review.
Sell Coupons Online
If you have any coupons around you know you won't use, someone else might be willing to pay for them. For example, if someone is planning to buy a new laptop, a 10-percent-off coupon could save him a substantial amount, which might motivate him to pay you a portion of what he'd save to get the coupon.
eBay does have some restrictions on coupon sales, however. You can never sell coupons for free items, and you can sell only 25 coupons — or up $100 worth — each month.
Trade Cryptocurrencies
Cryptocurrencies are currencies electronically created and controlled in a decentralized manner instead of by a government. Types of cryptocurrencies include Bitcoin and Litecoin.
Trading cryptocurrencies can be lucrative — Bitcoin went up considerably between Jan. 1, 2017 and July 1, 2017. Trading cryptocurrencies isn't without risk, however. If the price plummets, you could lose your investment.
Create Slogans for Companies
Companies love catchy slogans because they help sell products. If you have a knack for coming up with creative sayings, enter slogan contests.
At Slogan Slingers, companies offer a reward of between $50 and $999 for slogans. If a company selects your slogan as the winner, you keep 85 percent of the prize.
Lend Money to People
If you have extra money, you can earn an average of 4 percent to 6 percent per year in profit by investing in peer-to-peer lending.
Sites like LendingClub allow you to invest in small portions of loans — as little as $25 per loan — to other people. If the borrower defaults, however, you lose your investment.
You must make a minimum opening deposit of $1,000 and meet the suitability requirements set by your state. For many states, that means you must have an annual income of at least $70,000 or a net worth of at least $250,000.
Make Your Money Work Better for You
Tutor Students Online
If you have a knack for explaining difficult subjects and helping students get better grades, consider tutoring online. You can find your own students and set your own rates to create an online business, or you can sign up to tutor with an existing company like Tutor.com.
Tutor.com requires you to be at least a college sophomore, and you must be a subject matter expert in the areas you want to tutor. You must work at least five hours per week at Tutor.com. The site does not list the pay for tutors on its website, but with Chegg you can make $20 per hour of tutoring.
Host Direct-Sales Parties
Direct sales companies pay representatives to host parties and sell their products. You host events and invite friends, family and neighbors over to see and buy a company's products — and you keep a portion of the sales. If you work for a single-level, direct-sales company, you can expect to earn 20 percent to 50 percent of what you sell.
Rent Out Office Space in Your Home
The home office space you never ended up using could be worth money to someone who wants an office outside of his home but doesn't want the associated cost or inflexibility of a traditional office space lease. You can set your own prices and decide when and for how long you want to rent your space.
Provide Tech Support Online
If you get excited about fixing computer problems, sign up to get rewarded for your tech savvy. Through companies like Experts Exchange, you can complete freelance online jobs to earn cash and rewards by helping people fix their technology products. You can even create courses and write articles.
Search the Web With Bing
Switching your search engine is an easy way to make money from home. Microsoft, for example, will reward you for using Bing to search the internet. You earn points for activities like searches, which you can redeem for movies, games and gift cards.
Become a Virtual Fitness Instructor
If you like helping people get in shape but don't like traveling to the gym or other people's homes, consider marketing yourself as a virtual fitness instructor. You might need to get certifications to gain credibility with clients so you can oversee their workouts via webcam or other technology.
Alternatively, you can have short, online meetings with clients and provide them with workouts to do on their own. Either way, you can work from home.
Sell Your Hair
If your friends tell you they wish they had your hair, you might have a source of income growing right on your head.
Sites like HairSellon provide an easy way to make money from home: You can list your hair for sale, and the site even has a calculator to help you set a reasonable price depending on its length, thickness and color.
Be a Virtual Assistant
People will pay you to assist them with a range of tasks from canceling cable to scheduling appointments.
"Virtual business assistance is an opportunity with so much variety and need that many people are able to find a place here," said Angie Nelson of The Work At Home Wife. "In-demand skills can run the gamut from customer service and email management to optimizing eBay listings and setting up email funnels."
At Fancy Hands, the pay ranges from $3 to $7 per task — the faster you complete tasks, the higher your earning potential.
Sign Up For Credit Cards
Credit card companies want to get their cards in your hands, and they often offer substantial bonuses to sign up. Many sign-up bonuses for credit cards are in excess of $1,000 — but you might have to spend a certain amount in a short period of time to qualify. Check that the card's annual fee doesn't offset the sign-up bonus.
Perform Tasks on Amazon's Mechanical Turk Website
Amazon has created a marketplace for tasks that require human intelligence for completion. Businesses post tasks and how much the pay is for completing them.
Tasks include identifying pictures or videos, transcribing audio recordings and conducting research. Depending on the task, you might have to prove your qualifications before you can claim it. The faster you complete tasks, the more you can make.
Adjust Your Home's Temperature
You can increase your bottom line by reducing your heating and cooling costs. Even if you're always home, you can save $42 over the course of the cooling season if you set your thermostat 2 degrees higher and use a ceiling fan, according to Energy Star. You can also save money by dialing back the heat or air conditioning while you're asleep.
Make and Sell Crafts
If you're a crafty person, selling some of your online handiwork might top your list of ways to make money at home. Sites like Etsy make it easy: You pay no monthly fee, just a 20-cent listing fee.
Once your item sells, Etsy takes a 3.5 percent transaction fee and a payment processing fee of 3 percent plus 25 cents. You can sell handmade creations and vintage goods in your Etsy shop.
Sell Video Footage to News Shows
If you often find yourself in the right place at the right time to capture big events, let your video camera roll. News shows will pay you to use the footage for their broadcasts. You can use a site like ScoopBroker to auction your footage to the highest bidder, who will have exclusive rights to it.
Write a Book
Thanks to the advent of online publishing, you don't need to have a connection with a big publishing house to deliver your story to the public. In fact, you can publish an e-book digitally through Amazon Kindle Direct Publishing. You can set your own price and earn up to 70 percent of it in royalty payments.
Pay Your Car Insurance in Full
Instead of relying on monthly payments, save about 7.5 percent by paying your annual or six-month insurance premium in full, according to Travelers. As long as your insurance company has a website, you can boost your bottom line from the comfort of your favorite chair.
Empty Your Closet
If you have a closet full of clothes that you rarely wear, resell those clothes and put some cash in your pocket.
Sites like Tradesy allow you to list items that are in great condition as long as they're authentic. You won't pay a listing fee, but you will pay a 19.8 percent commission on sold items totaling $50 or more and a flat fee of $7.50 on sold items totaling less than $50.
Assist With Political Action Campaigns
If you're a good communicator, consider putting your skills to work as a writer or organizer for political change as a way to make money from home. Sites like NextWave Advocacy recruit qualified applicants — often those with a background in writing who are interested in politics — and trains them to work for clients on a range of political issues.
Negotiate Your Interest Rates
If you have credit card balances, calling your credit card company to try to lower your interest rate works 80 percent of the time, according to CNBC. Even a small decrease in your rate can save you money.
For example, say you carry a $10,000 balance: A 3 percent rate reduction would save you $300. Leverage how long you've been a customer and how you pay on time to increase your chances of success.
Use an App To Find Price Rebates
Many stores have price guarantees, but it's a hassle to track them all down and potentially even more of a hassle to file the paperwork. Now, you can get price rebates from the comfort of your own home. For example, sign up for Paribus via email, and the service will track the rebates you're owed by scanning the receipts sent to your email address. It will seek out the lower price and request a rebate on your behalf if you qualify.
Review Computer Software
Nobody wants to buy software only to find out it doesn't work well. To help people avoid that disaster, you can write software reviews and get paid for them. SoftwareJudge will pay you at least $1 for each review you post for specific software. If the team really likes your contributions, you can make up to $50 per review.
Watch TV
You can make money from home watching TV: Download the Viggle app and earn one point for every minute you watch shows on subscription services like Netflix, Amazon and Hulu, plus bonuses for certain shows. You can redeem points for cash or gift cards.
Although it might not be the most profitable activity, if you're going to watch TV anyway, you might as well get rewarded with this easy way to make money from home.
Answer Questions via Text
If you're good at finding answers quickly, consider becoming a member at 1Q, a site that enables customers to ask questions and get answers quickly.
After you've signed up, you'll receive 25 cents to 50 cents per answer. The number of questions you receive depends on your demographics and location, so keep your profile updated so you don't miss out on questions.
Create an Online Business Translating Foreign Documents
If you speak more than one language, you can make money working from home translating documents. ProZ.com acts as a marketplace for translators to connect with people and companies who need translation services. On ProZ.com, clients request applications for translations and select the translator they want to conduct at-home jobs.
Sign Up For Bank Accounts
It takes a little paperwork, but you can earn bonuses for opening checking accounts and savings accounts — sometimes several hundred dollars. Depending on the bank, you might be required to make a minimum deposit, set up a certain number of direct deposits or use your debit card a designated number of times.
Look: 10 Best Free Checking Accounts With No Minimum Balance
Take Stock of Your Memberships
Cutting unnecessary memberships is as valuable to your budget as generating extra income. Go through all of your current memberships and subscriptions to make sure they're worth what you're paying. To help find lurking expenses, consider an app like Trim, which shows your recurring costs and can even cancel subscriptions for you.
Share Your Knowledge
If you have specialized knowledge, you can monetize it by signing up as an expert to help others online. For example, JustAnswer will pay you to share your expertise.
You must apply for each category you feel you're qualified to provide answers for, and you need to have a degree or certification in that area. The amount you earn depends on how in-demand your area of expertise is.
Bet On Your Ability To Get in Shape
Did you know you can get paid to sweat? Getting healthy can help you win money by competing in health challenges. Sites like DietBet allow you to compete with others in weight loss challenges.
You must upload pictures to verify your starting and finishing weight. You'll pay an entry fee, but the fees go into a pot that everyone who meets the goal splits. You'll never lose money as long as you meet your goal.
Accept Packages for Neighbors
If you've ever missed a package, you know how difficult it can be to reschedule your delivery. That's why people use eNeighbr to get packages accepted for them.
If you're going to be home anyway, consider signing up to receive packages for your neighbors. Packages will be sent directly to you, and the customer will pick them up. You can expect to make $3.50 per package.
More From GOBankingRates
About the Author