Can Job Loss Insurance Help If You Get Laid Off? Here's The Answer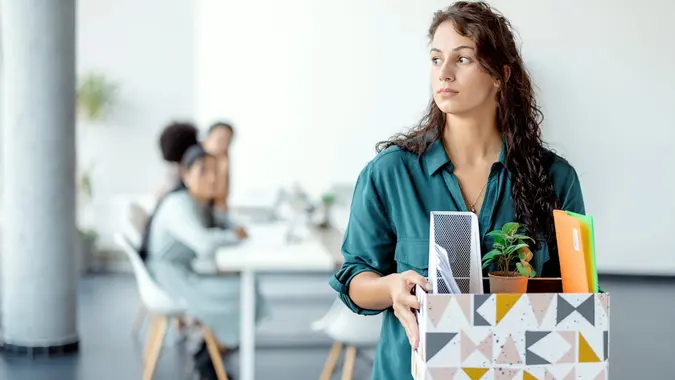 PixelsEffect / Getty Images/iStockphoto
Losing your job can devastate your financial life if, like most Americans, you don't have a hefty pot of gold in the form of ample emergency savings. Preparation for the worst-case scenario, career-wise, is critical.
Knowing that, should you invest in job loss insurance? This is a policy that is designed to provide short-term financial support in the event that you're laid off from your full-time employment so that you can continue paying your mortgage and other bills for a while. Some companies, such as Quil, also offer one on one financial counseling.
Is Job Loss Insurance Worth It? Let's Explore.
Job loss insurance is also called supplemental unemployment insurance and it gives you some income in the wake of a layoff. It may also cover the closure of a business, job elimination and other reasons for lost employment. Out of the gate, it's worth noting that generally, job loss insurance policies don't provide coverage if you quit, retire or are fired or suspended from a job.
What Does Job Loss Insurance Cover? 
In addition to providing you with some money to pay bills in the short-term, job loss insurance may cover the following: reputational injury; personal accident and loss of a job; and identity theft which covers loss of job and financial loss.
According to Pacific Prime, reputational injury covers expenses involved in removing publications that negatively impact a person's digital reputation and could contribute to or cause their loss of income. Job loss insurance typically covers the fees of IT specialists and psychologist consultation fees related to all this, too. 
The insured may receive the specified sum insured during the insurance period if they suffer income loss due to having to leave their job because of any accidental injury that causes an inability to work.
Make Your Money Work Better for You
How Much Does Job Loss Insurance Cost?  
According to Insurance.com, the amount you'll pay for supplemental unemployment insurance varies depending on your last salary, location, industry and coverage amount. 
"One insurance company, SafetyNet, previously charged a monthly premium at various price points based on coverage, with policies running anywhere from $4 to $60 per month," Virginia Hamill, the senior insurance analyst at New York City-based FitSmallBusiness and a previous insurance expert with Insureon told Insurance.com.
Take Our Poll: Do You Think AI Will Replace Your Job?

How Long Does It Take To Get Your Job Insurance Money? 
According to The Balance, most job loss policies have a waiting period of 60 days to six months before you're eligible for benefits. If you lose your job before that window opens, you can't collect a payout.
Not all policies are the same; some pay monthly amounts, and others pay out a lump sum.  
Are There Any Other Perks to Having Job Loss Insurance?
Some companies go beyond basic job loss insurance and offer specialty advising. For instance, Quil through USAlliance Federal Credit Union offers debt, credit and housing counseling, discounts on medications and a Life Insurance 24/7 well being advisor. Knowing what to do with the money you've saved to get you through job loss could be just as beneficial as the cash itself.
More From GOBankingRates
Make Your Money Work Better for You